Billy Graham Center

---

Archives
The Archives Bulletin Board
This service is intended for Wheaton College students, faculty and staff; people who live in convenient driving range to campus;
or people who will be visiting Wheaton's campus. Every month, this Bulletin Board will highlight a new document or set of docu-
ments that are available in the Archives. Come on over and have a look!
To view items previously featured on the Bulletin Board, click
Now Showing
November 2007: On the Wings of a Prayer Letter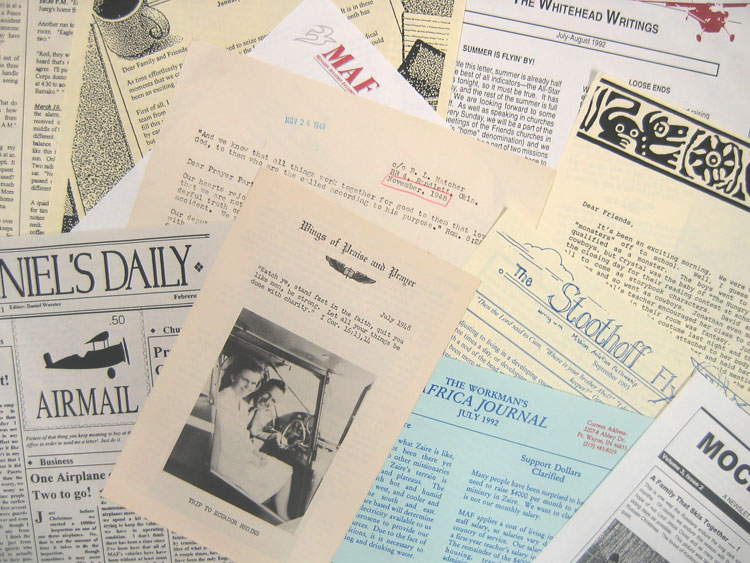 (above) Sampling of prayer letters written by Mission Aviation Fellowship workers, 1948-1999. Notice the aviation theme that is reflected visually in the design of the depicted letters. Also notice the 1948 prayer letter featuring a photograph of Nate and Marj Saint in the cockpit of an airplane -- see enlarged version below.

Prayer letters written by missionaries have been and are a staple feature of the missions world. They come in all colors and have varying degrees of visual sophistication. They often including photographs and sometimes have a catchy title and logo to make them more memorable. Their purpose is to provide prayer and financial supporters with an ongoing glimpse into the missionary's world. However, prayer letters are especially important in the nondenominational and parachurch world where missionaries have to go out and raise their support -- prayer letters are one part of that fund-raising effort. Prayer letters are also produced by organizations (see MAF's Wings of Praise and Prayer above) to develop a strong base of prayer and financial support, and to encourage supporters with the outcomes of their investments.
Prayer letters don't tell the whole story, but are a valuable form of documentation in the Archives because they contain ongoing information about individual missionaries. Moreover, they convey the underlying themes of the importance of carrying the gospel throughout the world, the ongoing demands of missionary work on personal and family life, and the comings and goings of missionaries and their families. Although focused on the writer's personal sphere, they may include accounts of the importance of national workers. Through their periodic prayer letters missionaries aim to instill enthusiastic support and prayer by their supporters.
Prayer letters in the Mission Aviation Fellowship records span over sixty years. In addition to those in Collection 136, prayer letters comprise some part of more than twenty-five other collections at the Archives as listed below. Each entry below is linked to more extensive collection descriptions (although not actual documents).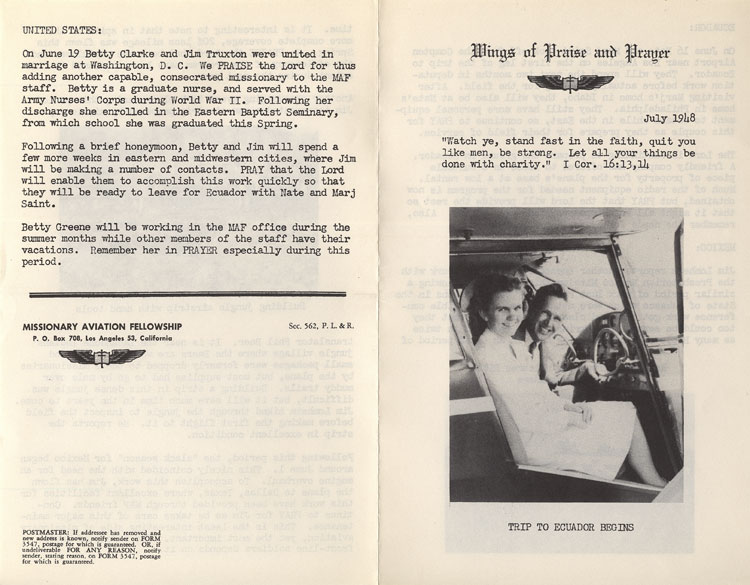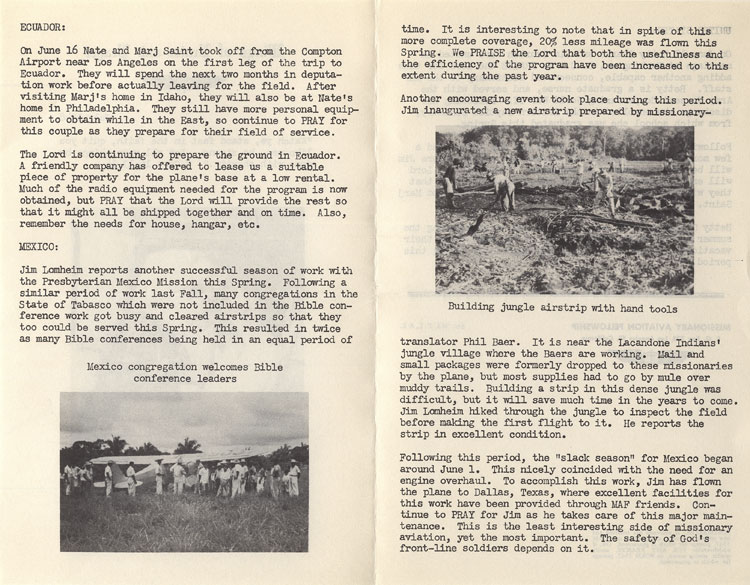 ---