Billy Graham Center

---

Archives
The Archives Bulletin Board
This service is intended for Wheaton College students, faculty and staff; people who live in convenient driving range to campus; or people who will be visiting Wheaton's campus. Every month, this Bulletin Board will highlight a new document or set of documents that are available in the Archives. Come on over and have a look!
To view items previously featured on the Bulletin Board, click
.


Now Showing
A Story of the Titanic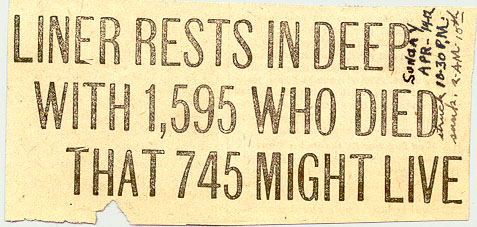 Headline from an April 14, 1912 Chicago paper about the sinking of the Titanic
In the spring of 1912, Rev. John Harper was scheduled to preach for several weeks at Moody Church in Chicago. He, together with his daughter Nana and his neice Miss Leitch, sailed on the maiden and last voyage of the Titanic. The records of Moody Church in the Archives includes materials - newspaper clippings, minutes, a memorial service - that tell the story of this small part of the larger tragedy, including the young women's account of the sinking of the liner.

Click
to see some of these documents and read transcripts of their contents.

Click
to read the guide to the records of Moody Church.


---
Return to BGC Archives Home Page

---

Last Revised: 9/28/98
Expiration: indefinite

© Wheaton College 2005