Billy Graham Center

---

Archives
The Archives Bulletin Board
Every month, this Bulletin Board will highlight a new document or set of documents that are available in the Archives. These are intended solely for the edification of our viewers and cannot be copied or otherwise reused without permission. Come on over and have a look!
To view items previously featured on the Bulletin Board, click
Now Showing
January 2017: Archival Mysteries - Jack Cardiff, the Boxer Evangelist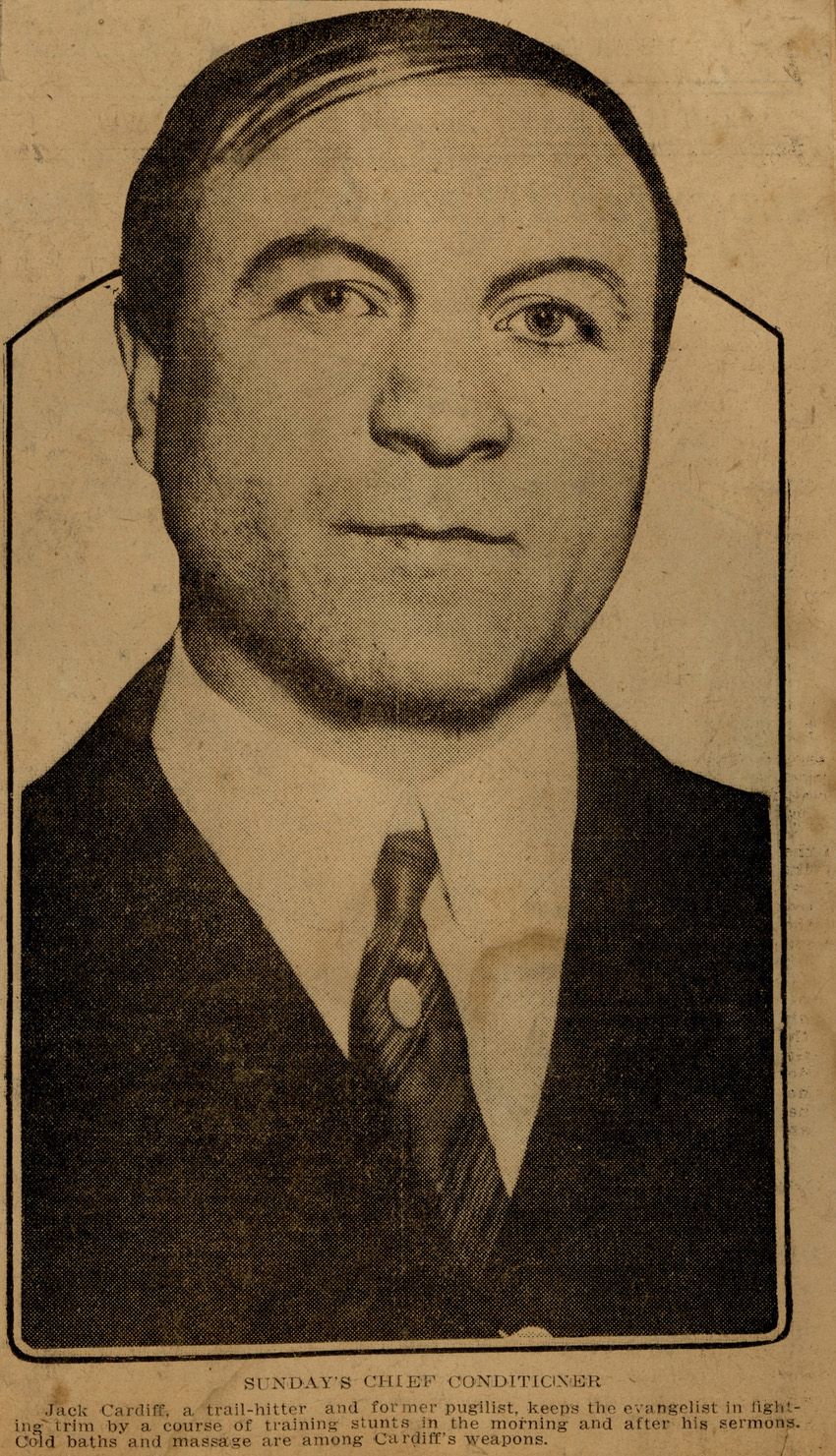 (above)

Clipping from The North American, a Philadelphia newspaper. The picture was from the coverage of the Billy Sunday campaign in Philadelphia (January 3-March 20, 1915) A "trail-hitter" was someone who walked down the "sawdust trail" in the aisles of a Billy Sunday tabernacle to come down to the front to indicate that he or she had accepted Christ as Savior.
Archives contain mysteries as often as they contain answers. For a variety of reasons, documents or photos or newspaper clippings or whatever that survive in the collections shed light on a small part of a person's life, while leaving the rest shrouded in darkness.For example, take Jack Cardiff, evangelist and boxer. The Archives has a few clippings from 1915 that mention him in Collection 29 and 61 and some of his correspondence in Collection 330 from 1925 and 1926. And then are a few facts on him in some old books and dusty magazines, not to mention the Internet. But these only illustrate a few corners of a long life and active ministry.The man known as Jack Cardiff was born, according to one source, to John W. and Anna Marie (Orth) Morris in Reading Pennsylvania in 1877. The same source gives his birth name as Charles Kaiser Morris and states he changed it to Jack Cardiff in 1916 for reasons unknown. Another source gives his parents as Thomas W. Morris and Susanna Rowley. The next 27 years are a blank, except that at some point he apparently did some acting. In 1904 he started boxing as a welterweight. He had at least twenty-one bouts over the next eight years, two in London England. Almost all of his other fights were in northeastern Pennsylvania. According to BoxRec, a boxing web site, in nineteen bouts (123 rounds) he won four, lost thirteen and had a draw in two. In early 1912, he attended a Billy Sunday evangelistic meeting in Canton, Ohio and became an enthusiastic Christian. He quit boxing and about 1914 and joined Sunday's team as his bodyguard, trainer and masseur. Sunday was well known for his extremely energetic preaching style, which involved vigorous movements all over the platform. His clothes were usually dripping with sweat at the end of every sermon. Cardiff would rub him down after the close of each service and would help him stay in shape and supervise his diet. He also would speak at mid-day meetings in factories and other places during the campaign. Here is a report on part of one of Cardiff's talks, preserved in The Evangelistic Cyclopedia, 1922:

"Jack Cardiff, Billy Sunday's big body-guard and athletic trainer, spoke to hundreds of men at noon meetings in department stores and manufacturing plants in the Philadelphia campaign.... He knows all about the theater and the ring and his rough, straightforward message reaches the hearts of men. At one of the big department stores he closed his appeal to the men this way: 'My throat is getting tired, boys (I've got many a crack on it in my day), so we'll pray.' It was a short, crude, earnest prayer. 'Bless everyone here, O God, and bless Mr. Sunday and me and my throat," he concluded. Then he stood erect. 'Listen to me, boys," he called, "let me tell you something. Help me and Mr. Sunday by standing up for Christ. Raise your hands if you will." Almost every hand went up. 'Amen,' said Cardiff fervently. They crowded about him with many tears in their eyes, and shook his hand. 'You knocked out a good many today, Mr. Cardiff," one man said as he passed."

In the 1910s Sunday was holding campaigns of several weeks in the major American communities, dominating the news coverage of each city during his stay. There would usually be some mention of Cardiff or even an article about him during these meetings. For example, the May 1915 issue of Metropolitan magazine carried an article about the Sunday campaign in Philadelphia and included a vignette about Cardiff. Reporter John Reed (who later wrote Ten days That Shook the World about the Bolshevik Revolution) and his illustrator, George Bellows, had been trying unsuccessfully to meet Sunday, so they decided to try and go through Cardiff:

"Jack himself was in his undershirt after rubbing Billy down. He had the face of a pleased child, entirely simple--and he blushed when my companion asked to sketch him.
'I was well on my way to welter-weight champion of the world,' said Jack. 'When I was converted I was getting $800 a week to fight in theaters. Its three years now since I heard Billy Sunday and saw the Light." His face glowed with satisfaction and real happiness. "Yep, I sure gave up something for my Saviour, but it was worth it. I have been with Billy now for about a year, sparring with him and rubbing him down. He is a great man!'
'Most people can't see why I got converted at all, because I never smoked, and I never went with women, and I never had a drop of liquor in my life. I used to go around with the boys all the time and I used to see them drink and smoke and all that, but I just kept out of it. I've been in Europe, too," he went on with naive vanity; 'Fought twice in London. I had offers to go to Paris, France and Berlin, Germany, but I said to myself, 'Jack, if you go across there and get down among those cafes and beer gardens, God knows whether you've got strength enough to resist.' So I passed them up.'
'What country did your people come from?" we asked him.
'Well, I've got a little Welsh and English and Irish in me; but my old man was born in this country.' He chuckled. 'He's about seventy-five years old, as hale and hearty an old man as you ever see. He can go six fast rounds, and he smokes continuously ever since he was a kid, and drunk enough whiskey to swim to Ireland and back.' Mr Cardiff chuckled admiringly.
We suggested that he might take us to see Billy Sunday, as he lay in bed, and he answered: "Sure. Just wait till I get my shirt on.'"

Cardiff left Sunday's staff in August 1915 and worked briefly with another evangelist, Henry Stough. He took classes at Moody Bible Institute in Chicago and was ordained in the Presbyterian church (as Sunday had been). He began to hold his own evangelistic campaigns in 1917 in Colorado, Kansas, Iowa and other states. In 1925 and 1926 Jack and his wife and two daughters were apparently living in Chicago and were member of Moody Church, where they had attended before. He also pastored churches in Michigan and elsewhere. He was living in Wheaton, Illinois during the 1940 census and was a counselor at meetings held in the College Church of that city in the late 1930s by A. W. Tozer. (See David Dresser interview in Collection 74.) Cardiff's wife Amy died in 1932 and he followed her in 1951, whiling living with his daughter's family in Knighton, Indiana.

That is just about as much as we know. A few documents from our records are below. If any of the readers of this Bulletin Board have more information about Rev. Jack Cardiff, the staff of the BGC Archives would be glad to hear from you.


[Added Later] Archival Mystery Solved, Sort of: The posting of this Bulletin Board has indeed generated more information on Jack Cardiff.

1. A source very close to home. The Wheaton College Archives (a different department than the BGC Archives) has information on Rev. Cardiff, especially from the years that he served as an assistant coach and something of a character on campus. Click here to read more.

2 Reader Kevin Mungons kindly sent us three newspaper clippings from the 1920s he discovered at Newspapers.Com which gave vivid biographical details about Rev. Cardiff's conversion and ministry. The three clippings are now at the bottom of this page.


(above)

Clipping from The North American, a Philadelphia newspaper. The picture was from the coverage of the Billy Sunday campaign in Philadelphia (January 3-March 20, 1915)

(above)

On the left, a clipping from The North American, a Philadelphia newspaper about the Billy Sunday campaign in Philadelphia (January 3-March 20, 1915)
In the center, a clipping from The Evening Enterprise of Poughkeepsie, New York; February 26, 1915
On the right, a excerpt from page of the December 1917 issue of the magazine, The Christian Worker, which later became The Moody Bible Institute monthly.
Below is a letter and some certificates, all from a packet of correspondence to and from him in folder 1 of box 46 of the Records of Moody Church. The letter is to P. W. Philpot, the pastor of Moody Church. The last certificate also has a hand written note on the back from Cardiff to Homer Hammontree, assistant pastor of Moody Church.
Added Later: Reading Times (Reading, Pennsylvania), July 15, 1922, Page 1. Courtesy of Kevin Mungons. Source: Newspapers.Com
Added Later: The Charleston Daily Mail (Charleston, West Virginia), January 19, 1925. Courtesy of Kevin Mungons. Source: Newspapers.Com
---
Send us a message
Return to BGC Archives Home Page
Last Revised: 1/01/17
Expiration: indefinite
© Wheaton College 2017