Billy Graham Center

---

Archives
The Archives Bulletin Board
Every month, this Bulletin Board will highlight a new document or set of documents that are available in the Archives. These are intended solely for the edification of our viewers and cannot be copied or otherwise reused without permission. Come on over and have a look!
To view items previously featured on the Bulletin Board, click
Archival Film Festival 2015
In 2015, the Archival Bulletin Board is turning onto a silver screen. Every month in 2015 we will be displaying a rare film from our vault, all featuring some aspect of the history of Christian evangelism.
Thanks to Bruce Knowlton of Wheaton College's Academic and Media Technology for his invaluable help in putting together this film festival.
Now Showing
April 2015: Home Movies of Congo Missions in the 1930s and 40s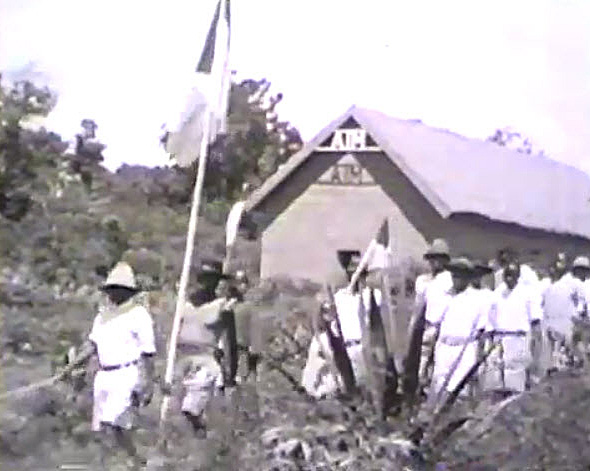 For the April Bulletin Board we are featuring home movies taken by Paul Stough of his mission work in the Belgian Congo in the 1930s and 40s.

WARNING: The films of Congolese villages contain some scenes with very brief nudity. There is also a scene of a missionary at a health clinic extracting a tooth (starting at 9:45) that may be too graphic for younger or more sensitive viewers.

Paul Pinney Stough came from a family deeply involved in evangelism and missions. (His middle name came from his great grandfather, John Brooke Pinney, a missionary and agent of the American Colonization Society who was deeply involved in the founding of the nation of Liberia for freed American slaves and was appointed by Abraham Lincoln as the first Consul-General to the new nation.) Paul himself and his wife Rachel went as a missionaries with to the Congo, then a Belgian colony, in 1928. Paul served there at several stations as a church planter, administrator, mentor and evangelist until 1964. Rachel had died in 1944, but Paul and his second wife Elizabeth work for another 12 years as missionaries in Kenya before returning to the Untied States in 1976.
While in Africa, Paul made several home movies about his life and work there, partly for his own and his family's use and partly to be able to show at the churches that supported him when he visited the United States on furlough. The movies were silent, but Paul added a few explanatory cards throughout. Usually he would show these movies in churches and he and his wife would be there to provide a running narrative. After Rev. Stough donated these films to the BGC Archives, he sat down with one of the staff in 1992 to record an explanatory soundtrack that was added to the films.
The first two films on display are black and white and the last is in color. All three run consecutively and the accompanying soundtrack tells when one film end and the next begins. At the beginning of the film is a brief audio introduction (no video) by a member of the Archives staff.
Here are descriptions of each film.
Film F1 (approximately the first 10 minutes), shot around the mission station at Bunia where Stough was serving: Elephant training school in Gangala na Bodio; Rachel and son Bill Stough traveling by carrying chair; activities in the Walendu village near Bunia; Walendu men practicing with shield and spear; threshing crops; children's games, including the Kongolo dance; boys and men exercising before attending school; funeral services and burial of Chief Risai; Paul and Rachel Stough and Olive Love providing medical and dental assistance to the Walendu; the AIM hospital at Oicha. Filmed in the 1930s.
Film F2 (approximately the middle 8 minutes) Rat catching in villages to control disease; paramount chief Kunga holding court and dispensing justice; weekly market day in Bunia; Pygmies of the Ituri forest making bark cloth and reenacting the killing of an elephant; distribution of salt to the pygmies by Harry Hurlburt; a group wedding of African Christians; a baptism service in Djugu. Filmed in the 1930s
Film F3 (approximately the last 10 minutes) This film shows scenes in and around the AIM Bible School in Adi, where pastors and elders were trained. It includes scenes of calling people to services with a drum; exercises; AIM workers Peter III and Mary Lou Stam and Peter and Edythe Brashler; volleyball games; women making dinner; pastor Yoane Akudri talking with African evangelists; the new church building in Adi; scenes from the primary school; students from the school holding services in a nearby village; the school's graduation service.
Click here to see all the films in the Film Festival thus far.
Click here or on the images above and below to view the film.

WARNING: The films of Congolese villages contain some scenes with very brief nudity. There is also a scene of a missionary at a health clinic extracting a tooth (starting at 9:45) that may be too graphic for younger or more sensitive viewers.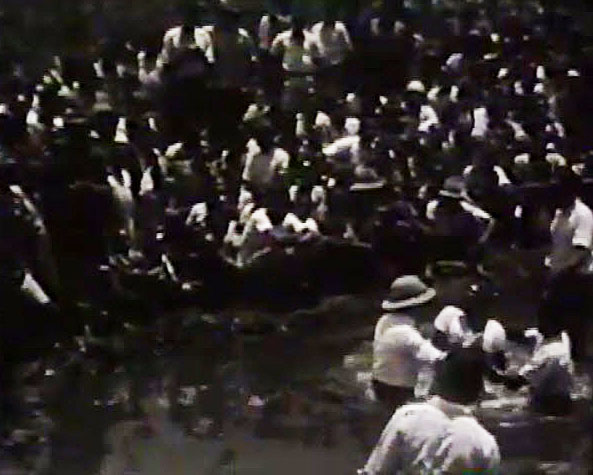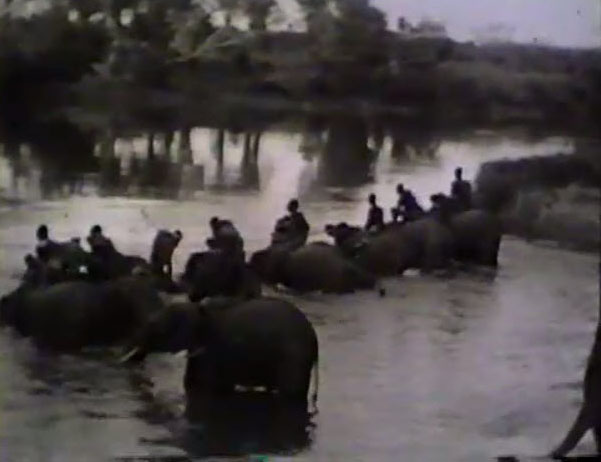 The Archives also contains several hours of oral history interviews with Rev. Stough and Elizabeth Quakenbush Stough about their work in Africa. Click on the links below to listen to these and read the transcripts.
---
Send us a message
Return to BGC Archives Home Page
Last Revised:04/01/15
Expiration: indefinite
© Wheaton College 2017