Billy Graham Center

---

Archives
The Archives Bulletin Board
This service is intended for Wheaton College students, faculty and staff; people who live in convenient driving range to campus; or people who will be visiting Wheaton's campus. Every month, this Bulletin Board will highlight a new document or set of documents that are available in the Archives. Come on over and have a look!
To view items previously featured on the Bulletin Board, click
Now Showing
October 2009: Ready for Takeoff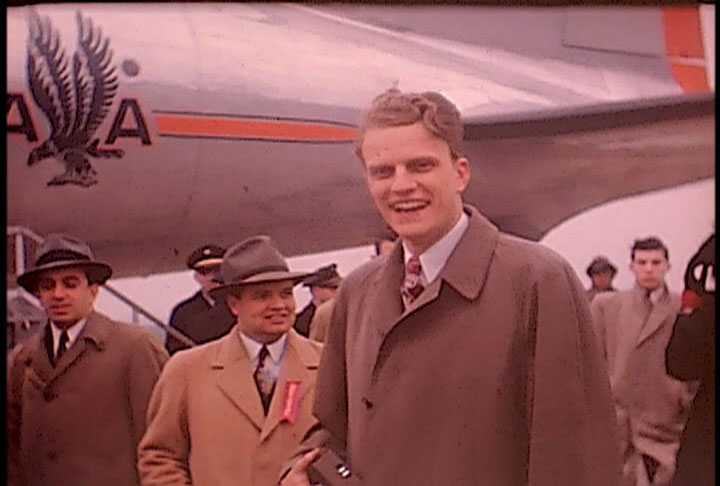 Still frames (above and below) from a silent home movie taken (possibly by members of the Torrey Johnson family) at the time when Billy Graham, Torrey Johnson, Charles Templeton and J. Stratton Shufelt flew out of Chicago for the six-week Youth for Christ tour of Europe in 1946. Click here or either image on this page to see the silent film that records the last moments before launching the trip from to London and other European cities. More information on the tour is also available. (From the papers of Torrey Johnson, film F1.)
The tour spanned from March 18 to April 28, including almost nightly meetings in England, Scotland, Ireland, Sweden, Denmark, the Netherlands, Belgium and France. Much of the story of the 1946 tour of Europe is told through various documents from the Archives that were featured in the June 2006 Bulletin Board. One item not included there is the home movie featured here, adding another dimension to the telling of the story by capturing the enthusiasm of this important milestone for Billy Graham, Youth for Christ and American Evangelicalism.
(Above image: To the left of Graham is George Wilson, at the time was an important leader in YFC and co-worker with Graham at Northwestern Schools in Minneapolis. Wilson became the BGEA's first and longstanding Executive Vice President until his retirement in 1987.)

(left to right below) J. Stratton Shufelt, Billy Graham, Charles Templeton and Torrey Johnson waving to friends and family before boarding their flight out of Chicago.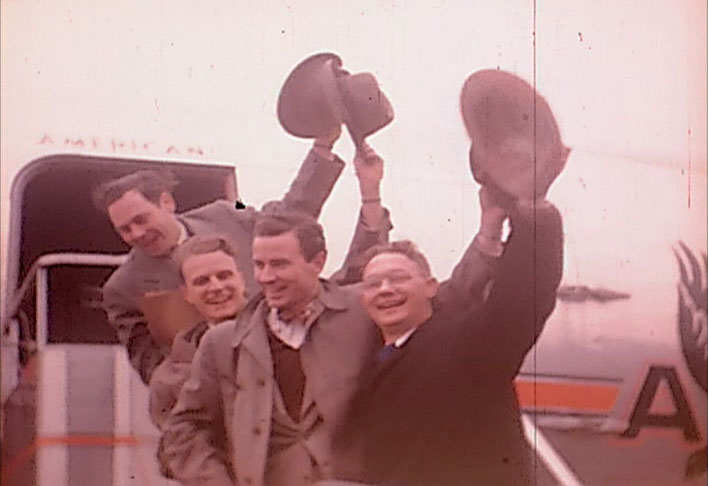 ---
Send us a message
Return to BGC Archives Home Page
Last Revised: 10/01/09
Expiration: indefinite
© Wheaton College 2017