Billy Graham Center

---

Archives
The Archives Bulletin Board
Every month, this Bulletin Board will highlight a new document or set of documents that are available in the Archives.These are intended solely for the edification of our viewers and cannot be copied or otherwise reused without permission.
To view items previously featured on the Bulletin Board, click
Now Showing

February 2006: Youth for Christ in Europe, 1946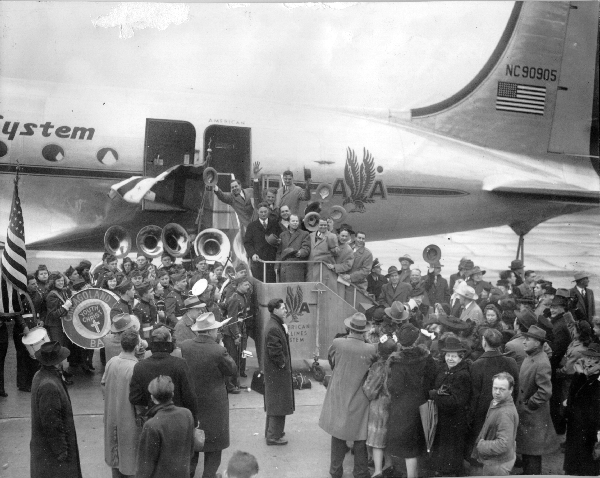 Departure from Chicago on March 18, 1946
In the last years of World War II, a new Christian youth evangelism movement sprung up sponateously in dozens of cities around the United States. People in their teens and 20s would attend mass meetings that combined humor, contemporary music and fervent preaching. By 1944 the various local clubs had coalasced into a national organization called Youth for Christ. And in 1946, YFC was ready to move beyond America's shores.
YFC president Torrey C. Johnson led a team of four, consisting of himself, two of YFC's most popular evangelists (Billy Graham and Charles Templeton) and songleader J. Stratton Shufelt, on a six-week tour from March 18 to April 28 that included almost nightly meetings in England, Scotland, Ireland, Sweden, Denmark, the Netherlands, Belgium and France.
The Archives has photos, reports, letters, newspaper clippings, scrapbooks and many other documents that tell the story of this trip from sixty years ago which proved an important milestone for Billy Graham, YFC and American Evangelicalism.

Click here to see some other documents from the trip.
For more information, look at the guide to the papers of Torrey Johnson (Collection 285), the papers of J. Stratton Shufelt (Collection 224), and the Records of Youth for Christ, USA (Collection 48)
For more information on Billy Graham's early ministry, click here.
.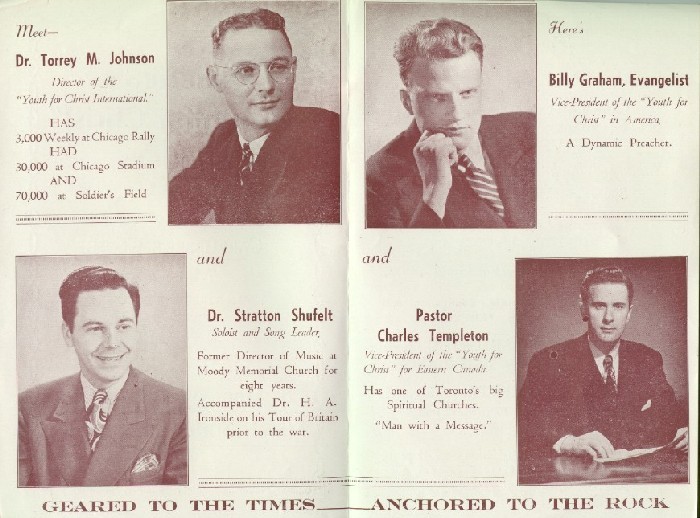 Part of brochure used in England to advertise the team's meetings.
---
Send us a message
Return to BGC Archives Home Page
Last Revised: 2/01/06
Expiration: indefinite


© Wheaton College 2006