Billy Graham Center

---

Archives
The Archives Bulletin Board
Every month, this Bulletin Board will highlight a new document or set of documents that are available in the Archives.These are intended solely for the edification of our viewers and cannot be copied or otherwise reused without permission.
To view items previously featured on the Bulletin Board, click
Now Showing

November 2005: Eighty Years Ago - The Dedication of Moody Church













Scenes from the constrution of Moody Church in 1924.


A postcard of the completed building. N.d.
On November 8, 1925, when Calvin Coolodge was president of the United States and William E. Dever was mayor of Chicago, the new Moody Memorial Church at the corner of Clark and North was dedicated. Click on the program below to learn more about this venerable Chicago institution and landmark.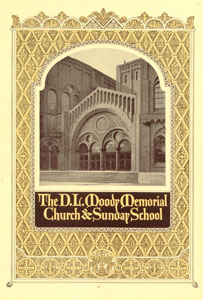 ---