Billy Graham Center

---

Archives
The Archives Bulletin Board
This service is intended for Wheaton College students, faculty and staff; people who live in convenient driving range to campus; or people who will be visiting Wheaton's campus. Every month, this Bulletin Board will highlight a new document or set of documents that are available in the Archives. Come on over and have a look!
To view items previously featured on the Bulletin Board, click
.


Now Showing
May 1999: Mel Trotter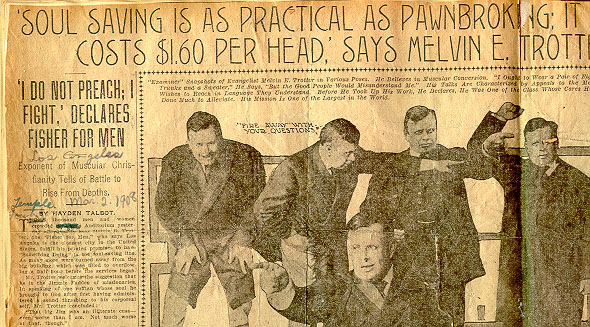 1908 newspaper clipping from about one of Trotter's evangelistic campaigns in Los Angeles. Collection 47, Box 3, Folder 1.
In January 1897, Melvin Earnest Trotter, a ne'er do well barber who was in the midst of a series of drunken episodes, wandered into the Pacific Garden Mission in Chicago. The superintendent there, Harry Monroe, talk to him about Christ and that night Trotter was born again. Within 36 months he was starting a rescue mission himself in Grand Rapids, Mischigan, the first of dozens he would found around the country. For a generation he was the leader of city mission work in the United states and the teacher of a generation of workers. In Collection 47, the Archives has letters, reports, newspaper clippings, audio tapes and many other documents that tell the story of his amazing life.

Click
to go to the guide for Mel Trotter's papers.


---
Return to BGC Archives Home Page

---

Last Revised: 4/22/99
Expiration: indefinite

© Wheaton College 2005