Billy Graham Center

---

Archives
Now Showing
This service is intended for Wheaton College students, faculty and staff; people who live in convenient driving range to campus; or people who will be visiting Wheaton's campus. Every month, this Bulletin Board will announce a new document or set of documents that are available for viewing and study in the Archives Reading Room on the 3rd floor of the Graham Center. Come on over and have a look!
To view items previously featured on the Bulletin Board, click
.
Documenting Prison Ministries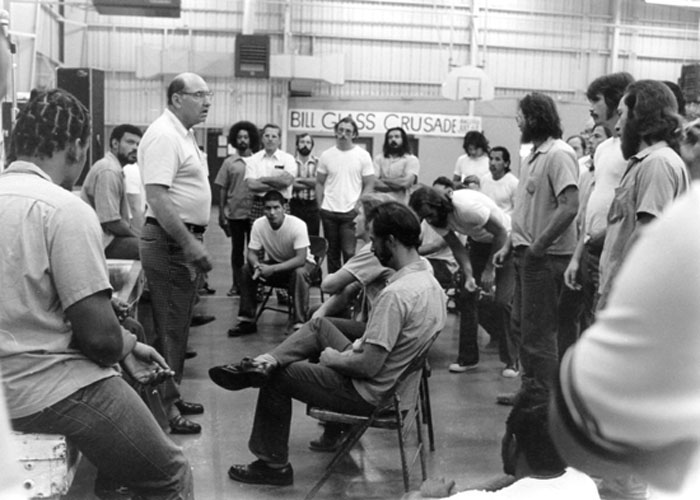 A photograph of a scene from a Bill Glass Crusade inside an unidentified detention facility. No date.

4>

Bill Glass played defensive end for the Cleveland Browns and was on the winning side in the 1964 National Football League championship (the precursor to the Super Bowl). After his retirement from football in 1969, he incorporated the Bill Glass Evangelistic Association (the name was changed in the early 1990s to Bill Glass Ministries). In the 1970s, the direction of the organization changed from town or city-wide crusades to prison ministries that combined comments about sports, sports celebrities, and a talk about how to find salvation. By 1971, the ministry was able to visit about 100 prisons a year. (see the guide to Collection 455. Glass wrote a number of books, at least one of which was about the prison ministry, titled Free at Last.


There are other materials about prison ministries among our archival collections. Everyone is welcome to come and browse.
---
Return to BGC Archives Home Page

---

Last Revised: 6/29/00
Expiration: indefinite

© Wheaton College 2005