Billy Graham Center

---

Archives
Now Showing
This service is intended for Wheaton College students, faculty and staff; people who live in convenient driving range to campus; or people who will be visiting Wheaton's campus. Every month, this Bulletin Board will announce a new document or set of documents that are available for viewing and study in the Archives Reading Room on the 3rd floor of the Graham Center. Come on over and have a look!
To view items previously featured on the Bulletin Board, click
.
[from July 1998]

July 1998: IVCF's 1st Student Missionary Convention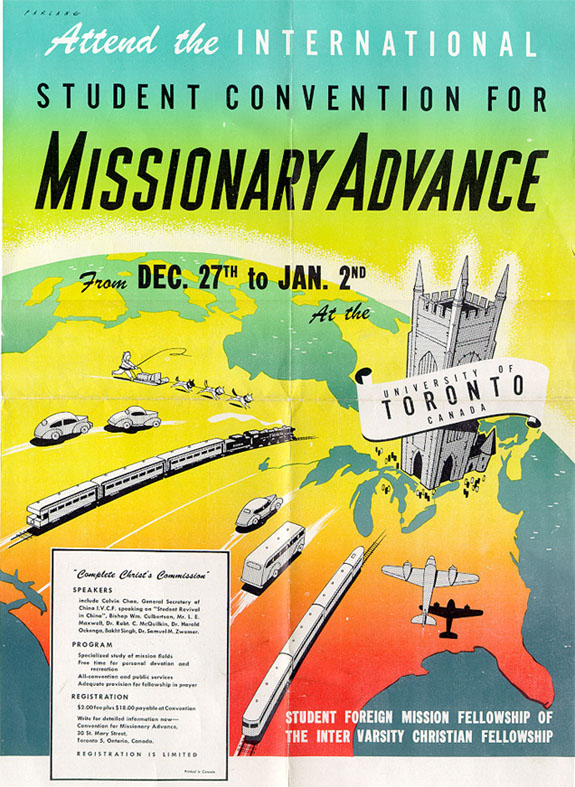 Poster inviting students to attend Inter-Varsity's first missionary convention in Toronto. The poster is one of the few documents remaining from the convention. Taken from Collection 300, Records of Inter-Varsity Christian Fellowship.
When Inter-Varsity was established in the United States in 1940, based on the model of IV movements in Great Britain and Canada, it launched what has become one of the most enduring and influential American Evangelical parachurch institutions. IVCF students and staff have presented the gospel on college and university campuses and provided a means for Christian fellowship and nurture for over half a century. Inter-Varsity's influence has helped shape the landscape of Christianity in America in a number of ways:
It's ministry to the academic world (students and faculty)
Its publication of books through Inter-Varsity Press
Its training of student leaders who go on to a variety of academic and/or ministry careers
And especially its triennial Missionary Conventions, more commonly known now as "Urbana." The first convention, promoted in the poster above, was held in Toronto. Beginning in 1946 and since, the meetings have been held once each three years at the University of Illinois--Champaign-Urbana. Over the last half-century these conventions have been a prominent platform from which to capture the imaginations of American college students and motivate them to devote their energies to world missions.
IVCF's records, covering the period from 1940 to 1991, consist largely of correspondence, reports, publications, promotional materials. The materials describe its organizational development and include the administrative files of individual leaders, such as the files of each of its presidents from 1940 to 1984 and evangelist Paul Little. There are also departmental records, such as those from regional offices, the Missions Department, and the Nurses Christian Fellowship. Also included is the research data compiled for the 1991 official history, For Christ and the University. The files include some material on the part the Canadian branch played in starting the work in the United States.

To learn more about IVCF and find out what is in Collection 300, click here. A valuable additional source is IVCF's history, For Christ and the University, published in 1991.
---
Return to BGC Archives Home Page

---

Last Revised: 2/4/05
Expiration: indefinite

© Wheaton College 2005