Billy Graham Center Archives
---
The Archives Bulletin Board
Every month, this Bulletin Board will highlight a new document or set of documents that are available in the Archives. These are intended solely for the edification of our viewers and cannot be copied or otherwise reused without permission. Come on over and have a look!
To view items previously featured on the Bulletin Board, click
Archival Film Festival 2015
In 2015, the Archival Bulletin Board is turning into a silver screen. Each month of the year we will be displaying a rare film from our vault, all featuring some aspect of the history of Christian evangelism.
Thanks to Bruce Knowlton of Wheaton College's Academic and Media Technology for his invaluable help in putting together this film festival.
Now Showing
March 2015: Religious Life at Kumbum Monastery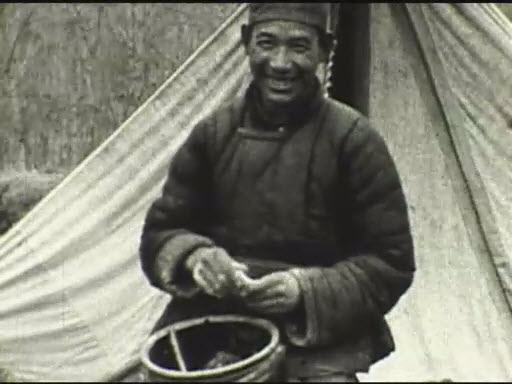 This month's selection in our year-long archival film festival is Victor Plymire's personal footage of Kumbum Monastery, a holy site for Tibetan Buddhism located in northern China. This silent, black and white film captures details of the Tibetan people and culture in the early nineteenth century, particularly their religious beliefs and customs.
An Assemblies of God missionary, Victor Plymire worked in northern China, Tibet, and India from 1908 to 1949. A gifted photographer as well as amateur videographer, Plymire focused his keen eye for detail on both the mundane and exceptional aspects of life at Kumbum religious complex. This 14-minute, undated film contains 13 sections titled by Plymire, the two longest of which are "Giving the Gospel at Kumbum; on very spot from which I was driven out in 1909" and "The Devil Dance." While Plymire includes scenes of Tibetan life, such as cooking over outdoor fires and caravans of heavy-laden llamas, he turns his camera particularly toward the religious rituals at Kumbum. The film includes scenes of Buddhist monks turning their prayer wheels, idols created out of butter, prayer offerings to the gods, and a sin-burning ceremony. The culmination of the religious calendar at Kumbum is the Chham, popularly known as the "Devil Dance." Performed by Buddhist lamas for centuries, this elaborate dance utilizes ornate demon masks, colorful costumes, ceremonial swords, and festive music to reenact the primordial struggle between good and evil. Even without the benefit of sound and color, Plymire's film captures the intense religious fervor of both the performers and spectators.

This film, V4, is further described in Collection 341 The Papers of Victor Plymire. Collection 341 also contains eight additional films from Plymire's ministry in Tibet and northern China, as well as numerous stunning photographs and Plymire's diaries, correspondence, and original articles.

Victor Plymire's photographs have been featured on the Archives Bulletin Board in years past. Click on the links below to view photographs from Collection 341:
May 2001: Bring the Gospel to the World - Victor Plymire in Tibet
June 2002: Victor Plymire's Tibe
October 2014: Posed as Photographers
Click here to see all the films in the Film Festival thus far.
Click here or on the video frames above or below to view the video.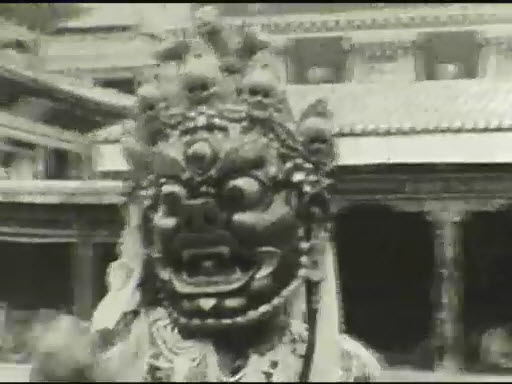 ---
Send us a message
Return to BGC Archives Home Page
Last Revised:02/17/15
Expiration: indefinite
© Wheaton College 2017