Billy Graham Center Archives
---
The Archives Bulletin Board
Every month, this Bulletin Board will highlight a new document or set of documents that are available in the Archives. These are intended solely for the edification of our viewers and cannot be copied or otherwise reused without permission. Come on over and have a look!
To view items previously featured on the Bulletin Board, click
Archival Film Festival 2015
In 2015, the Archival Bulletin Board is turning onto a silver screen. Each month of the year we will be displaying a rare film from our vault, all featuring some aspect of the history of Christian evangelism.
Thanks to Bruce Knowlton of Wheaton College's Academic and Media Technology for his invaluable help in putting together this film festival.
Now Showing
February 2015: Congress on Evangelizing Black America - Atlanta '88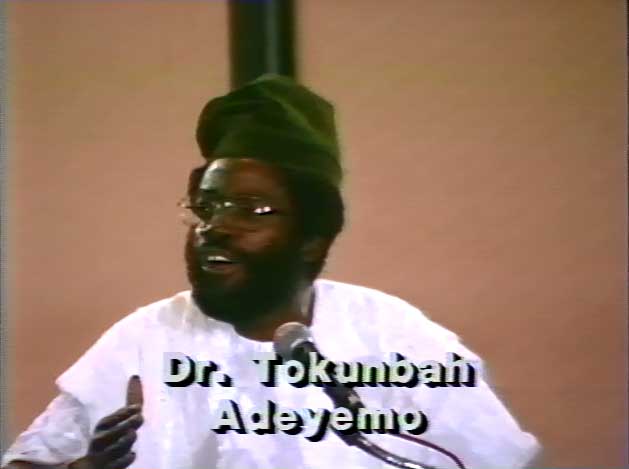 This month's selection in our year-long archival film festival is the 1988 video recording (52-1/2 minutes) of Tokunboh Adeyemo's presentation during the Atlanta '88 Congress on Evangelizing Black America on the integrity of ambassadors of Christ in the realms of sexuality, money, intellectual honesty, ministerial faithfulness, and compassion.
The Congress, held from August 16-20 in 1988, drew approximately one thousand participants. The goals of the Congress were to "1) Increase knowledge of the scriptures. 2) Offer how-to methods for effectively communicating the Gospel to others. 3) Encourage support and sharing of resources with other Christians. 4) Challenge the Black churches in different denominations about the responsibility of the world evangelization."
Tokunboh Adeyemo (1944-2010) of Nigeria, formerly a Muslim before his conversion to faith in Christ in 1966, was one of the key presenters at the Congress. He directed the Association of Evangelicals in Africa (AEA, formerly Association of Evangelicals in Africa and Madagascar or AEAM) as general secretary from 1978 to 2002. Overlapping with that responsibility, Adeyemo also served as honorary chairman of the World Evangelical Alliance, general editor of the Africa Bible Commentary, a member of the International Board of the Living Bible, the International Board of the International Bible Society, and the Board of Reference of Youth for Christ International, chairman of the Evangelical Peace Mission to South Africa, and chancellor of Nairobi Evangelical Graduate School of Theology, among others. See the entry on Tokunboh Adeyemo in the Dictionary of the Dictionary of African Christian Biography.
This video, V7 in Collection 548, is further described along with the entire collection of Atlanta '88 Congress records in the online collection guide. A number of other collections in the BGC Archives also have documents by or about Adeyemo, his ministry and contribution to growth of the church in the Global South - search Adeyemo on our Searchable Online Database.
Click here or on the video frames above or below to view the video.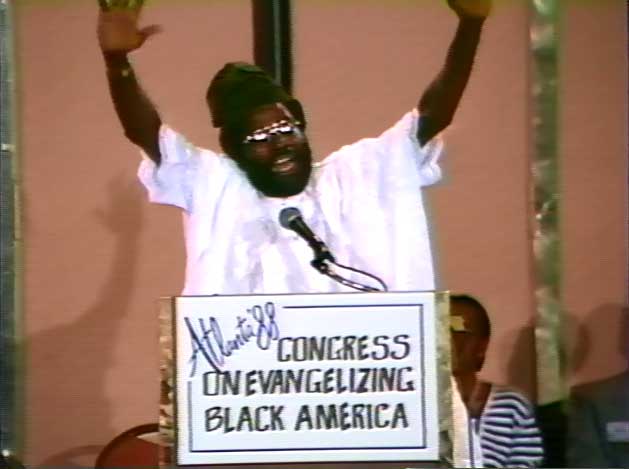 ---
Send us a message
Return to BGC Archives Home Page
Last Revised:02/01/15
Expiration: indefinite
© Wheaton College 2017