Billy Graham Center

---

Archives
The Archives Bulletin Board
Every month, this Bulletin Board will highlight a new document or set of documents that are available in the Archives. These are intended solely for the edification of our viewers and cannot be copied or otherwise reused without permission. Come on over and have a look!
To view items previously featured on the Bulletin Board, click
Now Showing
April 2014: Before...and After: Serving Orphans in pre-World War II China
Photos taken at the Home of the Nazarene industrial orphanage contrasting images of newly-arrived orphans with photographs taken of the same boys years later. (Photos are pasted to brown paper.)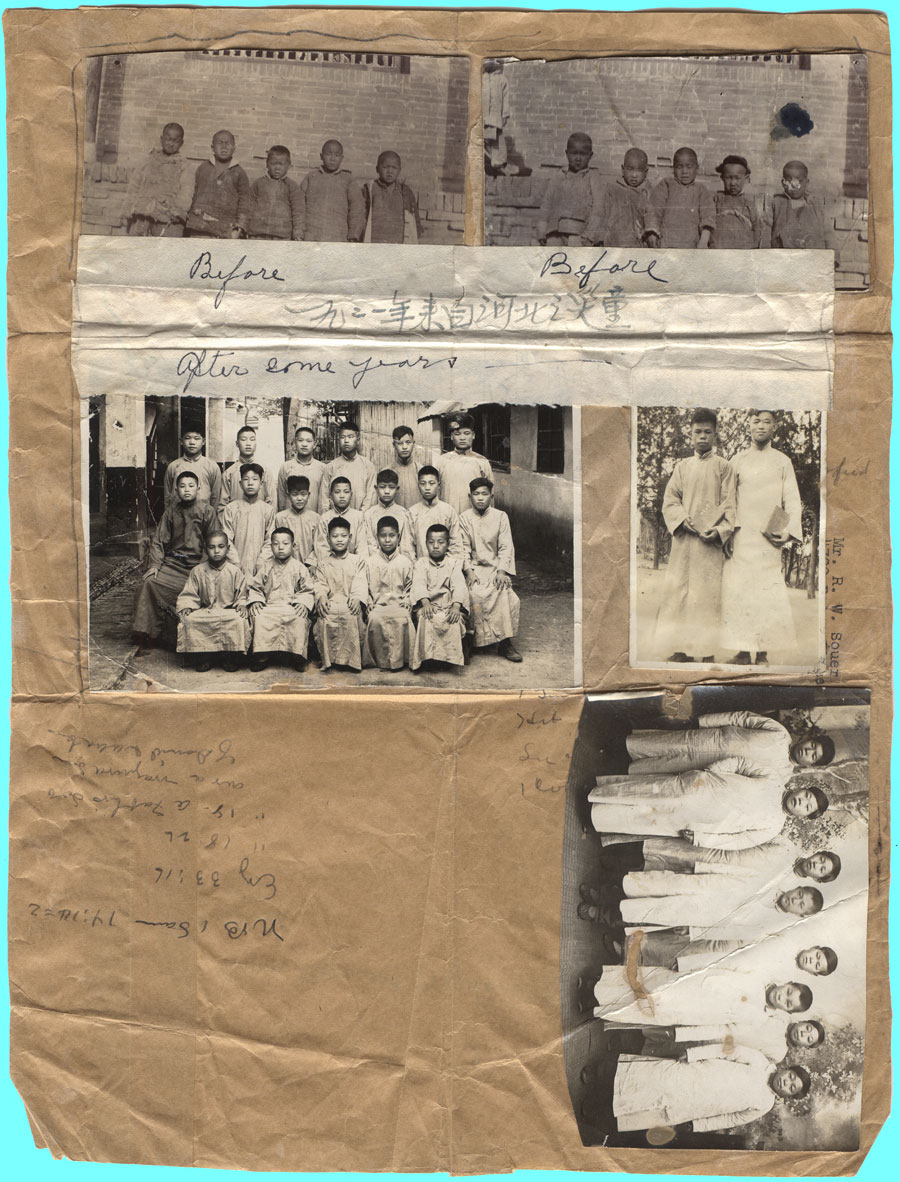 Historical documents not only place individuals, places and organization in a moment in time, but also together can provide points of comparison along a timeline. This month's Bulletin Board visually captures that span-of-time aspect in a single document.
The Home of the Nazarene industrial orphanage in Chinkiang, China. Founded in 1908 by Anna Ellmers after severe flooding in the province left many children orphaned, the Home of the Nazarene accepted children from multiple neighboring regions even if they had a living parent or close relative. Anna later married another missionary J. Wesley Bovyer. Together the Bovyers supervised Home of the Nazarene for nearly thirty years. The orphanage became largely self-supporting by 1937, relying partially on funds raised by selling handiwork the children produced, particularly linen embroidery. This handiwork not only served to generate revenue for the mission but also was sent with newsletters and prayer letters to update churches and laypeople in the United States and Canada who supported the orphanage.
During the second Sino-Japanese War, the Bovyers were placed in a civilian internment camp near Shanghai. Following their release in 1945, they discovered the Home of the Nazarene property had been looted and destroyed and the orphans scattered during the Japanese occupation. The orphanage was never rebuilt, and the Bovyers announced their retirement from missions work in 1949 after relocating to California.
The Bovyers' papers comprising Collection 131, were processesed more than thirty years ago and included a sample of embroidery from the orphanage and many photos of the residents.. However, Anna Bovyer's relatives in Germany recently donated a treasure trove of additional documents and photos like the one pictured above. These new materials have just been processed and the updated collection is now open to the public.
---
Send us a message
Return to BGC Archives Home Page
Last Revised: 4/01/14
Expiration: indefinite
© Wheaton College 2017