Billy Graham Center

---

Archives
The Archives Bulletin Board
Every month, this Bulletin Board will highlight a new document or set of documents that are available in the Archives. These are intended solely for the edification of our viewers and cannot be copied or otherwise reused without permission. Come on over and have a look!
To view items previously featured on the Bulletin Board, click
Now Showing
March 2014: "How Shall We Teach Missions?"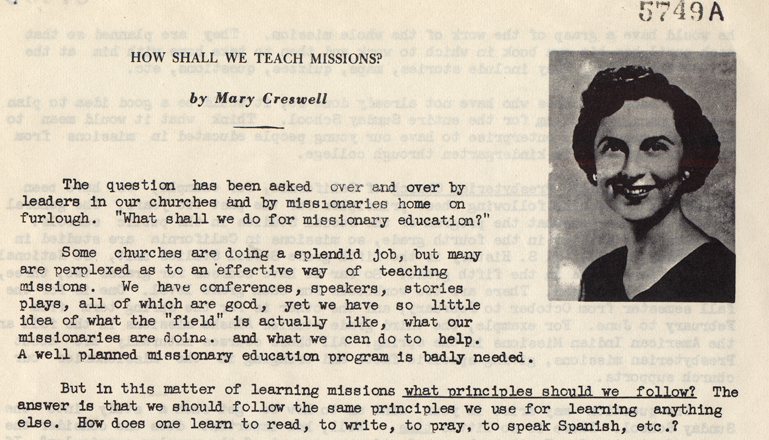 A continuing concern for missionaries is explaining their work to the folks "back home," who sport them with prayer, funds, and fellowship. This month's Bulletin Board highlights a 1955-1956 effort created by Mary Creswell, a volunteer with Latin America Mission, to develop an interest and understanding of missions among children under 12 in the United States through special Sunday School materials. On this page we have links to her explanation of her work, as well as two samples. One uses an kind of poor man's Curious George named Monito to teach about living conditions in Costa Rica. The other tells the true story of a convert named Olga in a way to draw in the children's interest. All of these materials are from Collection 236
---
Send us a message
Return to BGC Archives Home Page
Last Revised: 3/01/14
Expiration: indefinite
© Wheaton College 2017