Billy Graham Center

---

Archives
The Archives Bulletin Board
This service is intended for Wheaton College students, faculty and staff; people who live in convenient driving range to campus; or people who will be visiting Wheaton's campus. Every month, this Bulletin Board will highlight a new document or set of documents that are available in the Archives. Come on over and have a look!
To view items previously featured on the Bulletin Board, click
Now Showing
December 2010: Postcard Christmas Offering --
"Zalig Kerstfeest ~ Zalig Nieuwjaar"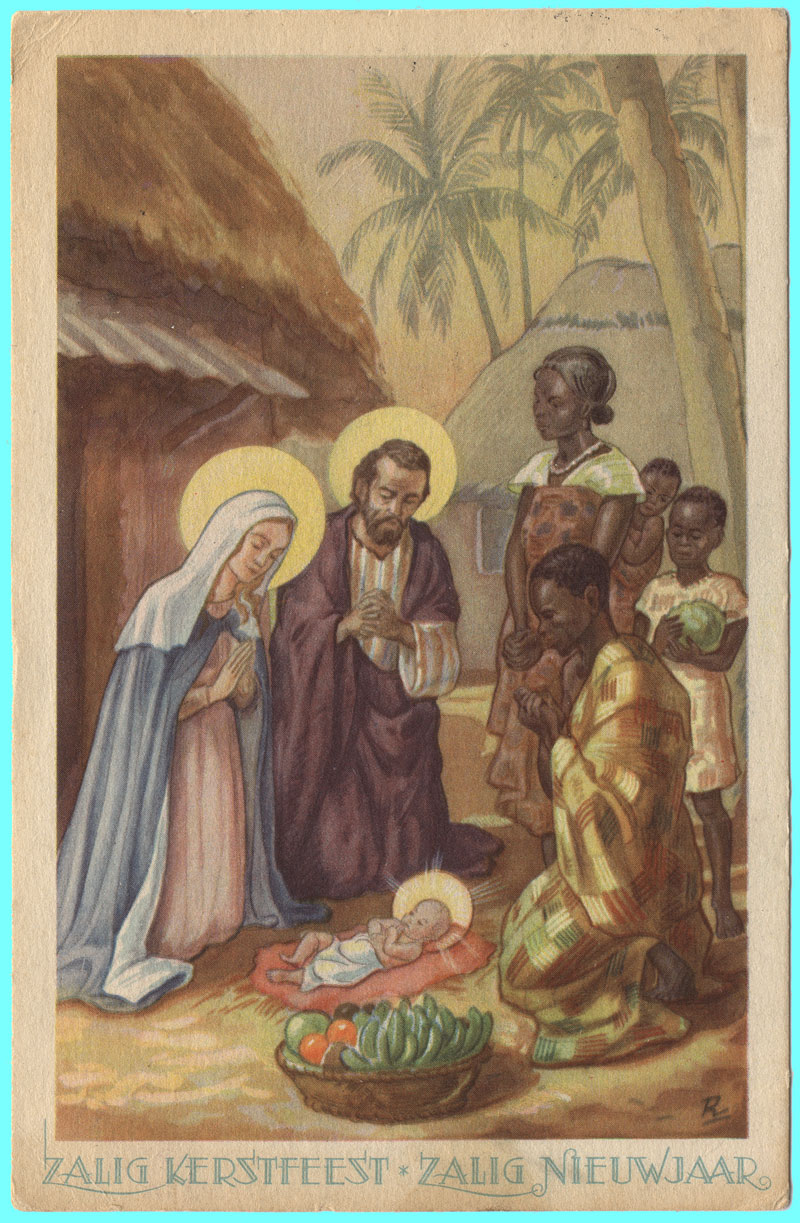 "Merry Christmas - Happy New Year." This postcard from the Archives' Collection 636 -- Postcard Collection illustrates an African family bringing gifts to worship before the Christ Child. Notice the juxtaposition of Mary, Joseph and Jesus (in customary dress associated with New Testament times) with the surrounding African huts and palm trees, the gifts comprised of bananas, other local fruits, and possibly a cabbage, and traditional African dress.
The reverse side of the undated card (shown below) includes a Dutch five-cent stamp depicting Queen Juliana, who reigned from 1948 to 1980. (While the card is undatable because the postmark cannot be read, a timeframe can be suggested based on the stamp being issued in 1949). The card was sent from Oostburg, Holland, to the recipient in Niles, Michigan (the state has a concentration of Dutch descendents). The text spanning the middle of the card, "Uitgave Societeit Voor Afrikannse Missien" roughly translates "Publication Society for African Missions," possibly a Catholic Society with missionaries in various African countries. It is uncertain whether the postcard depicts a particular African locale.
The postcard, originally held by the Billy Graham Museum, was received in 1985 (accession number 85.1002 is penciled on the back of the card). The postcard collection consists of many hundreds of postcards, all related to evangelism or America religious history in one way or another.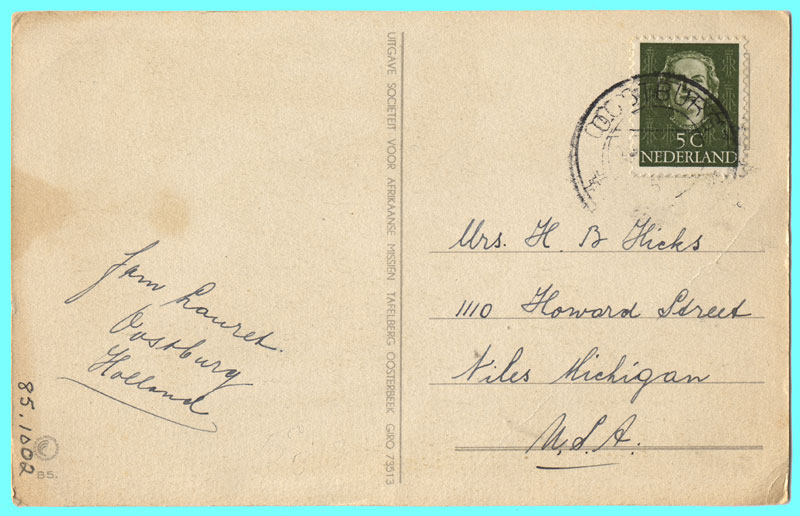 ---
Send us a message
Return to BGC Archives Home Page
Last Revised: 12/01/10
Expiration: indefinite
© Wheaton College 2017