Billy Graham Center

---

Archives
The Archives Bulletin Board
This service is intended for Wheaton College students, faculty and staff; people who live in convenient driving range to campus; or people who will be visiting Wheaton's campus. Every month, this Bulletin Board will highlight a new document or set of documents that are available in the Archives. Come on over and have a look!
To view items previously featured on the Bulletin Board, click
Now Showing
March 2010: Billy Graham's 1st TV Broadcast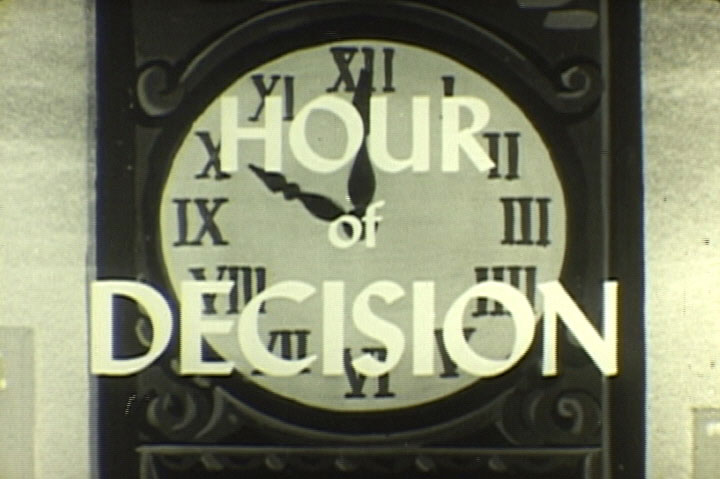 Still frames (above: Opening title to the program with its trademark ringing of the time; below: Graham reviewing a scrapbook of clippings about his early evangelistic meetings) from the first Hour of Decision television program broadcast in 1951 by the Billy Graham Evangelistic Association (which retains all rights to the program and authorizes this showing). Click here or either image on this page to view the 30-minute film that records the the BGEA's evangelistic use of television (two musical portions have been omitted due to copyright issues).
(From
Collection 54, Records of the Walter F. Bennett & Co., film F192.)
The BGEA's first entrance into the television medium was with its Hour of Decision television in June 1951 (not to be confused with the Association's radio program of the same name that first aired in November 1950 - see Collection 191, Records of the Hour of Decision Radio Program). This premier TV episode featured Billy Graham addressing the camera about America's need for faith in Christ and recounting the story of his crusades by turning the pages of a scrapbook of newspaper clippings from his 1949 Los Angeles Campaign and others. Also comprising a large portion of the show were film excerpts from Mid-century Crusade (Collection 54 F104) on the Greater Portland Crusade in Oregon in 1950 (including Graham preaching "America's Need for Revival and Spiritual Rearmament," Cliff Barrows leading the choir in "Every Time I Feel the Spirit," which was accompanied by George Beverly Shea (omitted from the online version due to copyright issues), Barrows and Shea singing a duet of "This Little Light of Mine," Barrows' dramatic sketch on Naaman, and Grady Wilson speaking).
The program throughout its four-year span was usually filmed in an indoor studio and typically included an introduction by Cliff Barrows, a solo by George Beverly Shea and a brief sermon by Billy Graham. Often there was a brief visit and a testimony from anyone from a U.S. congressman to the to the lead Japanese pilot in the 1941 attack on Pearl Harbor. In many locales the half-hour program ran right before or right after Youth on the March, the broadcast of Percy and Ruth Crawford, two more pioneers of religious television. Hour of Decision was discontinued in October 1954, but the practical experience would lay a good foundation for the 1957 live broadcasts from the New York Crusade, which began the BGEA's longstanding tradition of special broadcasts of evangelistic services that has continued since.
(Also see the November 2000 Bulletin Board that highlighted information about the many programs of the Hour of Decision in the collection, and the April 2007 Bulletin Board, which featured the comic book illustration of Barrows' dramatic portrayal of Naaman and a color version of the filmed sketch.)
(Above image: Opening title to the program with its trademark ringing of the time. Below: )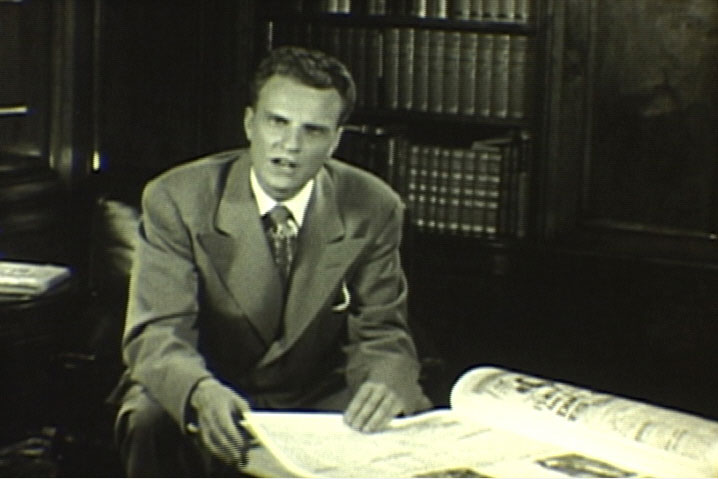 ---
Send us a message
Return to BGC Archives Home Page
Last Revised: 03/08/10
Expiration: indefinite
© Wheaton College 2017