Billy Graham Center

---

Archives
The Archives Bulletin Board
Every month, this Bulletin Board will highlight a new document or set of documents that are available in the Archives. These are intended solely for the edification of our viewers and cannot be copied or otherwise reused without permission.
To view items previously featured on the Bulletin Board, click
Now Showing

November 2006: "The Holy Spirit Gives Power"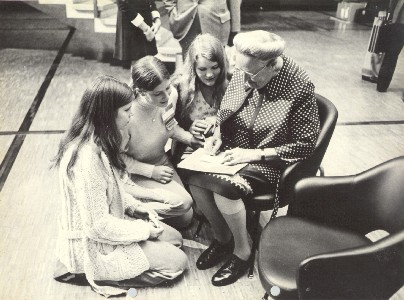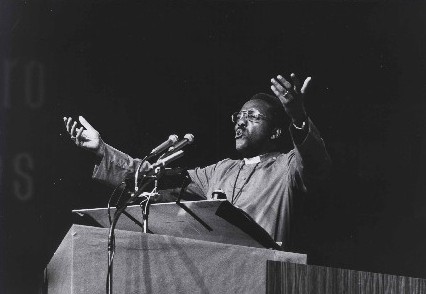 On left, Corrie ten Boom autographing programs during the Lausanne Congress for some young admirers. On right, Bishop Kivengere speaking to a plenary session.
The July 21 evening session of the 1974 International Congress on World Evangelization had a memorable conclusion. The Anglican bishop of Uganda, Rev. Festo Kivengere, was well known as an evangelist and author, as well as an exile from his country because of the tyranny of the president of Uganda, Idi Amin. Bishop Kivengere spoke to the Congress of the East African Revival of the 1920s and 30s. Then he led fellow east Africans in singing the chorus most associated with the revival, Tukutendereza Yesu.

Next, Billy Graham introduced Miss Corrie ten Boom of Holland. She also was an evangelist who had led meetings around the world but was soon to be best known to American Evangelicals as the author of The Hiding Place, which told the story of how her family had hidden Jewish refugees from Nazi persecutors during World War II. Miss ten Boom gave a rousing description of her own experience of the power of the Holy Spirit.


Click here to read a transcript of the recording of the session.


---
Send us a message
Return to BGC Archives Home Page
Last Revised: 9//13/21
Expiration: indefinite

© Wheaton College 2006