Billy Graham Center

---

Archives
The Archives Bulletin Board
Every month, this Bulletin Board will highlight a new document or set of documents that are available in the Archives. These are intended solely for the edification of our viewers and cannot be copied or otherwise reused without permission.
To view items previously featured on the Bulletin Board, click
Now Showing

September 2006: From Darkness to Light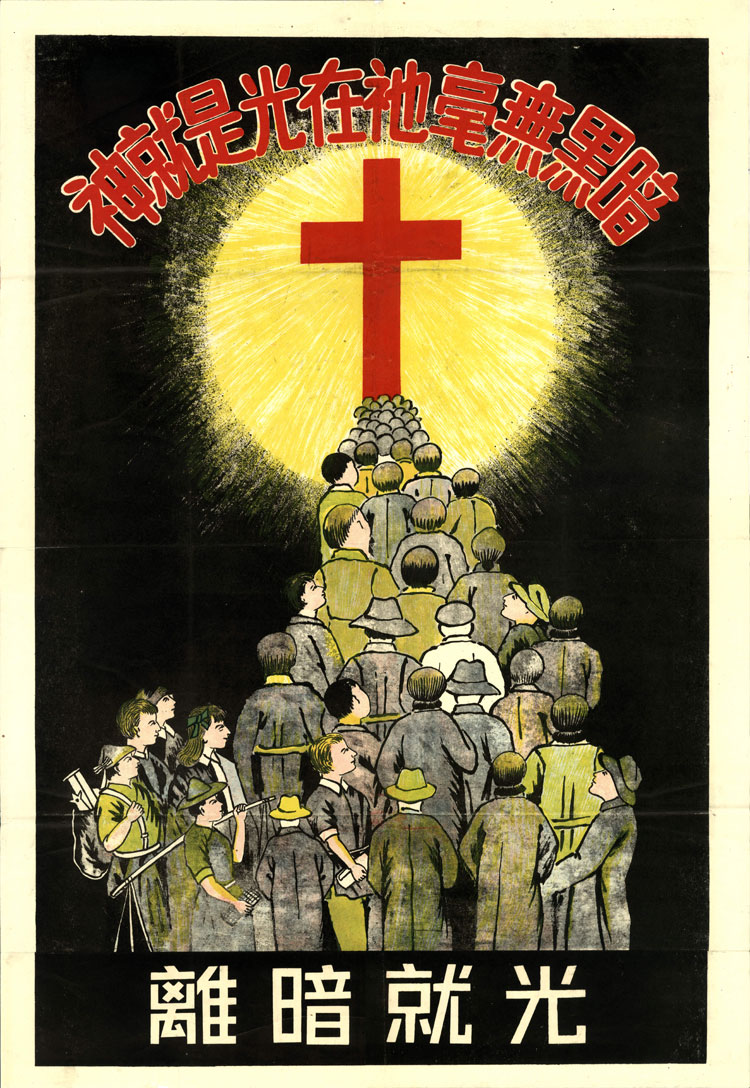 Poster used as part of the Salvation Army's "Darkness to Light" campaign in China in 1941. The characters at the bottom announce the campaign theme, "Darkness to Light." The characters across the top of the poster read "God is light. In Him there is no darkness. Reject darkness, approach light." The poster came to the Archives as part of the papers of Herbert J. Taylor, a Christian businessman in Chicago who founded the Christian Workers Foundation in 1939. The Foundation contributed funds to the Salvation Army for use in the "Darkness to Light" campaign. Taylor also had a very influential role in providing resources and direction to launch ministries to young people like Youth for Christ, Young Life, Christian Service Brigade, Pioneer Girls, InterVarsity and more. He also contributed leadership to citywide evangelistic events like Billy Graham's 1962 and 1971 crusades. Taylor served on the board of Salvation Army.
Read an extended description of the contents of the Herbert J. Taylor papers collection (Collection 20)
Search "evangelistic work--China" and missions--China" through the Archives online database. (Copy the text inside the quotation marks, and then paste into the SELECT SUBJECT WORD OR PHRASE template.)
---
Send us a message
Return to BGC Archives Home Page
Last Revised: 9/01/06
Expiration: indefinite
Wheaton College 2006