Billy Graham Center

---

Archives
The Archives Bulletin Board
Every month, this Bulletin Board will highlight a new document or set of documents that are available in the Archives. These are intended solely for the edification of our viewers and cannot be copied or otherwise reused without permission.
To view items previously featured on the Bulletin Board, click
Now Showing

August 2006: Rift Valley Academy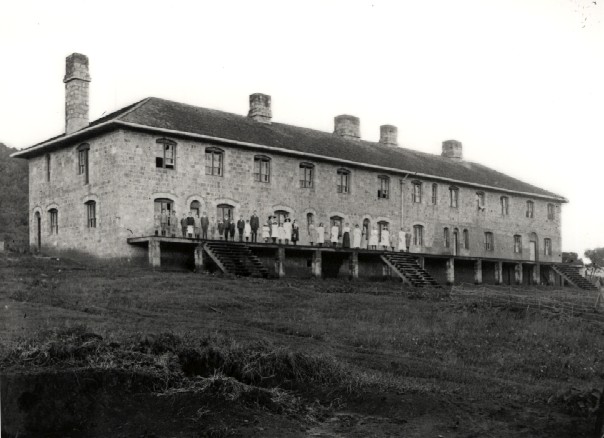 One of the first buildings of Rift Valley Academy. This was one of the photos of
Laura Collins. No date, but ca. 1912.
In 1906, one hundred years ago, Rift Valley Academy ( a little over 50 kilometers - 30 miles - northwest of Nairobi) was started in what was then the British colony of Kenya. It a boarding school for the children of missionaries, under the auspices of the African Inland Mission. It continues today as an AIM school, with students from both Kenyan and missionary families attending kindergarten through the twelfth grade.
The BGC Archives contains many materials from RVA history, including oral history interviews with the memories of students and parents, reports, programs, photos and other documents
Click here to read the speech given by former United States president Theodore Roosevelt in 1909 at the dedication of the schools's first building, Kiambogo Hall.
For more on Rift Academy, see the guides to the following collections:
Collection 81, the Records of Africa Inland Mission International. Includes many documents on RVA history going back to 1909. For example, click here to see a transcript of the report written by the school principal in 1912.
Collection 248, Interviews of William Barnett. Tapes T1, T2, T3 contain memories of the Rift Valley as well as Rift Valley Academy at the start of the twentieth century. Transcripts for these interviews are also online.
Collection 251, Interview with Herbert Downing. Oral history interview with a RVAS alumni. Transcript is also online.
Collection 422, Papers of Laura Collins. Includes photos of the school in its earliest days. Collins was one of the first teachers. Click here os see an online exhibit of Collins photographs.
Collection 452, Papers of Elwood L. Davis. A photo album includes pictures of RVA students in the 1930s.
Collection 508, Interview of Barbara Collins. Oral history interview of a parent of children at RVA.
Collection 330, Records of Moody memorial Church. The records of this Chicago church, which supported several AIM missionaries, includes an album that has photos of RVA.