Billy Graham Center

---

Archives
The Archives Bulletin Board
Every month, this Bulletin Board will highlight a new document or set of documents that are available in the Archives.These are intended solely for the edification of our viewers and cannot be copied or otherwise reused without permission.
To view items previously featured on the Bulletin Board, click
Now Showing

January 2006: I said "yes" to God on the missionary challenge...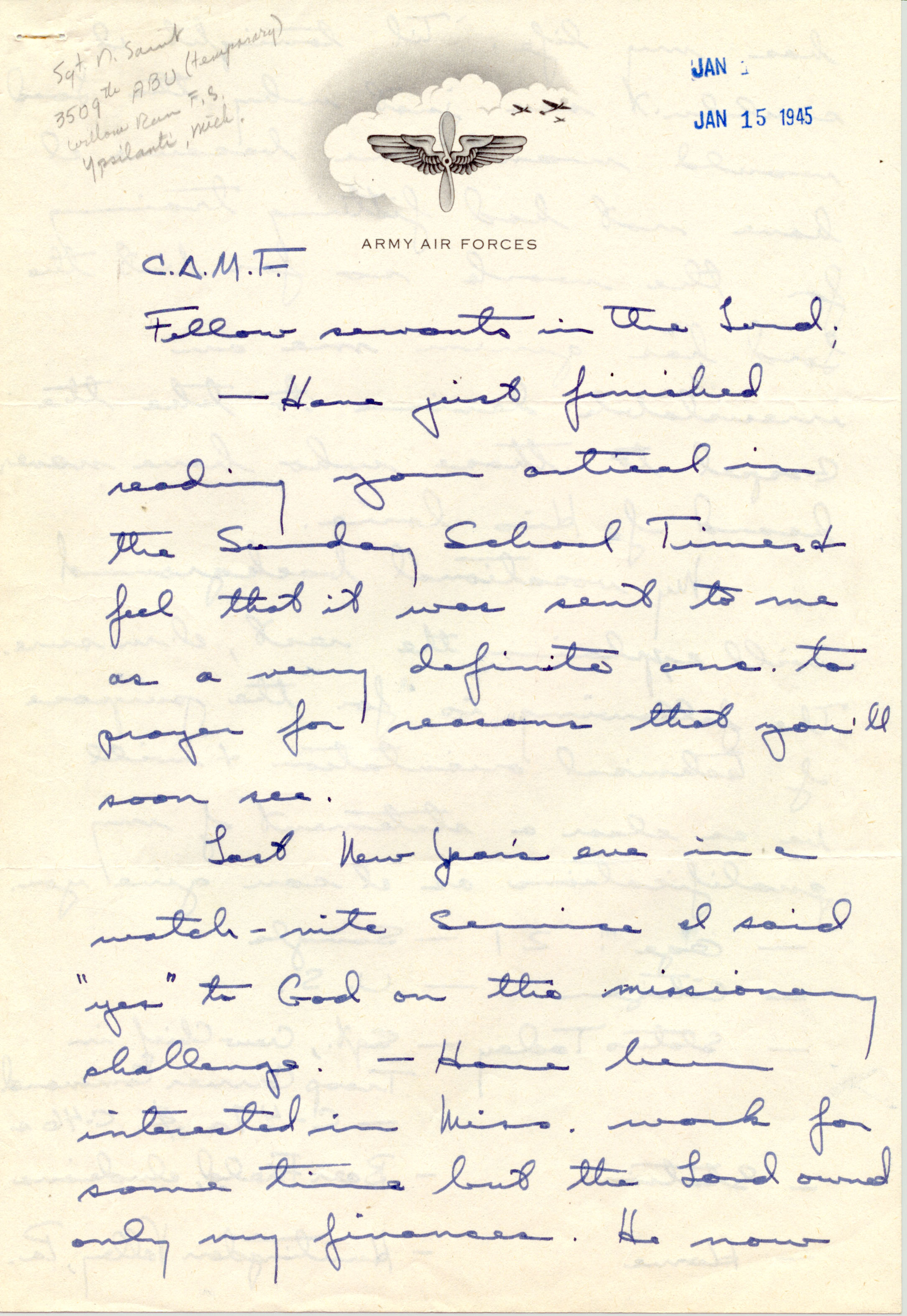 Nate Saint's Letter to Christian Airmen's Christian Fellowship, January 1945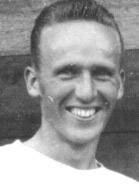 Nathanael "Nate" Saint (1923-1956) was one of the five missionaries martyred in Ecuador fifty years ago this month. For more information about this event click here. While still an airman in the Air Force he wrote to the Christian Airmen's Missionary Fellowship (later renamed Mission Aviation Fellowship) expressing his desire to become a missionary pilot. A decade of Saint's correspondence is located in Collection 136 - Records of Mission Aviation Fellowship. Below is a transcript of the first part of Nate's letter. Notes by the transcriber are in brackets []. To view the entire letter click here.

[Stamped " Jan 15 1945"]

C.A.M.F.

Fellow servants in the Lord:

Have just finished reading your artical [sic] in the Sunday School Times & feel that it was sent to me as a very definite ans. [answer] to prayer for reasons that you'll soon see.

Last New Year's eve in a watch-nite service I said "yes" to God on the missionary challenge. Have been interested in miss. [missionary] work for some time but the Lord owned only my finances. He now has my life. 'Til tonight I couldn't see just why the Lord would want me because I have not had fitting training for the work so far but the Lord has given me an irresistible desire to take the Gospel to those who have never heard of His love.

My vocational background will explain the rest, I am sure. The following is for the purpose of technical orientation + will be as clear a statement of my qualifications as I can give you.
- age: 23 - single
- citizen - U. S.
- status today - Sgt, crew chief in Troop Carrier Command
-Station - Bear Field, Indiana
- Home - Huntington Valley, Pa.
- Desire - To serve Him in most effective way.
| | |
| --- | --- |
| Education | a. High School Grad. |
| | b. Nite. School - vocational training while employed by Amer, Airlines to La Guardia Field, N.Y. |
| | c. Considerable study of A' cft [Aircraft] industry with Mech. Engineering in mind, intending to complete education with college - post-war. |
| | |
| Qualifications - | a. Hold currently effective C.A.A. lic. for A'cft = A'cft engine works. (A & E license) |
| | b. Pvte. Pilot's lic. in sight - have 34 hours solo logged. |
| | c. Have 4 yrs. "line" experience in Maint. of A'cft. |
| | d. - several (4 more) months experience in a welding shop. |
| | e. Nearly a year of experience in the maintenance of light a'cft of 40 to 225 H.P. at Somerton Airport, Phila,, PA. This airport operated about 40 privately + corp. owned airplanes of most popular types. |
| | f. Over a year in the overhaul shops of Amer. Airlines, N.Y. - DC-3 airplanes - Wright Cyclone Eng. |
| | g. 2 yrs. in A.A.F. [Army Air Force] classified as a crew chief and maintaining C-47 + C46s. |
| | h. am now just finishing an Engine School course at Ford's Willow Run plant near Detroit. |
| | - Have pulled highest grades in class in all 5 phases of school here + have one of the highest averages of any Mechanic to Graduate. (Doesn't sound right for me to be saying this but, for the sake of Lord's work, I don't care how it sounds.) |
I'm not making air-castle assumptions but want to further the cause of Christ in any way I can so please count me in + keep in informed of the "goings on."

Your vision is one that is shared by many Mission-minded Christians. We're praying for this work + anxious to be "firstus with the mostus" for Jesus.

Sincerely,
Nathanael Saint
806th ABU, Sg. B
Baer Field
Ft. Wayne
Ind.
---