Billy Graham Center

---

Archives
The Archives Bulletin Board
Every month, this Bulletin Board will highlight a new document or set of documents that are available in the Archives.These are intended solely for the edification of our viewers and cannot be copied or otherwise reused without permission.
To view items previously featured on the Bulletin Board, click
Now Showing

October 2005: "God's finger touched him" --
The death of R.A. Torrey as portrayed in his diary and that of his wife

Evangelist R.A. Torrey Sr.'s diary entries on the day before and day of his death (see transcript below)
R.A. Torrey died seventy-seven years ago this month. He was born in 1856, studied at Yale, pastored several churches including Moody Memorial Church in Chicago and Church of the Open Door in Los Angeles, was Moody Bible Institute's first superintendent and dean at Bible Institute of Los Angeles, was instrumental in the production of the Fundamentals, held international evangelistic meetings (in Australia and New Zealand, India, England, Scotland, Germany, China, Korea and Japan, was a prolific writer of Christian literature, and received an honorary doctorate from Wheaton College in 1907.
The above pages in his diary are his own dictated entry (left) in Clara's hand, written the night before he passed away, and the entry of his wife (right) the following day. The pages below come from Clara's diary for the same two days. The following are transcripts of the text on these pages. Click for more information on the R.A. Torrey collection. See the July 2000 and October 2002 Bulletin Boards, also featuring Torrey, and an audio recording of Torrey preaching.
Diary entries from Clara Torrey's diary on the day before and day of his death (see transcript below)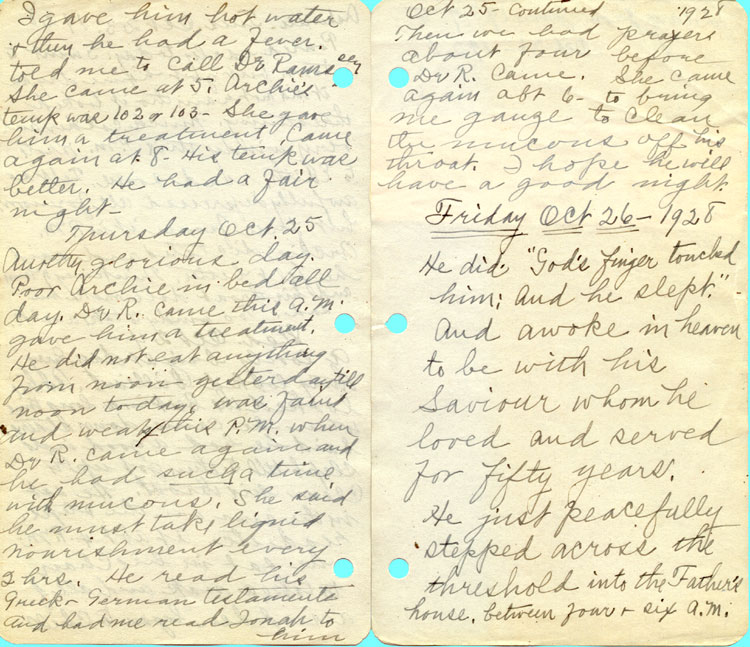 From R.A. Torrey's diary:
... Drank hot water, then got feverish. Had Clara phone for Dr. Ramsey. She came abt [about] 5 - in her own car. I had a temp of 102 - she gave me a treatment. Came back at 8 - my temp had gone down to normal (?). Gave me another treatment.

Thusday Oct 25
Pain when I coughed, had Dr. R. at 10-am - my temp 97. She gave me a short treament. I coughed up some mucous. She told me to stay in bed. I ate nearly a shredded wheat & some applesauce, drank some milk.

[this entry by Clara]
Friday Oct 26, 1928
"God's finger touched him and he slept." Probably slipped away about 4 or 5 a.m. without a struggle.

God has sustained us all marvelously and answered our prayers. He could not have dealt with us more kindly, saving us distress of mind because we know that Archie just crossed the threshold and entered into Glory painlessly and peacefully, and we all wanted God's will and so did Archie: he wanted it above everything else.
From Clara Torrey's diary:
...I gave him hot water and then he had a fever, told me to call Dr. Ramsey. She came at 5. Archie's temp was 102 or 103. She gave him a treatment. Came again at 8. His temp was better. He had a fair night.

Thursday Oct. 25
Another glorious day. Poor Archie in bed all day. Dr. R. came this a.m. gave him a treatment. He did not eat anything from noon yesterday till noon today, was faint and weak this p.m. when Dr. R. came again and he had such a time with mucous. She said he must take liquid nourishment every 2 hrs. He read his Greek and German testaments and had me read Jonah to him.

Oct 25 continued 1928
Then we had prayers about four before Dr. R. came. She came again abt [about] 6 to bring me gauze to clean the mucous off his throat. I hope he will have a good night.

Friday Oct 26 - 1928
He did. "God's finger touched him: and he slept." And awoke in heaven to be with his Saviour whom he loved and served for fifty years. He just peacefully stepped across the threshold into the Father's house between four and six a.m.
---