Billy Graham Center

---

Archives
The Archives Bulletin Board
This service is intended for Wheaton College students, faculty and staff; people who live in convenient driving range to campus; or people who will be visiting Wheaton's campus. Every month, this Bulletin Board will highlight a new document or set of documents that are available in the Archives. Come on over and have a look!
To view items previously featured on the Bulletin Board, click
.


Now Showing
March 2005: Pouring the Liquor Back into Hell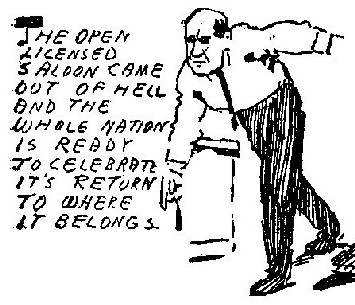 Portion of an illustrated cover of William Biederwolf's "Sermon on Booze," n.d.
William Edward Biederwolf, following the lead of Billy Sunday and J. Wilbur Chapman, was one of the well-known evangelists of the early twentieth century. Biederwolf resembled Sunday in a few significant ways, from their mutual starts in the ministry working for Chapman, to their receding hairlines, to their ministries based out of Indiana, to their tackling of the political and social issues of the day in their sermons, along with the spiritual ones. Biederwolf differed from Sunday in that he not only graduated from college, but also completed studies at Princeton Seminary and the University of Berlin in Germany. Biederwolf also thought it his duty to join the armed forces during the Spanish-American War, serving as chaplain of the 161st Indiana Volunteer Infantry.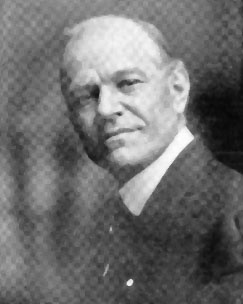 Portrait photo of William E. Biederwolf, 1914.
Like many of his contemporary evangelists, Biederwolf spent a great deal of time preaching against the consumption of alcohol and advocating for its prohibition. In his "Sermon on Booze," a sermon that he often preached (and was published in pamphlet form) between 1912 and 1917, Biederwolf attributes most of the country's problems on saloons, the "liquor traffic" and the "whiskey business." Biederwolf believed it was the duty of every Christian to fight to close every saloon in America, declaring:

And I'm in the fight to stay until the last dram of liquor is poured back into hell and the sun shall cease to shine forever upon an opened, licensed saloon anywhere beneath Old Glory's stainless stars, and the white-winged dove of peace and sobriety spreads her sheltering wings over this land of the free and the home of the brave which every loyal American loves with all his heart!



Collection 195 - Papers of William Edward Biederwolf contains scrapbooks, magazine articles, manuscripts of his sermons and speeches, correspondence and some other miscellaneous items regarding Biederwolf's evangelistic efforts.
To find what materials the Archives has concerning him in other collections, do a search for "Biederwolf, William Edward" (without quotation marks) on the Archives online database.

Click
to go to a pamphlet version of the "Sermon on Booze," one of Biederwolf's contributions to the Prohibition Movement.
---
Return to BGC Archives Home Page

Last Revised: 2/28/05
Expiration: indefinite

© Wheaton College 2005