Billy Graham Center

---

Archives
The Archives Bulletin Board
This service is intended for Wheaton College students, faculty and staff; people who live in convenient driving range to campus; or people who will be visiting Wheaton's campus. Every month, this Bulletin Board will highlight a new document or set of documents that are available in the Archives. Come on over and have a look!
To view items previously featured on the Bulletin Board, click
.


Now Showing
November 2004: Evangelistic Troubadour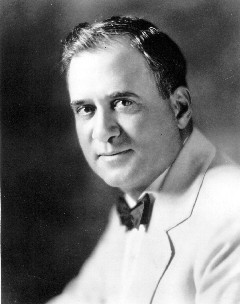 Portrait photo of Homer Rodeheaver, n.d.
Homer Alvan Rodeheaver was a soloist and musical director of many campaigns in the early twentieth century for evangelists, such as Billy Sunday and William Biederwolf. Rodeheaver was a well-known part of Billy Sunday's evangelistic team, directing choirs, performing gospel songs and serving as master of ceremonies at Sunday's evangelistic meetings for at least twenty years, starting in 1909. He was also an accomplished trombone player, weaving instrumental solos in many of his performances.


Rodeheaver began to publish numerous religious songs about the same time he joined Billy Sunday and his team on their evangelistic crusades. He went on to found his own religious music publishing company and obtained the copyrights to hundreds of religious songs.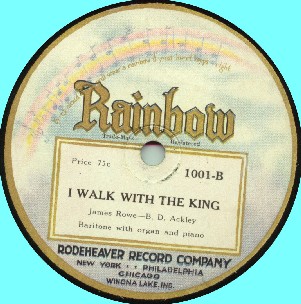 Label of a phonograph record with a song sung by Homer Rodeheaver on Rainbow Records, a Rodeheaver Record Company, n.d.
By 1913, Rodeheaver had also become one of the early gospel recording artists. Although he was more well known for traditional "revival hymns," as a vocal proponent of the prohibition movement, he sometimes also recorded songs warning of the dangers of alcohol. Several of his recordings included duets with Virginia Asher, a soloist and evangelist concerned with women in industry and business. Rodeheaver also played the trombone on some of his recordings. While he recorded numerous songs with several different recording companies, Rodeheaver founded his own Rodeheaver Recording Company, with the Rainbow recording label, in 1920, which he headed until his death in 1955. Homer Rodeheaver continued recording songs into the 1940s before becoming musical director at Bob Jones University.


Collection 130 - Ephemera of Homer Rodeheaver contains audio cassettes, phonograph records, a photograph, clippings, promotional materials, and newsletters regarding Rodeheaver's evangelistic career.
To find what materials (including photos, promotional materials and recollections in oral history interviews) the Archives has concerning him, do a search for "Rodeheaver, Homer" (without quotation marks) on the Archives online database.


---
Return to BGC Archives Home Page

Last Revised: 11/1/04
Expiration: indefinite

© Wheaton College 2005