Billy Graham Center

---

Archives
The Archives Bulletin Board
This service is intended for Wheaton College students, faculty and staff; people who live in convenient driving range to campus; or people who will be visiting Wheaton's campus. Every month, this Bulletin Board will highlight a new document or set of documents that are available in the Archives. Come on over and have a look!
To view items previously featured on the Bulletin Board, click
.


Now Showing
May 2004: "Thank God We Have A Part in the Greatest Thing Happening in the World Today." An Inside View of the 1954 Greater London Crusade
Letterhead of the stationary for the Billy Graham Greater London Crusade.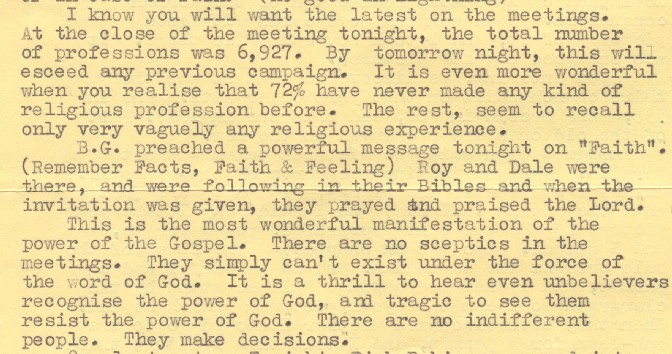 Bottom: Excerpt from one of Ferm's letters to his family, dated March 23, 1954. "Roy and Dale" referred to in the excerpt are Roy Rogers and Dale Evans, two popular tv and movie stars of the era who often participated in BGEA meetings. (The quotation in the title of this page is from the end of the letter dated March 13, 1954.)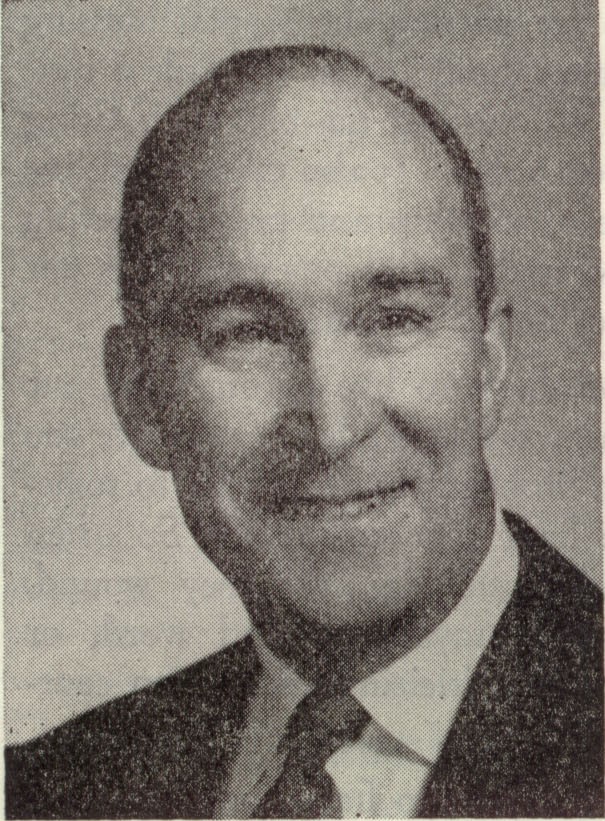 The Bulletin Board for March 2004 commemorated the opening of the 1954 Billy Graham Greater London Crusade. The Board this month remembers its closing on May 22. By that time, an estimated 2,047,333 had attended the meetings held in Harringay Arena, a sports stadium. And 38,447 had made professions of faith in Jesus Christ.

Dr. Robert O. Ferm was one of the staff people of the Billy Graham Evangelistic Association (BGEA) for that campaign. He had given assistance to Billy Graham before on a part time basis. In early 1954 the evangelist asked Ferm to take a leave of absence from his job as Dean of Students at Houghton College and come to London to assist him by preparing drafts of sermons, doing research, and preaching. Ferm's work for the BGEA in England and on Continental Europe led to an increasing number of assignments that finally resulted in 1959 in a full-time position with the BGEA that lasted until his retirement in 1978.

Ferm's letters home to his wife Lois and his children Lois Esther, Rebecca, Paul and Stephen give a vivid insider's view of the evangelistic campaign that was front page news in England. They also offer a charming picture of an American in London in the middle of the twentieth century. These letters can be found in Folder 3 of Box 13 of the BGC Archives' Collection 19, the Papers of Robert O. Ferm.

Click
to read a few samples of his correspondence.

---
Send us a message at
Return to BGC Archives Home Page
Last Revised: 05/1/04
Expiration: indefinite


© Wheaton College 2005