Billy Graham Center

---

Archives
The Archives Bulletin Board
This service is intended for Wheaton College students, faculty and staff; people who live in convenient driving range to campus; or people who will be visiting Wheaton's campus. Every month, this Bulletin Board will highlight a new document or set of documents that are available in the Archives. Come on over and have a look!
To view items previously featured on the Bulletin Board, click
.


Now Showing
April 2004: This Is Africa & I Love It!

Laura Barr's caption for this sketch in her scrapbook reads: "Lugbara woman with baby tied on her back, and wearing leaves, grinding banda on stone in front of her house. Granary to the right of house, with devil house under it. Children with father, carrying bow & arrow, and dog. Distant village - right background. This view is typical of this Aru district!"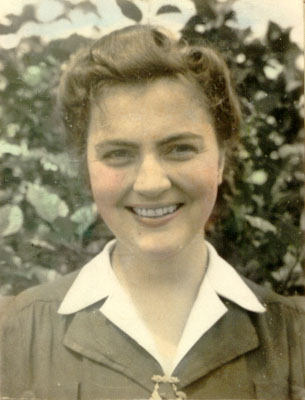 How I do love Africa - it is "in my blood." This is Africa & I love it! I do - & am so thankful for the privilege He gives me - I love the people & this land, & I want them to love Him! Laura Isabelle "Belle" Barr (1914-2003) wrote these words in her diary on November 12, 1948. She was a missionary for thirty-six years with Africa Inland Mission to the Lugbara people of northeast Belgian Congo (now Democratic Republic of Congo) and the West Nile District of Uganda.
In her prayer letter of January 1945 she told her supporters to PRAY for the Lugbara people, and for us, as we seek to give them His Word. There are approximately 90,000 Lugbaras in Aru District [Belgian Congo], which is 1250 square miles in area, and in that territory there are 700 and some Christians. Much work should be done in the district to reach all these other thousands. But there aren't enough of us, and it takes much time and energy to live out among the people in their villages for days at a time, as it should be done.
Just before she left on her first furlough she wrote in her diary (September 12, 1949) How happy I am for the answer to prayer the other day when Alicia (Yoanna's mother) "turned her heart to Christ." What a sweet experience it was, & what a token of His power & faithfulness, & what a token of His love, just before I go home to let me have a part in bringing that dear soul to Christ!
Collection 481 - Papers of Laura Isabelle "Belle" Barr contains correspondence, diaries, articles, clippings, oral history interviews, photograph albums, photographs, prayer letters, radio broadcasts, and slides.
---
Send us a message at
Return to BGC Archives Home Page
Last Revised: 03/15/04
Expiration: indefinite


© Wheaton College 2005