Billy Graham Center

---

Archives
The documents and images featured here are for the personal use of students, scholars and the public. Any commercial use or publication of them is strictly prohibited. This service is intended for Wheaton College students, faculty and staff; people who live in convenient driving range to campus; or people who will be visiting Wheaton's campus. Every month, this Bulletin Board will highlight a new document or set of documents that are available in the Archives. Come on over and have a look!
To view items previously featured on the Bulletin Board, click
---
The Archives Bulletin Board
May 2001:
Bring the Gospel to the World - Victor Plymire in Tibet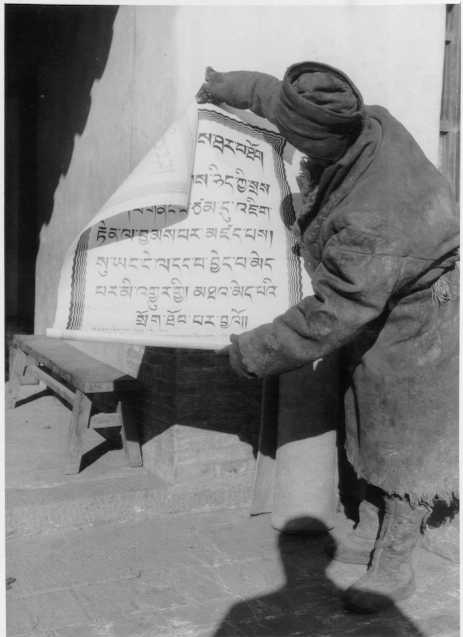 This photograph of a Tibetan Christian receiving a Gospel poster was taken by Victor Plymire in 1930.
The photograph is from Photo Album: Plymire, Victor G. IV.
Victor Guy Plymire (1881-1956) was an Assemblies of God missionary to Tibet from 1908 until 1949 when war caused him and his family to leave. The Plymire materials in Collection 341 consist of letters, articles, photos, maps, diary and other material. Topics cover information not only on his evangelistic work among various strata of Tibetan society but also about his evangelistic/exploration expedition of 1927-28 which crossed from northeastern to southwestern Tibet; Tibetan culture and society; and the Buddhist religion.
Click
to go to the descriptive guide of this collection.
---
Return to BGC Archives Home Page

---

Last Revised: 5/1/01
Expiration: indefinite