Billy Graham Center

---

Archives
The documents and images featured here are for the personal use of students, scholars and the public. Any commercial use or publication of them is strictly prohibited.

The Archives Bulletin Board

September 2000: Poster Evangelism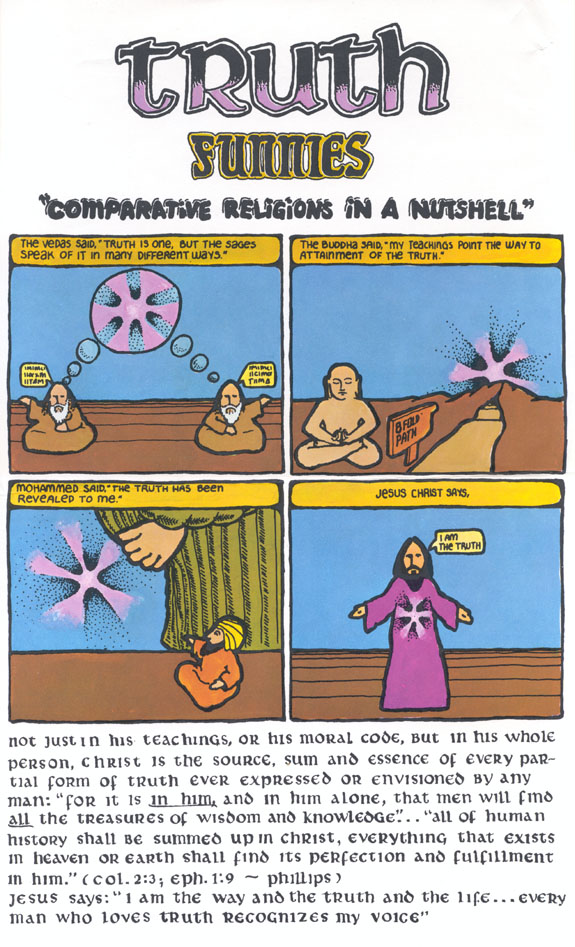 Jesus People-style poster, undated (ca. 1970s) and unattributed (found in the file for Spiritual Counterfeits Project), underscoring the uniqueness of Jesus Christ in contrast to Hinduism, Buddhism, and Islam.
You never know what you will find in an Archives collection. For example, the papers of L. Nelson Bell (missionary doctor, father-in-law of Billy Graham and editor for Christianity Today) also included a few original letters written by evangelist Dwight L. Moody. The personal papers of a missionary might not only document personal evangelism, community work and discipleship, but also politics, military troop movements and social change. While you might not expect to find evangelistic posters in the administrative files of a mission service agency, it was among the correspondence, reports and statistics of Evangelical Fellowship of Mission Agencies (EFMA) that the evangelistic poster featured above surfaced in a resource file. This illustrates the adventure of archival hunting where alert and innovative researchers will occasionally uncover surprises unrelated to their search, which are both interesting or stimulating.
---
This service is intended for Wheaton College students, faculty and staff; people who live in convenient driving range to campus; or people who will be visiting Wheaton's campus. Every month, this Bulletin Board will highlight a new document or set of documents that are available in the Archives. Come on over and have a look!
To view items previously featured on the Bulletin Board, click
.


---
Last Revised: 8/31/00
Expiration: indefinite


© Wheaton College 2005