Billy Graham Center

---

Archives
The Archives Bulletin Board
This service is intended for Wheaton College students, faculty and staff; people who live in convenient driving range to campus; or people who will be visiting Wheaton's campus. Every month, this Bulletin Board will highlight a new document or set of documents that are available in the Archives. Come on over and have a look! To view items previously featured on the Bulletin Board, click
October 2002:

- The Torrey-Alexander New Zealand Mission of 1902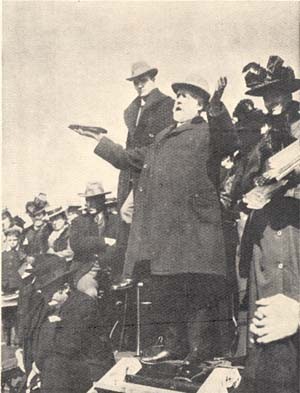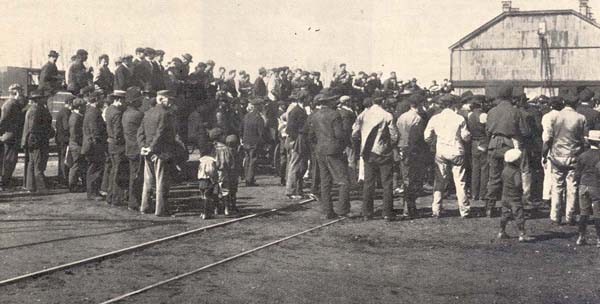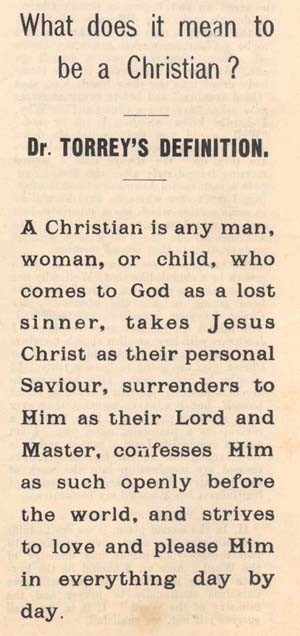 Above, top right, R. A. Torrey speaking in the Addington Railway Works in Christchurch, New Zealand. Charles Alexander is on Torrey's right. Left: Workers at Addington Railway Works listening to Torrey. Bottom left: Excerpt from the printed report on the Torrey-Alexander campaign in New Zealand.


Following the lead of Dwight L. Moody, who led a series of very influential evangelistic campaigns in England and Scotland in 1873-1874, American evangelists began to travel to other countries more frequently, particularly to Great Britain and parts of the British empire. Almost exactly one century ago, R. A. Torrey, pastor of Moody Church of Chicago and president of Moody Bible Institute of Chicago as well as a popular preacher and writer in the United States, went with his song leader Charles Alexander on a round-the-world tour. In August and September 1902 they held a series of meetings in the cities of Wellington, Christchurch, and Dunedin in New Zealand.

The Archives contains a printed contemporary New Zealand booklet on the meetings (in Collection 107, box 2, folder 2) which includes a wealth of information on these meetings, as well as the photos and other images on this page. Collection 107 also contains the diaries of Torrey's wife, Clara, in which she described her delighted reactions to the communities of New Zealand's North and South Islands (folders 3-5, 3-6).

Click
to go to the guide to Collection 107, Ephemera of Reuben Archer Torrey Sr.

Click
to go to the transcript of the report in The Outlook Illustrated Memento of the Torrey-Alexander Mission/ August-September 1902 of the September 9 outdoor meeting with the railway workers of the Addington Railway Works in Christchurch, the meeting at which the photos on this page was taken.

Click
to read a transcript from Clara Torrey's diary of the events of September 13, 1902.

Click
to read two of Torrey's evangelistic sermons from the campaign.


---
Send us a message
Return to BGC Archives Home Page
Last Revised: 10/02/02
Expiration: indefinite

© Wheaton College 2005