Billy Graham Center

---

Archives
The Archives Bulletin Board
This service is intended for Wheaton College students, faculty and staff; people who live in convenient driving range to campus; or people who will be visiting Wheaton's campus. Every month, this Bulletin Board will highlight a new document or set of documents that are available in the Archives. Come on over and have a look!
To view items previously featured on the Bulletin Board, click
.


Now Showing
March 2002: Tent Raising Experiences
This photo captures one of the few quiet moments outside the tent raised
for the Greater Los Angeles Revival featuring the evangelist Billy Graham,
September 25 - November 20, 1949.

TOP: This tent used by the evangelist Jack Shuler in Portland, Oregon ca. 1955 is the same tent used in the crusade in Los Angeles, 1949, that launched Billy Graham as a successful evangelist.
LEFT MIDDLE: Worshippers stand during an evangelistic tent meeting held by Jack Shuler in Beaumont, Texas, n.d.
RIGHT MIDDLE: Tent set up for an evangelistic meeting near Shinkoyasu, Japan in September 1955. The roof of the tent contains a scripture verse written in Japanese.
BOTTOM: Japanese children gather in a tent to learn a lesson from the Bible on what at least threatens to be a rainy day, n.d.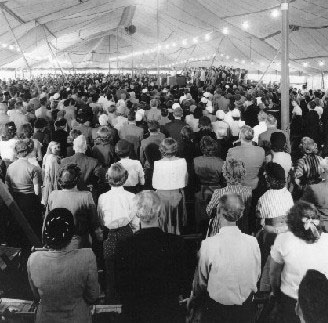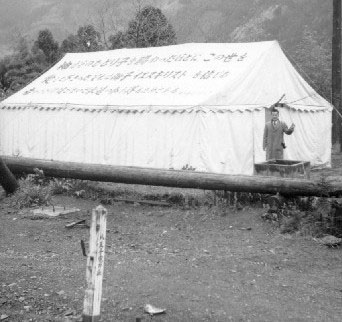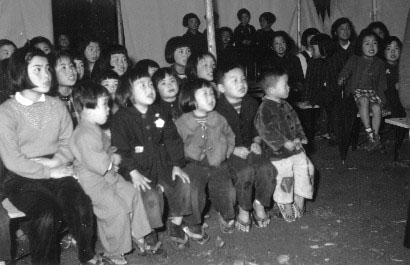 Whether used in North America by traveling evangelists the likes of Oswald J. Smith, Jack Shuler or Billy Graham in his early ministry or on the mission field or whether they sheltered thousands of adults or only dozens of children, tents were a widely used venue for evangelistic meetings through a good portion of the twentieth century. These cost-effective meeting places, providing less protection from the weather outside, allowed for more obvious participation from the God of creation and larger crowds than traditional church buildings. Tent meetings, much like circus tents, also promised attenders an extraordinary experience except preachers hoped that the evangelistic nature of the meetings would provide attenders with an experience of God that would last through eternity. Among the collections in the Archives with materials that describe the use of tent meetings are 48, 322, 406, SC 73.
---
Return to BGC Archives Home Page

Last Revised: 3/01/02
Expiration: indefinite

© Wheaton College 2005