Billy Graham Center

---

Archives
The documents and images featured here are for the personal use of students, scholars and the public. Any commercial use or publication of them is strictly prohibited. This service is intended for Wheaton College students, faculty and staff; people who live in convenient driving range to campus; or people who will be visiting Wheaton's campus. Every month, this Bulletin Board will highlight a new document or set of documents that are available in the Archives. Come on over and have a look!

---
The Archives Bulletin Board
September 2001:
"The Hope of Being Used in Bringing Others to the Lord"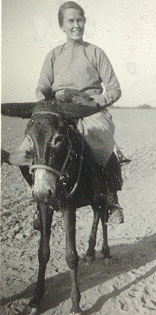 What does it take for a person to be willing to go anywhere for the Lord as a missionary? Helen Louise Mount Anderson was one such person who served along with her husband, Ian, with China Inland Mission (now Overseas Missionary Fellowship). Below is an extract from a letter she wrote to her mother in 1934 telling of her decision to apply to CIM.

But chief among my joys and which I've been waiting a long long time to tell you is that, mother dear, I have applied to the China Inland Mission. It wasn't a sudden step, as you must realize, in fact it is but the culmination of a process over many years. I never wanted to go to China, though I have long admired the C.I.M. in its principles and practices. Now mother dear, you can be sure of this with me: if God doesn't want me in China, He's not going to get me there, if He does He will, even though it may be a matter of years. It was only after a very definite request in prayer that God would give me the sign I specifically asked for - which He did - that I wrote to the China Inland Mission...This is why I have been so happy, mother, because I have so much assurance that I am in God's will...I hope you don't care where I go as long as the Lord Jesus Christ is with me...for after all mine has been perhaps a one passion life - the hope of being used in bringing others to the Lord.
The above letter and photograph are located in Photo Album: Anderson, Helen Mount I of the Papers of Ian Rankin and Helen Mount Anderson - Collection 231. Other items in the collection are correspondence, diaries, articles, clippings, manuscripts, photographs, photo albums, songbooks, lecture and sermon notes, maps, audio tapes, etc. related to the Anderson's mission work.
Click
to go to the descriptive guide of the Papers of Ian Rankin and Helen Mount Anderson collection.
---
To view items previously featured on the Bulletin Board, click
---
Return to BGC Archives Home Page

---

Last Revised: 8/27/01
Expiration: indefinite