Billy Graham Center

---

Archives
The documents and images featured here are for the personal use of students, scholars and the public. Any commercial use or publication of them is strictly prohibited. This service is intended for Wheaton College students, faculty and staff; people who live in convenient driving range to campus; or people who will be visiting Wheaton's campus. Every month, this Bulletin Board will highlight a new document or set of documents that are available in the Archives. Come on over and have a look!
The Archives Bulletin Board

August 2001:
Child Evangelists in Finland
(Sweep the cursor over the image to see an English version from a crusade two years earlier in Great Britain)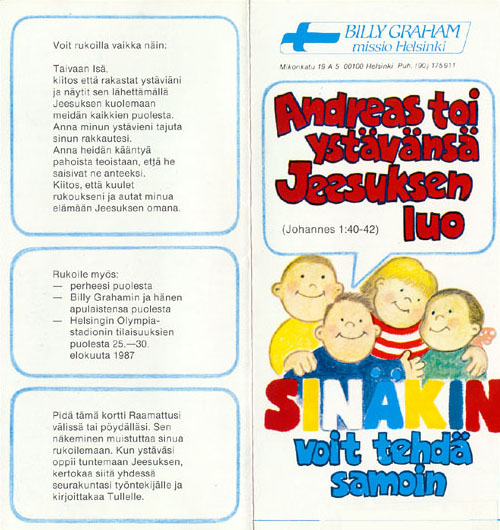 From his earliest days in crusade evangelism in the 1950s, Billy Graham has included outreach to children in his program, extending (as other ministries to children) Jesus' invitation in the Gospels to "Let the children come to me..." The pamphlet featured here for the Mission Helsinki crusade in 1987 moves beyond evangelizing children to encouraging them to be evangelists, like the Apostle Andrew, to their friends. This program for children is an adaptation of the BGEA's Operation Andrew, also a longstanding feature which encourages Christians to bring their friends to a crusade. By placing or removing the cursor over the pamphlet images, you can switch between the Finnish-language version and the English one used two years earlier during Billy Graham's Mission England crusade in 1985.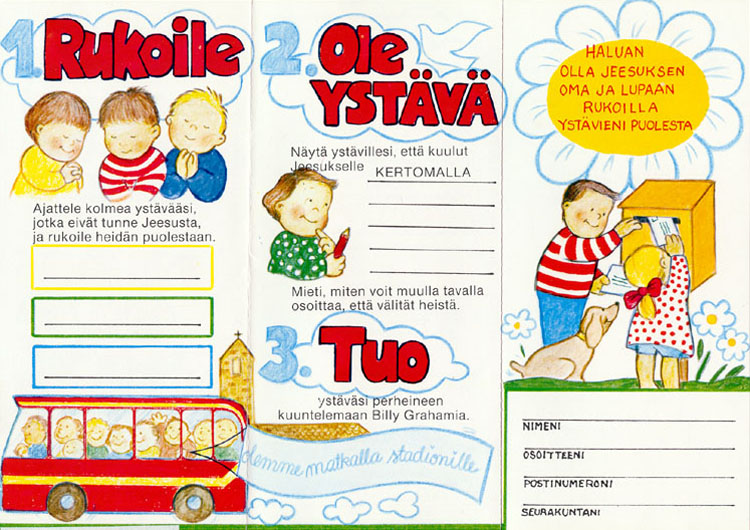 The administrative records of the Billy Graham Evangelistic Association from which these pamphlets come, Collection 17, are housed at the Archives, including a voluminous record of Billy Graham's crusade ministry, told in correspondence, minutes, reports, photographs, audio tapes, and much more.
To view items previously featured on the Bulletin Board, click
---
Return to BGC Archives Home Page

---

Last Revised: 8/01/01
Expiration: indefinite