Billy Graham Center

---

Archives
The documents and images featured here are for the personal use of students, scholars and the public. Any commercial use or publication of them is strictly prohibited. This service is intended for Wheaton College students, faculty and staff; people who live in convenient driving range to campus; or people who will be visiting Wheaton's campus. Every month, this Bulletin Board will highlight a new document or set of documents that are available in the Archives. Come on over and have a look!
To view items previously featured on the Bulletin Board, click
---
The Archives Bulletin Board
June 2001:
"Evangelical Witness in a Modern Medium"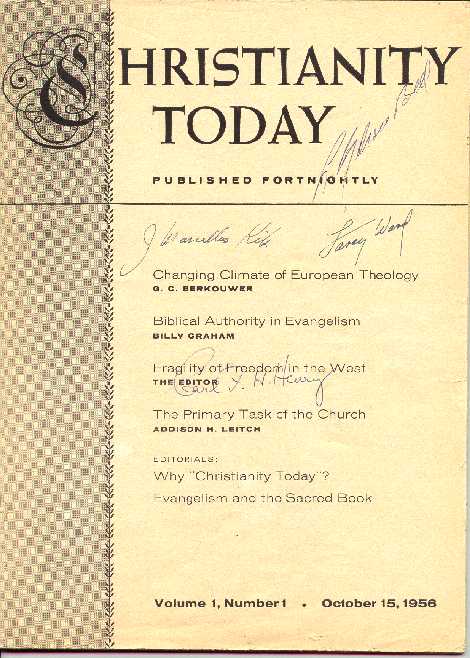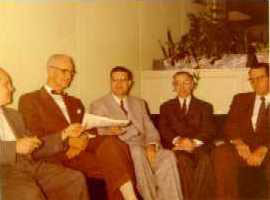 The first issue of Christianity Today featured an article by Billy Graham. The copy of the magazine to the left was autographed by four of the magazine's original five editors. The above photograph was taken of the editors of Christianity Today on February 15, 1956. From left to right: Larry Ward, managing editor; L. Nelson Bell, executive editor and father-in-law of Billy Graham; Carl F. H. Henry, editor and theologian; J. Marcellus Kik, associate editor; and George Burnham, news editor.
Christianity Today has been serving as an "Evangelical witness in a modern medium" from its premiere issue in October 1956 thru the present. The records of Christianity Today International in Collection 8 consist of correspondence, minutes of board meetings, financial reports, press releases, memos, scrapbooks, photographs, audio tapes, filmstrips, phonograph records, slides and other material mostly from 1954 to 1976. The records relate to the founding of the magazine and a wide range of religious, social, and political issues. Specific items of interest include correspondence to and/or from L. Nelson Bell, Carl Henry, Dwight D. Eisenhower, Richard Nixon, Martin Luther King, Jr., Karl Barth, Paul Tillich, C. S. Lewis and Oral Roberts.
Click
to go to the descriptive guide of this collection.
Click
to find past issues of Christianity Today in the Evangelism and Missions Collection in the Wheaton College Archives & Special Collections (formerly Billy Graham Center Library).
Click
to go to Christianity Today on the internet.
---
Return to BGC Archives Home Page

---

Last Revised: 12/20/01
Expiration: indefinite