Billy Graham Center

---

Archives
The documents and images featured here are for the personal use of students, scholars and the public. Any commercial use or publication of them is strictly prohibited. This service is intended for Wheaton College students, faculty and staff; people who live in convenient driving range to campus; or people who will be visiting Wheaton's campus. Every month, this Bulletin Board will highlight a new document or set of documents that are available in the Archives. Come on over and have a look!
The Archives Bulletin Board
April 2001:
Spread Across the Countryside - OMF's Rural Work in Thailand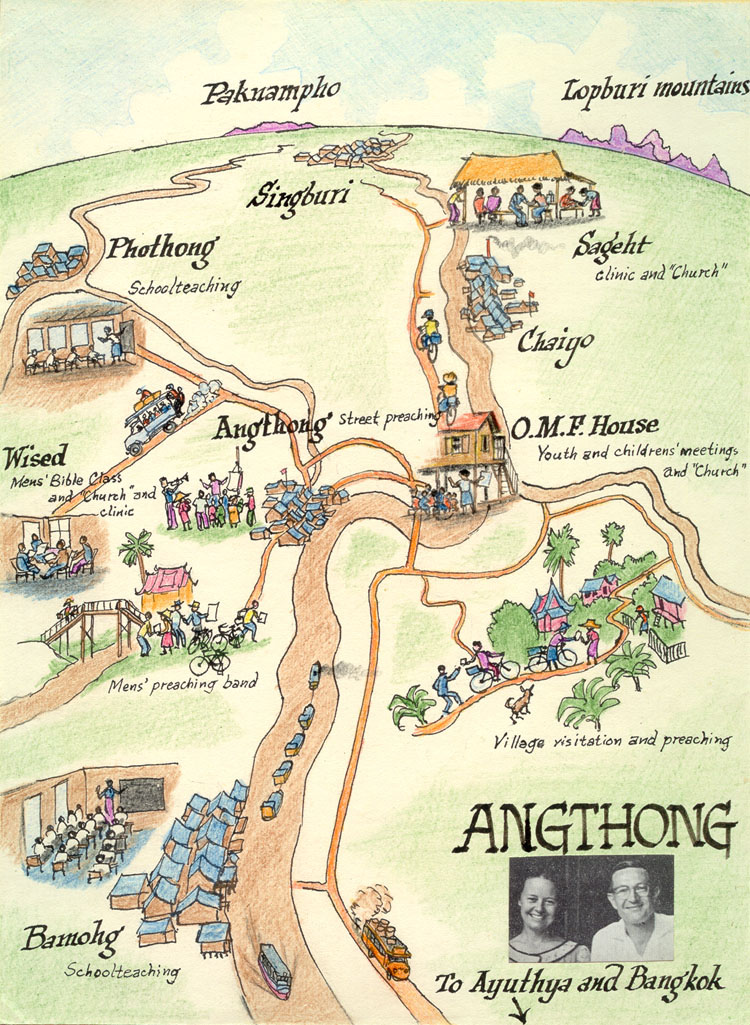 This page comes from the scrapbook (created in the mid-1960s) from the Overseas Missionary Fellowship guest house for central Thailand in Angthong. The drawing depicts the broader OMF ministry centered around the town, located about sixty miles north of Bangkok. Notice the different ministries carried out in the area in addition to the guest house, including several churches and clinics, youth and children's ministry, a men's preaching band, village visitation and evangelistic street preaching, and education. Also look for different forms of transportation and different landforms, The inset photo in the lower right is of two unidentified OMF workers, probably the couple who oversaw the Angthong work. From Photo Album OMF XIV-Angthong.
By the time this scrapbook was compiled, Overseas Missionary Fellowship or OMF (formerly known as China Inland Mission or CIM) had been functioning for one hundred years, most of them in China, and in Thailand for a decade and a half. It was only when CIM missionaries were expelled from China in 1951 that its leaders and missionaries began exploring other possibilities among the Chinese communities of Thailand, Singapore, Malaysia, Indonesia, the Philippines, and Japan, and later in their indigenous populations as well.
The administrative records of OMF's United States Council, Collection 215, are housed at the Archives, including not only the featured scrapbook but correspondence, minutes, reports, photographs and much more. The Archives also has oral history interviews with CIM & OMF workers, including Collection 392 with Dorothy Mainhood, who worked in Thailand.
To view items previously featured on the Bulletin Board, click
---
Return to BGC Archives Home Page

---

Last Revised: 7/26/01
Expiration: indefinite