Billy Graham Center

---

Archives
The documents and images featured here are for the personal use of students, scholars and the public. Any commercial use or publication of them is strictly prohibited.
The Archives Bulletin Board
February 2001: Bill Glass Ministries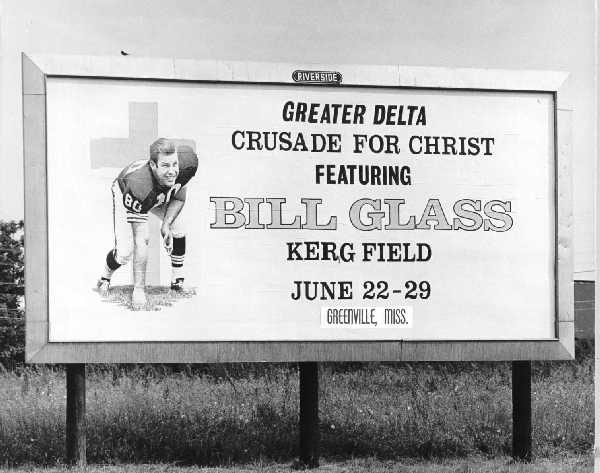 Photograph of a 1969 billboard advertising a crusade featuring Bill Glass in Greenville, MS can be found in Picture File - Bill Glass Ministries, 1969.
Since 1969, Bill Glass Ministries has enabled evangelist and former NFL player Bill Glass and his associates to hold evangelistic meetings and prison ministry visits across the United States. Bill Glass Ministries also worked with other ministries, such as Fellowship of Christian Athletes to provide other athletes opportunities for evangelism. In a letter dated June 2, 1969, legendary Dallas Cowboys head coach Tom Landry wrote:
You know, Bill, that there is no one that I would rather associate myself with more than you. You have made a tremendous impact with your crusades over the past couple of years. Everyone with whom I have spoken has commented on what a wonderful job you are doing.
The Bill Glass Ministries collection (CN 455) of materials contains records, newsletters, negatives, photographs, slides, films, and audio tapes relating to his career. Click
to go to the descriptive guide of this collection.
---
This service is intended for Wheaton College students, faculty and staff; people who live in convenient driving range to campus; or people who will be visiting Wheaton's campus. Every month, this Bulletin Board will highlight a new document or set of documents that are available in the Archives. Come on over and have a look!
To view items previously featured on the Bulletin Board, click
.
---
Send us a message at .
Return to BGC Archives Home Page

---

Last Revised: 1/31/00
Expiration: indefinite