Billy Graham Center

---

Archives
The documents and images featured here are for the personal use of students, scholars and the public. Any commercial use or publication of them is strictly prohibited.
The Archives Bulletin Board
October 2000: Missionaries of Africa Inland Mission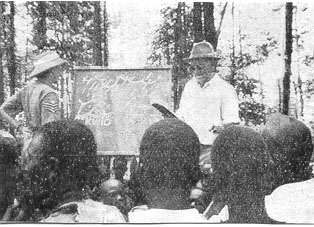 Photograph of Rev. John Buyse conducting an open air meeting.
Collection 477, Photo Album: Kline, Stanley IV
What was life really like for missionaries serving in Africa during the first half of the twentieth century? By studying the personnel records of the Africa Inland Mission (AIM) we can get glimpses into their ministry, struggles, successes, disappointments, and family life. These files contain documents on the recruitment, careers, and resignation or death of many, but not all, of AIM's missionaries. Many, but not all files, contain the initial application and reference forms on the candidate missionary, as well as periodic medical reports. All the files contain correspondence between the general secretary or home council and the missionary about his or her activities, furloughs, financial support, conditions in the field, etc. The letter below is from one of these files.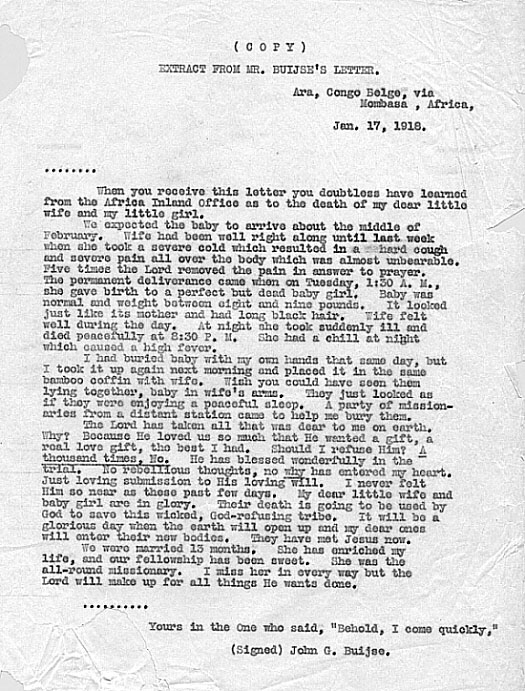 Letter from the personnel file of John G. Buyse in Collection 81, Box 19, Folder 16.
Click
to go to Collection 81, Records of the Africa Inland Mission.


---
This service is intended for Wheaton College students, faculty and staff; people who live in convenient driving range to campus; or people who will be visiting Wheaton's campus. Every month, this Bulletin Board will highlight a new document or set of documents that are available in the Archives. Come on over and have a look!
To view items previously featured on the Bulletin Board, click
.


---
Last Revised: 10/1/00
Expiration: indefinite


© Wheaton College 2005