Billy Graham Center

---

Archives
Who's In Charge?
---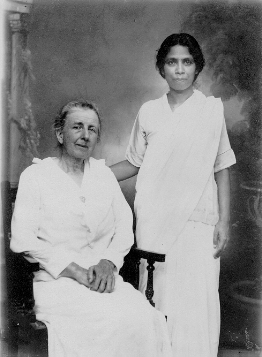 The Transition from Missionary to National Authority
When the modern Western missionary movement began to develop in the nineteenth century, European and American Christians ventured throughout the world to preach the gospel and begin churches among the converted. In doing this, they provided not only spiritual guidance and training, but also established other institutions like schools or hospitals, which addressed related needs of the communities in which they worked. In this process, they developed a group of trained nationals, including evangelists, pastors, doctors and teachers.
Usually, where a sizable church sprang up, the indigenous Christians soon became the real leaders of the institution. Missionaries, however, often continued to be the formal heads, even in cases where they were not the actual leaders. The image of these churches which developed among supporters at home in western countries was perceived through the eyes of the missionaries who were sending home the reports and prayer letters.
During the twentieth century with the emergence of nationalist and independence movements in Africa, Asia, and Latin America, Third World peoples aspired to manage their own governments and other secular institutions. This same desire animated the national churches. In some cases, missionaries worked with their national colleagues to transfer formal leadership or had already done so, and the transition from missionary to national leadership was smooth and productive. In other cases, national Christians demanded those rights and the process was marred by bitterness. Often governments were involved with their own agendas. Every mission handled the process differently, and every geographical situation required a different approach, so there was never a simple rule to be easily applied everywhere.
It is the process of transferring the leadership of the church and affiliated ministries from missionaries to national Christians that this exhibit explores. The administrative records of mission agencies, the personal papers of missionaries, and the reflections recorded in oral history interviews all document this important component of spreading the gospel throughout the world. Because a process eludes capture in a few documents, the items featured here give only a fragmentary look at the transition process and do little more than hint at the complexity of the issue. These documents, photographs and excerpts from oral history interviews, however, point you to much more documentation that is available in the Archives on this subject. Throughout the exhibit, you will be able to click on images to view enlarged versions of the selected documents (and in some cases review full-text transcripts), read expanded portions of the interview excerpts, or study the descriptions of the guides from which the selected documents come.This exhibit can be the launching point to study this still-continuing aspect in the story of missions on your own.
(Depicted above are Edith May (seated) and Naomi Andrews. May was a missionary of the Woman's Union Missionary Society to India and Andrews was an evangelist and Bible teacher she trained. 1920. This photograph is one of many in Collection 379, records of the Woman's Union Missionary Society. To learn more about this collection, click here.)
To move on to the exhibit case, click here. When you're finished, we'd like to know what you think of this exhibit. Feel free to send us a message with your comments or questions.

---
---
---
---
Last Revised: 6/7/01
Expiration: indefinite


© Wheaton College 2005