Billy Graham Center

---

Archives
The materials on this page are intended solely for the edification of our viewers and cannot be copied or otherwise reused without permission.
George Beverly Shea and Club Time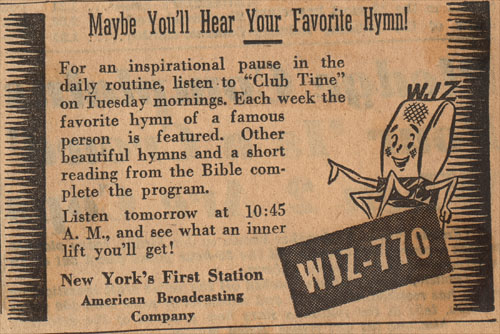 Newspaper advertisement from Journal American, August 18, 1947. WJZ was only one of main stations nationwide that carried Club Time.



Click here to listen to some of these original recordings.
Beginning in 1944, Gospel singer George Beverly Shea was the featured artist on the radio program Club Time. Chicago businessman Herbert J. Taylor was the president of Club Aluminum. Taylor, like Shea, was involved in many evangelistic ministries around the Chicago area, including Youth for Christ, which Shea helped start. Taylor designed Club Time around Shea's talents. The show was sponsored by Club Aluminum cookware, "Looks like silver, cooks like magic and lasts forever."

The program was first on the air locally in the Chicago area. Beginning October 20, 1945, it was broadcast once a week (first on Saturday, then moved to Tuesdays) over the national network of ABC radio. Each show included hymn singing by Shea and the choir (sometimes called the Club Gospel Singers, sometimes the Club Choral Singers) and Bible readings, usually by Beverly Taylor, Herbert's daughter. Sometimes Shea also said a few words. The announcers for the program over the years included Don Dowd and Jay Arlen. The music, at least on the early shows, was arranged by Don Hustad. Starting April 20, 1946, the program added another feature to help get publicity. Every program featured the Favorite Hymn of a Famous Person. People whose favorite hymns were featured ranged from Chief Justice of the United States Fred M. Vinson to FBI director J. Edgar Hoover to comedian Joe E. Brown to track star and minister Gil Dodds.

The Archives has dozens of the original transcription disks of these programs in Collection 20, the Papers of Herbert J. Taylor.
Click here to listen to some of these original recordings.

A 1947 full page ad in Life magazine, advertising the ABC radio network's schedule of morning programs, including Club Time

A compilation of newspaper stories about Club Time

April 16, 1945 letter from Shea to Robert Walker about Club Time.

October 16, 1945 letter from Taylor to the employees of Club Aluminum about Club Time.

December 14, 1946 newspaper clipping from the Yankton Press (Yankton, South Dakota)

September 17, 1947 newspaper clipping 0f
from The Guidon(Portland, Maine)
---
Send us a message
Return to BGC Archives Home Page
Last Revised: 2/01/13
Expiration: indefinite

© Wheaton College 2017