Witness... / BGC Archives Newsletter
Billy Graham Center

---

Archives
Witness... / BGC Archives Newsletter
September 2002
Collections Just Opened or Updated
NRB and American Religious Broadcasting
: Collection 309: Records of American Religious Broadcasters (9/02)




Recent Research


Other News




---
Collections Opened or Updated
In this section are brief articles about collections in the Archives that have just been opened to researchers or which have just has had new material added.

*****

NRB and American Religious Broadcasting: Collection 309: Records of National Religious Broadcasters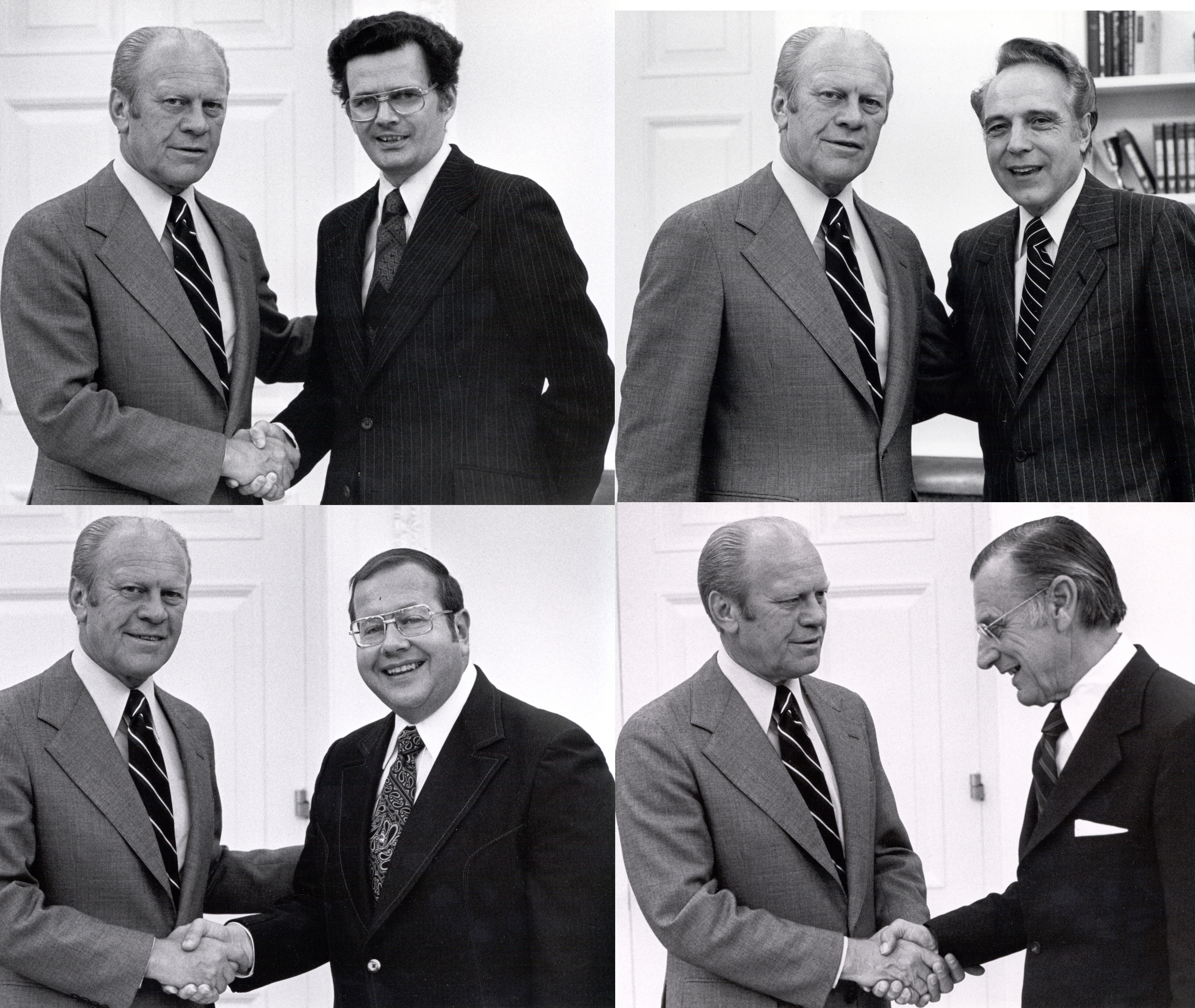 Shaking Hands with the Oval Office. The leadership of NRB meet with President Gerald Ford in the fall of 1976. Traditionally this is an opportunity for each person to get his picture with the President and the Archives contains a series of these shots. Upper left: Ford with Donald Wilkerson; upper right, Ford with George E. Vandeman; lower left, Ford with E. Brandt Gustavson, lower right, Ford with Harold John Ockenga.

Since the 1920s, theologically conservative Protestants in the United States have been radicals in terms of used the newly developing broadcast technology to reach the widest possible audience. The first evangelistic broadcasts were being made very soon after radio became a practical mass medium. Roughly a generation later, National Religious Broadcasters was started in 1944 by the leadership of the National Evangelical Association. Originally one of its prime missions was to lobby the federal Communication Commission and Congress to make sure that its Fundamentalist and Evangelical members had equal access to the air waves with the more liberal mainstream programing represented by the Federal Council of Churches. Over the years, the NRB also became a powerful professional association for the producers of religious programs and the broadcast stations that carried them. Besides providing opportunities for education, fellowship and networking at national and regional meetings and seminars, the NRB became an important channel of communications between Evangelicals and American political leaders and a means for mobilizing support on social issues such as abortion and prayer in public schools.

The archives of the NRB are at the BGC Archives (Collection 309) and they are a rich source for the study of religious broadcasting in the United States, the relations between church and state, and American Evangelicalism and Fundamentalism in the last half of the 20th century. For the first two decades of its existence, the NRB had no fixed office, so relatively few records are in the Archives form its beginnings. But the collection has very full documentation from 1966 through 1990. Included in the collection is the correspondence of the executive secretary dealing with all the issues of interest to the association; many, many reference files and scrapbooks of clippings about religious broadcasting, and hundreds of audio tapes and video tapes of NRB annual meetings from 1970 to 1991. These are a comprehensive source for information on the Protestant segment of the electric church. They tapes also contain much information on the politics of the country during these decades and presentations by presidents and members of congress. The complete guide to this collection can be found at: http://www2.wheaton.edu/bgc/archives/guides/309.htm



An American Life in Black and White: Collection 498: Interviews of William E. Pannell

I got [to go to Bible school] because of the commitment of a woman to me. All of my life I have been blessed by the company and support of women. I would cite first my mother, who died when I was a senior in high school. She left eight children. I was the oldest. The next woman...the other women in my life were African American...they were domestics. Anyone from the black community who worked outside the family in that southern Michigan town either pushed a mop or was a domestic.... There was a woman who was part of that great tradition of black people who served as domestics. They were from the South. They did it with a great deal of style and dedication. It was something I found difficult to accept, even as a teenager. And mind you this was in...this was in the '40s now. I had respect for them, but I didn't have a great deal of respect for their bosses or for that system. I came grudgingly to accept the style with which they pulled it off and all of that. It's a neat little story... You put...you took...you take an African American, a black man, you but him in a white dinner jacket with contrasting black pants and a tie, even if you put a towel over his left arm, and he hosts the dinner at the country club. Those guys were impeccable and immaculate and sophisticated. My, they were handsome. And they moved with grace and efficiency. They knew their jobs. They were professionals. You could take a menial job such as that, if it has enough tradition behind it, and turn it into a profession. And it was really...I learned a great deal just watching that, even though I determined that that wouldn't...that, "That's not my style, that's not the way I am going...."

The most prominent man of that era was a man named Henry Bunce and his wife.... A remarkable woman and probably the greatest cook from whose table I have ever eaten. She was astonishing. In that same household, in the household of a wealthy white businessman in town, there was another woman, single, by the name of Mildred. Mildred was a different sort of African American. Lighter complexion, quite content to be by herself. Unmarried. I never learned much about her background. She was from the South, as were these others. But Mildred in a quiet sort of way went about serving God. And she attached herself to the Salvation Army in town. And I think she did that because she understood that whatever Christianity was, it was something you did. It was not something you talked about or even celebrated in church. Mrs. Bunce was a Jesus Only Pentecostal. She loved to stay in church all night, show and praise the Lord. Not Mildred. Mildred was an activist. But she was activist at the level where you washed people's feet. That's one of the reason's she likely the Salvation Army. They served people....

I knew her because I was in and out of that household, for a while as a teenager as a kind of a yard man in this network I'm describing.... Mildred quietly set about trying to raise money for me so that I could go to college. And she approached the pastor of the Presbyterian church, she approached...I don't know who else she approached, in my behalf. And probably would have been successful, probably was successful, but judged that some of the strings attached to their giving were not in my best interest....[such as] that I should go to a certain school or schools that she judged not to be spiritual enough.... She thought that a Bible college was a much better fit. Probably consulted with my pastor. Anyway, she apparently turned down offers on my behalf. And then from some source out of her own savings, she gave me five hundred dollars and said, "I think you ought to strike while the iron is hot and I want you to go to Bible school." That was in 1947. Those were five hundred 1947 dollars.... I took that to Bible college, got through my first year, and had some left over to start the second year. Mildred thus was the person who, in typical fashion, fleshed out the words she professed, that was what she would do.... Others had my best wishes and good will at heart, prayed for me, all sorts of things. Encouraged me. All kinds of things. But Mildred always had a way to concretize her commitment. To the best of her ability, she would do something....

I think of her....when I...I have been invited on several occasions to preach commencement exercises and I often times call it, "In remembrance of Mildred," and use the passage from Paul's correspondence to Timothy, where he encourages him to remember his aunt.... "Remember," is the...is the focus of the whole commencement address. But I want to remember Mildred all of my lifetime, because she was God's person at the right time, the right place to launch me into academic life, if you will. But not academic life for the sake of academics, but for the sake of the ministry.... I have...have no idea how old she was at the time. She was by no means a young woman. I went to Bible college, I would only see her occasionally. She did not follow her money. She was not a woman who would hang around and mother you at all. And I could go back to the city...back home rather, and I could be there and I would see Mrs. Bunce or Mr. Bunce, but I would not see Mildred. Mildred would not chase after me in any way. She was out there doing her thing. She...she died I think as a result of an accident I think while riding on a bus in the South and was buried somewhere...probably I think in her home state of Kentucky someplace. I don't know just where she was buried. But that's kind of the way she would have liked it anyhow. She didn't want anybody fussing over her. And she would have been most upset if I would have canceled a meeting somewhere to attend her funeral or something . She would say...I can just hear her say, "What are you doing here?" [laughs] Quite remarkable. But that's how I got to Bible school, that's how I got to Fort Wayne.
Excerpt from Collection 498, Tape T2

William E. Pannell's journey began with a small town childhood in southern Michigan. It continued with an education at Fort Wayne Bible College, a quarter century of itinerant evangelism, followed by as many years as an educator at Fuller Seminary. Through every part of this life he has been as well an an experiencer and observer of the meaning of racism in American life and particularly in the American church. As an adult he has also been its analyst. The BGC Archives has taped five hours of interviews with him about his life and hopes in the future to tape more. The interviews so far cover his family and early life in Michigan, education, work with B. M. Nottage, evangelistic ministry in the Midwest, years as director of leadership training with Youth for Christ, and the beginning of his involvement with fellow evangelist and activist Tom Skinner. For more information about these interviews, see the guide.



Dramatic Evangelism in Ghana: Collection 504: Interviews of Samuel Kirk MIlls

Samuel Kirk Mills who as young man joined a youth group committed to sharing the gospel through music, drama, and preaching. Seeing the potential of using his interest and skill in drama for evangelism he attended the University of Ghana graduating with a degree in theater arts. He continued his education at Moody Bible Institute and Wheaton College Graduate School where he graduated in 1996. The BGC Archives taped an interview with him in 1995 about his life which is now available to researchers.

Some of the topics covered in the oral history interviews with Mills are his childhood in Ghana, conversion to Christianity, involvement with Calvary Road and the African Christian Mission, memories of Kwame Nkrumah, the use of drama in evangelism in Ghana, views on the strengths and weaknesses of Christianity in his country, Christianity and Islam in Ghana, different Christian traditions in Ghana, Mills' impressions of Wheaton College and Moody Bible Institute, origins of Africa Christian Mission. Below is an excerpt from Tape 4.
The Lord has been faithful in what He's doing or has done, what He's doing and what He would do. And I believe that what He has called me to do He would help me keep focus on that. And one other thing is that the Lord has been saying to me is to wait upon Him. I keep hearing that almost everyday since the end of the year '94 to this time. The Lord has been saying, "Wait on Me, wait on Me, wait on Me." I really don't know what...it's going to be like, you know, so it's something that I really want to be obedient and to wait on Him.



Missionary to Europe: Collection 529: Papers of Donald E. White

I came to the Lord when I was eight years old...As I thought back through the years, this has been something very clear to me especially in talking with others about...if children can understand that...they've accepted the Lord or not...I was in a Daily Vacation Bible School. My mother said..."He's going to be asking for people to accept the Lord on Friday." She said, "It would be nice if you would do that"...being an obedient son I did that...I recognized that there was...something not...right with me. There was something between me and God. And when I accepted the Lord...I recognized that I felt different...there was something different that happened in my life. And from that time on I've never had a question about my salvation.

The above excerpt if from the oral history of Donald E. White in Collection 529. White and his wife, Sherry, missionaries with Greater Europe Mission since 1966 have been involved in church planting in Austria. In the interview he describes his family background, conversion, education at Moody Bible Institute and Wheaton College, activities as an United States Army chaplain's assistant in Germany, and missionary work in Austria. The collection also has some newsletters, reports and other documents about White's evangelistic work in Europe.



Making a Decision: Collection 535: Interviews of Mona Miller Joyce

As I grew older and came into my teens I remember saying to my brother, "Oh, well, is there really a God?" He said, "Well, that's your lack of faith."...It was at [a] Bible class that I first met the Lord... It was...a South American missionary...who's message got home. And it was as though I got rushed into things because he said afterwards, "Mona, where would you like to go, India, Africa, or South America or China?" And I in my ignorance, I wasn't sure [laughs]...I said, "Well, there is a great need at home." "Oh, yes, but a greater need abroad." I didn't answer but it was that evening that I surrendered myself to the Lord. Not in anybody's presence, not with this person. And I knew that the Lord had accepted me and I was a Christian from then on. But some people weren't sure, you know. But the Bible class leader friend she had to put it in other words. She said, "How did you enjoy hearing this missionary?" I said, "Oh, he's very good [unclear] and all that." Then she said, "Well, did you make any decision?" Then it dawned on me what I had done, that is, it was a decision that I made. And so from then on I reckoned that that was when I first knew the Lord.

The above excerpt is from one of the oral history interviews of Mona Miller Joyce in Collection 535. In these interviews Joyce describes her childhood and youth, conversion and spiritual development, call to missionary work, family, work in China with China Inland Mission, her husband Raymond Joyce, the Communist period in China and CIM's expulsion from the country, co-workers Dr Jessie McDonald and Mabel Soltau, Pentecostalism, relations among missionaries, her role as a woman missionary, outreach to Muslims, and the education of her children.



How He Gave Away His Faith - Collection 426: The Papers of Paul A. Little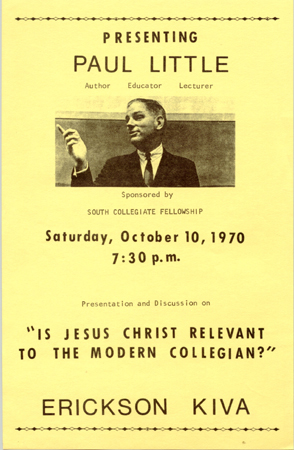 Paul's Little's life encompassed lots of activity, influence, and varied interests. Before launching his career in which evangelism was the central theme, he studied finance at the University of Pennsylvania and biblical literature at Wheaton College's Grad School. He then joined InterVarsity Christian Fellowship in 1950 where for the next twenty-five years he wore hats as staff worker, regional director, director of international student ministries, director of evangelism, assistant to the president, and director of the Urbana student missionary convention. Between 1964 and 1975, he also taught evangelism, theology, and world religions courses at Trinity Evangelical Divinity School. Added to these, Little was the assistant director of the 1974 International Congress on World Evangelization (known more commonly as the Lausanne Congress), was a much requested as a speaker on numerous college campuses and at churches across the country, authored many articles, but is perhaps best known for his How To Give Away Your Faith. Little's experience and passion spanned personal evangelism, outreach like that he started on Ft. Lauderdale's beaches, and his efforts to motivate and train Christians to reach out to friends and neighbors with the gospel. All this in Little's forty-six years before his death in an automobile accident in 1975.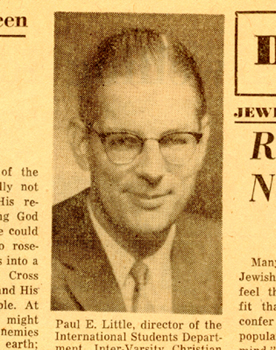 Little's newly arranged papers have been recently processed and opened for use by researchers in the Archives Reading Room. His personal papers, donated by his wife, make up Collection 426, whereas he office InterVarsity files are a part of Collection 300 (IVCF records). This collection provides the non-IVCF side of Little's career and ministry as an evangelist, educator, lecturer, and author, but complements the record of his IVCF role and rounds out the picture of his activity, influence, and contribution to the understanding and practice of evangelism. Little's papers include his correspondence, reports, meeting minutes, course notes from his graduate studies at Wheaton, lecture notes as Trinity professor, his Lausanne Congress files, publicity for his lectures, and articles, book manuscript files, and lecture notes for speaking engagements at churches and conferences. A substantial portion of the collection consists of Little's resource files on various world religions. The two featured publicity items come from box 24, folder 4.


"Would You Be Willing To Go And Search For My Lost One?" - Collection 464: The Interviews of Eileen J. (O'Rourke) Kuhn

KUHN: Well, I would like to tell you about my call to the field because it started when I was a small child, before I...long before I was a Christian. We used to have certain things in our house that we children were allowed to look at, but we didn't...were not allowed to touch. And one of those things was a little bamboo basket about six by four [inches] and about one and a half inch deep. And inside were two little Chinese dolls...a little Chinese man and a little Chinese woman. And I loved it. It used to live way up on a high shelf in our China cupboard and I, of course, was not allowed to play with it. But if I wanted to look at it, I would ask my mother if I could look. And if she had time, she would take it down and hold it where I could see it. But, before she would open up the basket...the...the lid, I always had to put my hands behind me.

SHUSTER: [laughs]

KUHN: And I could look at it, but not touch it. And then I went to school. And when I was in the second grade, we had a rudimentary geography class.

SHUSTER: This was public school?

KUHN: Yes. And when we started to study China, I went running home and I said, "Mother! We're studying about China in school. May I take the little bamboo basket?" And she said, "No." [both laugh] But I begged her and begged her and told her how careful I was going to be and finally she wagged her finger at me and she said that if I would be very careful, I could take it for half of a day. I was absolutely thrilled. And I went off to school the next day and showed it to the teacher and the teacher liked it, and we talked about the things they ate and what they grew and the kind of clothes they wore, and I was the proudest little girl in school that day. And then, I was coming home and coming down the steps of the school when a bigger boy came along who was in the fourth grade, and he said to me, "Whatcha got, Eileen?" and so I showed him, still as proud as I could be. "Oh," he said, "is that all?" And he grabbed it from me and threw it across the road. And across the road there was a field of grass. And then, may he be forgiven,..

SHUSTER: [laughs]

KUHN: ...he went...he went laughing, running down the road. Well, I was not laughing. I went into the field of grass crying, trying to find them. And I found the basket, and I found the little Chinese man doll, but as hard as I looked, I could never find the little Chinese lady doll. And the sun went down and down, and I remembered my mother's wagging finger, but I had to go home without it. And that was a very strong, traumatic memory. Now, may I skip some years?

SHUSTER: Well, let me just ask you, how did your mother react when you came home?

KUHN: Do you know, I don't remember. I think she saw that I was already so devastated...I don't remember being punished, so I...I don't remember that. Now, it was years later that I came to the Lord...[coughs]...and because none of my family was Christian, because we lived in a very small house, my grandmother lived with us, I had to sleep on a roll-away bed in the dining room. And in the morning the bed had to be rolled away, and breakfast had to take place there, so I really didn't have any quiet place to study or to read my Bible (I was only sixteen at the time). So I would go out into our back yard and climb onto the limb of an apple tree, (at least, all of the time except winter) and I'd read my Bible sitting in the apple tree. And one day, I read the words: "The field is the world." And you know what I thought about. I immediately thought about that time when I had searched through the field of grass, and it just was God speaking to me, saying, "I'm in it. My field is the world and there are lost men and women and boys and girls out there. Would you be willing to go and search for my lost one?" And so just four or five months after I was saved, I knew that the Lord was calling me to be a missionary. And it was rooted in two things: in the memory of a childhood experience and in the Word of God. And I've never, ever questioned it, so....

SHUSTER: Reminds me of the passage in...in Genesis, talking about Joseph's brothers when it says that they meant it to you for evil, but the Lord meant it to you for good...

KUHN: I've often...

SHUSTER: ...about that poor little boy throwing your basket over into the field.

KUHN: Yes. I've often thought that if I would have found that little lady doll, the whole incident would have been lost to my memory. But because I didn't find it, it was imprinted there.

SHUSTER: Did...did you later inherit the...

KUHN: Yes...

SHUSTER: ...basket and the China...?

KUHN: ...it is now mine.

The above is taken from a 1992 oral history interview with Eileen Kuhn and is one of three interviews in Collection 464 about her life and ministry. The interviews describe her childhood in the united States, how she came to accept Christ as a teenager, her education at Moody Bible Institute and Wheaton College and decades of service as a worker with Overseas Missionary Fellowship in Thailand, Hong Kong, and Singapore. Special emphasis is given in the interviews to her evangelistic work among the Lisu people of northern Thailand, her memories of Her husband John Kuhn and his first wife Isobel; and her experience as a teacher and dean at Singapore Bible College. The interviews also contain several insights into the ways the missionary enterprise has changed during her lifetime and the changing expectations of western missionaries.

Life as a Bridge - Collection 469: The Interviews of Javier Velasquez

VELASQUEZ: I felt very much like a bridge, you know, between the American world having been in the States for seven years and the Latin American world having been twenty years in Latin America [laughs]. And there were some [unclear] but a lot of opportunities for cooperation, for you know helping as a bridge.

SHUSTER: What did each side bring to the situation, I mean, why were the North Americans necessary?

VELASQUEZ: Why were there—why were they necessary? Well they had been there for over twenty years, so they were there in Bolivia.

SHUSTER: Uh,huh.

VELASQUEZ: Well they had been there for over twenty years, so they were there in Bolivia. And I believe that the missionaries there even now still have a lot they can contribute to the work of the ministry there. And even though church planting is our main thrust, the church planting effort in Bolivia still had a lot that needed to be done in their area. The leaders were growing, churches were growing in the sense of , you know . . . . There was one particular church, the first one that was established in Santa Cruz [sp] Bolivia where we work that had developed through the twenty years so much that they were beginning to have professional people. And then there were new churches getting established in different neighborhoods that needed the help also of missionaries to contribute in the building up of the churches. Also the mission had been working only in Santa Cruz you know in the eastern part of Bolivia but there was still the possibility of working in the Andes you know the higher, highland areas of Bolivia. There's a missionary couple now that is doing that, they're starting a church in there. So the room is very spacious for missionaries to still work in there so in that sense they were still needed. I don't think that work had reached a point where anybody could say "Ok, no missionaries are needed." If there is . . . I personally don't believe we can ever reach that, you know. I think they will always be needed in different capacities. But, anyway that's . . . .

SHUSTER: You mentioned that you were serving as a bridge helping to communicate with both sides. What were you hoping, helping to communicate to each, to each side?

VELASQUEZ: Well, in the sense that, you know, being a Latin American leader working with pastors you relate with them, being a missionary you relate with missionaries and to have the opportunity to convey an image of cooperation to the nationals between missionaries and Latin Americans so that there can be a joined effort as a mission. And even just my presence as a Latin American conveyed a message that would contribute towards a goal or hinder that. You see what I'm saying? Not necessarily that I had a role that allowed me to you know combine these two groups of people into one purpose. I didn't have that kind of a role you know being a new missionary. But just the fact that I was a leader the fact that I was a Latin American person working as a missionary gave me that, that sphere of influence I suppose with the nationals. And at the same time you know working with the missionaries I could convey to them a nationalistic type of an attitude "I'm a missionary but I'm a Latin American." Or I could say "Well, I'm missionary too like you are, I'm a Latin American you need to realize that but we're the same." And that would convey a message to them too. You know, so I think that was one of the strong things that I had to deal with to come up with a message that would convey to both groups.

SHUSTER: And that was a message obviously both sides needed?

VELASQUEZ: I think so. I think that they needed. . . .

Excerpt from tape T1 of Collection 469 This collection consists of an oral history interview in which Velasquez describes his childhood in Peru, conversion, the work of the Christian and Missionary Alliance church in Lima, his education at Rio Grande Bible Institute and Columbia Bible College, his work as a South American Mission missionary in Bolivia and Peru, and the Billy Graham Evangelistic Association's 1990 Mission World campaign in Paraguay.


"I Seek to Express My Thoughts." - Collection 534: The Papers of Henry Jr. and Marguerite Goodner Owen

Now that my first year in China is ended...I seek to express my thoughts...Since every event in His appointment for me, I have no regrets or disappointments to shadow the memory of this year, because His thought and plan is surely best for me...In September, came an opportunity to accompany Miss Dodd [Kathryn Dodd Schoerner] on an itineration trip - my first one...We passed through villages, attracting great crowds, who examined us curiously, and most eagerly accepted tracts. Just at dusk, we reached our designation, a small market town, where there is a small chapel and group of Christians. We were immediately surrounded by a noisy mob of children who followed us to the chapel, and formed our first congregation for an impromptu Gospel meeting...Though it rained most of the time, Miss Dodd had Bible classes every day, and I had a faithful group of children who came daily to learn choruses, hymns, and a few simple characters. We visited in several homes, bearing witness to the Living Word, and leaving behind portions of the written Word...I was made conscious throughout the trip of my limited knowledge of the language, and my uselessness until it is acquired. I realized also the great need of the Christians for instruction in His Word, and the vast numbers who still haven't heard. In passing through villages, we gave out scores of tracts, and for this seed sown and the places mentioned, do pray that honor may be given to His name as a result of our ministry - weak though it was.
Excerpt from Marguerite Goodner's first annual prayer newsletter to her supporters. It was written from Fowyang, Anhei Province, China, November 1, 1934.

The prayer newsletter is from folder 8, box 1, Collection 534, the Papers of Henry and Marguerite Owen. The collection contains articles, audio tapes, booklets, correspondence, lecture notes, manuscript, newspaper clippings, outlines of lectures, photo albums, photographs, prayer letters, reports, research notes, scrapbooks, and travel brochures documenting the career of Marguerite (Goodner) Owen and her husband Henry "Harry", missionaries to China with China Inland Mission (now Overseas Missionary Fellowship), 1933-1941, 1947-1951. It also includes information on the Harry's work as OMF representative and later as area director for the US Southwest and Midwest and Marquerite's ministry as a speaker at retreats. A highlight of the collection is almost nine hours of interviews in which Marguerite describes her girlhood, education and experiences as a missionary in China.

Norton Collection Documents a Varied Life of Service - Collection 567: The Papers of Gustav Hugo Wilbert Norton

Because it is collecting documents on nondenominational Evangelical missions, the Archives is also acquiring the papers of many American missiologists (scholars of mission practice and history. Already we have the papers of such men as Donald McGavran(Collection 178) , C. Pater Wagner (Collection 358), Ian Anderson (Collection 231), and J. Herbert Kane (Collection 188), among others. Now the Archives has the papers of another missions leader and scholar to add to this group - the papers of H. Wilbert Norton, Collection 567. Like the others mentioned, Norton spent many years as a missionary (in the Belgian Congo) before returning to the United States in 1950 to become professor and later president of the school that became Trinity Evangelical Divinity School. He later served as dean of the Wheaton College Graduate School and founder and principal of the ECWA Theological seminary in Jos Nigeria, among other academic appointments. Besides his scholarly work and academic duties, he was also active participant in a number of evangelistic organizations and programs, especially the triennial student missions conference held by InterVarsity Christian Fellowship in Urbana, Illinois.

The Archives has received from Dr. Norton several boxes of his papers and has also conducted an oral history interview with him. Besides documenting his own ministry, these sources contain a great deal of information on such topics as the influence of Wheaton College on twentieth century American missions; the early days of Trinity College and Seminary; the Mid-America Keswick conferences; the work of Evangelical Literature Overseas; the development of the mission outreach and theological seminaries of Evangelical churches in Asia; and, especially, the planning, programs and impact of the InterVarsity Missionary Conventions from 1945 through 1979. The entire collection covers the period from 1945 up until 2000 and is contained in fourteen document cases. This rich resource is now available to all at the Archives.

Notice on Expansion of Collection 53: Lausanne Congress Records Collection 464 The records of the 1974 International Congress on World Evangelization (or Lausanne Congress) have been recently expanded to include the official foreign language translation recordings of most of the Congress plenary addresses. The evangelical Congress, held in Lausanne, Switzerland, brought together roughly four thousand participants to learn about, discuss, stimulate and plan evangelization efforts throughout the world. The languages featured in addition to English, which was the primary language used from the podium, were Japanese, French, Indonesian, Chinese, Spanish and German. These 185 recordings, most the original reel masters, make the collection more international, corresponding to the international character of this important international event of the 20th century.

"Christ Died For Thee": Collection 572: The Papers of Philip Edward Armstrong

They sat there, crushed, broken men. Prisoners - not because we were right and they were wrong, but because we had rifles and they didn't; because our planes, our ships, our artillery drove them back. But their souls have as much right to freedom as ours. I studied each face and in each my heart flared up with the words, "Christ died for thee...Christ died for thee...Christ died for thee...Christ died for thee...Christ died for thee! I felt as though I couldn't stand it. I prayed until I had to look away in tears. Christ hadn't failed them; WE had! Now I've got to do something about it. I don't know what, but I am promising everything I have to our Lord to be used where He chooses. I'll never be satisfied with anything else now, even if it means burying myself in the heart of heathendom - literally as well as figuratively. Yes, I'll go, gladly! I have to.

So wrote Philip Armstrong in 1944 in a note (now in folder 2-1 of the Archives' Collection 572) about his experience of being on an Army patrol in the Philippines when five Japanese soldiers were captured. Armstrong was converted at the age of sixteen and graduated from Moody Bible Institute and St. Olaf College. During World War II he was an assistant chaplain in the US Army and after the war he help establish the GI Gospel Hour in Manila, Philippines, and was one of the founders and the general director of Far Eastern Gospel Crusade (now SEND International). For thirty years he was the general secretary of the mission. Collection contains documents that tell the story of his life and ministry and SEND's work in Japan, the Philippines and other Asian countries. Among the types of documents in the collection are audio tapes of his messages, articles, clippings, correspondence, diplomas, manuscripts, ordination certificate, photographs, planning schedules, prayer letters, publications, reports, memos, school newspapers and yearbooks.

*****

Youth Work in Ireland: Collection 494: Interview of Jeffrey R. Wetherill

I look back now and often wonder at times what were the motivating factors that keep me continually to have such a real passion for young people and I think it probably has to do with my childhood in...in being a teen. I became a Christian as a teenager...I don't ever remember knowing another Christian teenager that was a friend, that was really committed and serious about the Lord, someone who said, "I know Jesus Christ personally..." People who went to church and people who owned Bibles but nobody that ever really had...had met the Lord in a personal way. And that...I think when I became a Christian that really hit me and that had a significant impact upon me. And I think that has been a very motivating thing for me as I look at the world of young people today...and look at what they are struggling through and the issues and their perceptions of Christianity, of the church, of what they've come to understand those things to mean. And...and I...I suppose it really fuels me to want them to come to know Him in...in...in a very personal encounter in...in...in trusting Him, in that sense and knowing Him personally is...is really a critical piece for me, I think, that continues to impress upon me. Our world changes so much and the young people are...are bombarded by so much and it's unfortunate that so many of them are, I think, desperately seeking and searching for something and...and of course that can only be filled in...in a relationship with Christ but in that helping them to come to grips and understand what that's about.

The above excerpt is from the oral history interview of Jeffrey R. Wetherill in Collection 494. Wetherill, a Wheaton College graduate, and his wife Susan, missionaries with Greater Europe Mission, began working with teens in Dublin, Ireland, in 1990. In the interview he discusses his childhood, parents, interest in sports, conversion, involvement with Fellowship of Christian Athletes, work as a Youth for Christ club director, youth pastor at an Evangelical Mennonite Church, joining Greater Europe Mission (GEM), youth work in Dublin, Ireland, relations between Irish Catholics and evangelical Protestants, and GEM methods of ministry in Ireland.




*****

An Amazing Experience Collection 531: Interview of Mary Cagney

My aunt, who was a nun, invited my to a Full Gospel Businessmen's dinner. And...and [laughs] she really liked the Full Gospel Businessmen, she thought they were great and she gave me a free ticket so.... Then she introduced me to somebody, who was a science teacher, and I remember thinking that I'd never seen so much peace as in this guy and one thing I really wanted was peace because I wasn't sleeping very well at night at that stage. So one thing led to another and he gave me an address and I went to a meeting and...members of U2 were actually attending the meeting at that stage. Bono [Paul Hewson, lead singer of the Irish rock group, U2]...talked to Bono quite a number of times. And that was, you know...I read [the book] Born Again over that Christmas period...by Charles Colson.... He was talking about being in prison and being let out and I really identified with that. It seemed every time I picked up that book there was something...there was hope in it, you know, and it just did something. And then I went around for a week and I knew there was some decision I should make and I just...it looked like as if I was running from somebody, I thought it was the Lord who was calling me to make a decision. And I was just worried somebody being so close like if I let the Lord into my heart He'd be so close, I couldn't get away from Him, you know. So one night I did and just had this tremendous experience of forgiveness and love that it was like a sea of warmth pouring over me. It was an amazing experience. Very, very real, very tangible and just a real sense of God's love. And, you know, much more at peace after that. And the Bible came alive.

The above excerpt if from the oral history interview of Mary Cagney in Collection 531. Cagney, born in Limerick, Ireland, was converted at the age of nineteen. She graduated from Wheaton Grad School with a M.A. degree in 1997. Cagney describes her childhood, family, spiritual development, conversion and Christian life, Irish Catholicism, education, interaction between Catholics and Protestants in Ireland, Irish Evangelicalism, charismatics, Evangelical agencies working in the country, women's role in church, Leanne Payne's Pastoral Care Ministries conferences, Wheaton College Graduate School, strengths and weaknesses of the Evangelical church in Ireland, reconciliation attempts, her work for Kingdom Come Trust and publication of BREAD, journalism, political turmoil as it relates to ministry, impressions of American churches, application for a Fulbright scholarship to attend Wheaton, etc. There are restrictions on the use of this collection. The audio tape may be used by researchers in the Archives Reading Room and is also available by inter-library loan.

*****

Worldwide Ministry of a Missionary Family Collection 552: Papers of Lillian and Raymond A.Braun

One of the newest collections of old documents in the Archives highlights the life work of a remarkable family of missionaries whose careers spanned more than fifty years. The Young family consisted of four siblings who devoted their lives to serving Christ in the mission field in Africa, Asia and South America: Mary, Lillian, Paul and Tom. Mary and Lillian themselves married two brothers, Milton and Raymond Braun.

The documents consist primarily of the correspondence of Raymond and Lillian Braun with their family members and friends and supporters of their mission work with Baptist Mid-Missions in central Africa, from the late 1920s until Raymond's death in 1962. The letters are rich with descriptive detail as they recount stories of their struggles to set up a mission and plant churches and schools Archambault (Chad), Fort Sibut (Central African Republic), Bangui (C.A.R.) and Pembe-sur Sangha (Congo). Many of the letters are written to Milton and Mary Braun, themselves missionaries to China. These letters are honest and unrestrained, as they share their experiences with those who well understand the joys and difficulties of mission life. Many of the letters describe travel to the remote areas in which they served, as well as descriptions of the life and faith of the African peoples with whom they served.

In addition to letters, the collection contains sermons, articles and poems by Raymond. There are also photographs of both Braun couples and numerous shots of indigenous African people. Enriching the collection are various pamphlets and printed materials relating to the Brauns and the mission for which they worked.

The collection also contains documents relating to Mary and Lillian's brother, Paul Young, who served with the United Bible Societies in Ecuador, from 1918 to the 1960s. Included are various personal papers and annual reports of the North Andean Agency of the United Bible Societies.


Recent Research
In this section are brief descriptions of some of the recent work being done in the Archives, usually in the researchers own words.

A Christian Management Giant, Models of Health Care, Teaching the American Way - Recent Research in the Archives (9/02)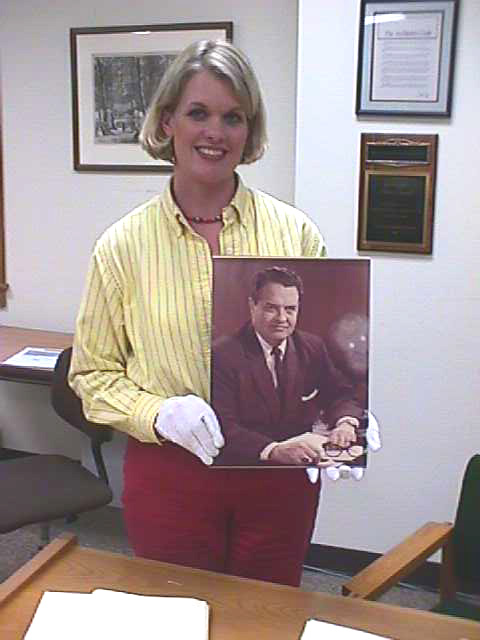 Julie Albertson a freelance writer came to the Archives in June to do research for a biography she is writing on her grandfather, George McConnell Wilson. Wilson was the first business manager of the Billy Graham Evangelistic Association (BGEA) and one of its leaders for over three decades. He was one of the major contributors to the efficiency and effectiveness of the Association. (Albertson is pictured at the left, holding a picture of her grandfather.) Albertson wrote she was looking for correspondence, photos, documents that related to Wilson and the impact he had on BGEA and other organizations such as Prison Fellowship.... The first thing I discovered was that I would have to come back and spend more time in the archives because there was so much that should be studied. I was impressed with the size and scope of the collections and how easily accessible they are due to the computerized indexing system. She mentioned that Torrey Johnson gave an interview that's accessible online [CN285-T4] in which he was asked about Wilson. He speaks at some length to the business prowess of the businessman behind Billy Graham. She concluded, This is my first and likely my most important book because it will serve to document the life of Wilson, a man committed to serving Christ through his work with BGEA. I want my children and grandchildren to understand the legacy their grandfather leaves behind and the responsibility of using our gifts to honor and glorify God.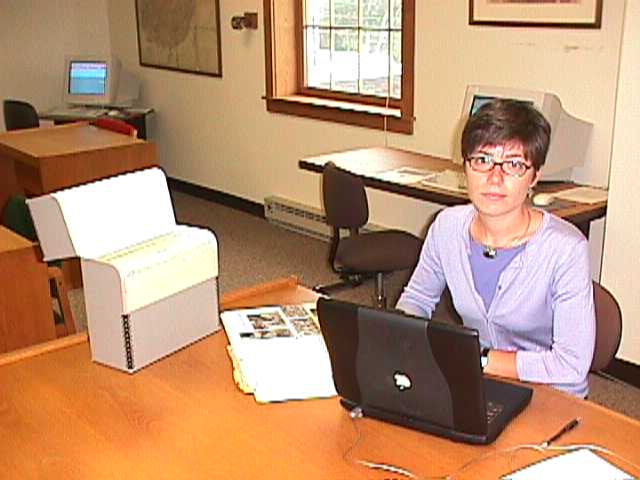 Dr. Gwynne Jenkins, professor in Anthropology & Women's Studies at the University of Kansas, Lawrence (pictured at the right) also come to the Archives in June. She stated, As a medical anthropologist, I am interested in how people come to understand new models for health care.... The focus of my work to date has been on rural Costa Rican women's experiences of birth, and their role in the transition from home birth to hospital birth. I came to the BGC Archives because women and men in the area of rural Costa Rica where I studied often talked about the Caravanas de Buena Voluntad or "Good Will Caravans" as their first contact with physicians, nurses, and Western or biomedical models of health care. I was seeking to understand the history of the Good Will Caravans in Costa Rica, and to document the range of the health care it provided.... I found documentation that the GWC visited two communities in the area where I do fieldwork, and a wealth of information that illuminated the activities, history and meaning of the GWC for its participants.... Like many other anthropologists, I am deeply concerned with historicizing change (in my case, regarding health care practices) by documenting local voices and integrating local history with national and global trends.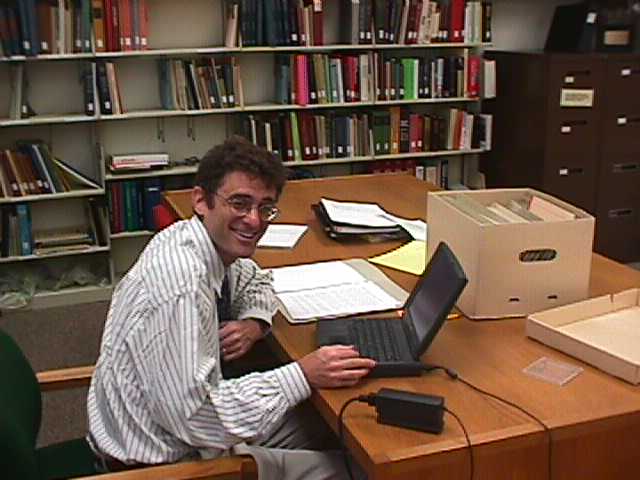 Another recent researcher was Dr. Jonathan Zimmerman, Director of the History of Education Program at the Steinhardt School Education, New York University (pictured at the left). He was gathering materials for a book he planned to write, Teaching the American Way: American Teachers in the 'Third World,' 1898-1998. Zimmerman explains, The book will examine Americans who went to teach in Asia, Africa, and Latin America, in three broad categories: missionaries, volunteer agencies (such as the Peace Corps) and government teachers in American protectorates (Philippines, Puerto Rico, etc.) At the BGC, I spent most of my time working with the voluminous papers of the Africa Inland Mission (AIM). I discovered that the AIM did not place a great emphasis upon mission schools in the years prior to World War Two, preferring to engage in what it called "direct evangelism." After the War, however, the AIM shifted its position. With Africans increasingly demanding formal education, the mission decided to establish its own schools--just like other missions had done. This move immediately raised the question of whether the AIM mission schools should accept government grants in British colonies, where religious institutions could apply for public funding. Eventually, most AIM missionaries decided that the answer was "yes." The same Protestants who argued against public funding for Catholic schools in the United States eagerly solicited--and received--public funding for their schools, especially in British East Africa.


_ _ _ _

Among the other topics users worked on in the Billy Graham Center Archives between May and September 2002 were:
Life of missionary to Afghanistan J. Christy Wilson, Jr.
Frances Willard and the Woman's Christian Temperance Union
Anti-evolution movements in early Fundamentalism
Life of hymn writer Fanny Crosby
1930s home movies of Tibetan culture taken by missionary Victor Plymire
Trial of minister Henry Ward Beecher
Ministry of evangelist Kathryn Kuhlman
Life of scholar and evangelist J. Edwin Orr
Ruth Graham in China
George Beverly Shea and his music
Life of Evangelical statesman J. Elwin Wright
Orlando Costas' speaking style
The Ethiopian church under communism
The language of Evangelical Millennialism during the early years of the Cold War
Life of missionary and missiologist John Gration
Philosophy behind the education work of Africa Inland Mission
Life of missionary Daniel Webster Crofts
Vietnamese refugees
Wally White and the Chicago Gospel Tabernacle
Life of missionary Elwood Davis
Nate Saint and the death of the five missionaries in 1956
Anthropologist Levi Strauss' critique of missions to South America
Photos for article in Wheaton Alumni on Abe Van der Puy
Moravian missions
The Billy Graham Pavilion at the 1964 New York World's Fair
History of the Independent Presbyterian Church of Savannah, Georgia
Genealogical research in the Rich and Anderson families (in the records of Moody Church)



********


Masculine Images and An Indigenous Church - Recent Research in the Archives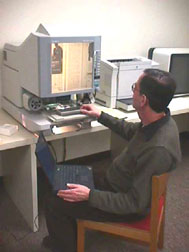 Dr. James Gilbert (pictured at left reading microfilm of newspaper accounts of Billy Graham's evangelistic meetings), professor of American Studies at the University of Maryland, came to the Archives and spent three days doing researching for a book he is writing on public images of masculinity during the 1950s in the United States. Gilbert wrote to the Reference Archivist, As one of the most widely known figures of that era, Billy Graham is an interesting subject for my study. I am particularly interested in the public portrayal of preaching and conversion. Although none of the private papers of Reverend Graham are available, I found the large collection of clippings and articles very helpful. In addition, I was delighted to have access to several films made by the Graham organization in the 1950s which depict exactly the process that I am discussing in my book.

The clippings and articles Gilbert used were from the Billy Graham Evangelistic Association Clippings File - Collection 360 and the films are from the Records of the BGEA: World Wide Pictures, Inc. - Collection 214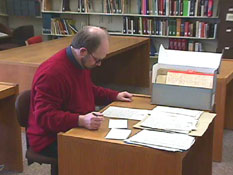 The Rev Dr. Tudor Griffiths (pictured at right), Anglican clergyman from south Wales (United Kingdom), visited the Archives for a few days in March. Griffiths stated that The project in which I am engaged is writing a book on the work of Bishop Alfred Tucker in Uganda (1890-1911). Tucker was a missionary working with the Church Missionary Society, an Anglican mission based in London. Tucker worked at the height of British imperialism, and his ideas of promoting an indigenous church stand out in this period. I wrote a PhD thesis on Tucker and I am looking to prepare this for publication.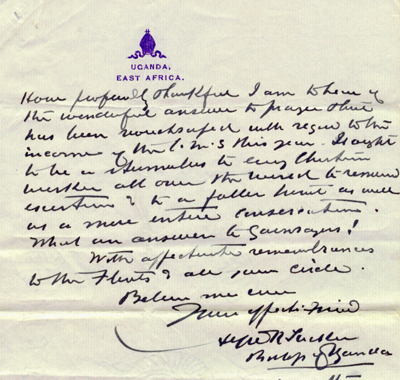 After his visit Griffiths wrote, I came to the BGC Archives to read the collection relating to Tucker (135). I had already downloaded an index of the letters and had some photocopied samples of the letters sent when I was working on the thesis in Uganda. I had long wanted the opportunity of coming to read the full collection. It was much as I had expected, although I had hoped for some more personal material. The absence of such is because his son burnt his papers just before his own death. In one sense I was gratified that I came across nothing that made a radical difference to the thesis that had already been submitted and accepted. On the other hand I was grateful to find a few details to fill in the wider picture. The joy in finishing was a joy of completion, because as far as I am aware there are no more papers of Tucker for me to read.


*******

Among the other topics users worked on in the Billy Graham Center Archives between January and April 2002 were:

Kathryn Kuhlman's ministry of prayer and healing
The hymns of Fanny Crosby
Religion and Polities in Southern California, 1940-1980
Protestant Evangelism in Venezuela and Columbia
Martin Luther King, Jr.'s prayer at Billy Graham's 1957 New York crusade
Female circumcision vs female human rights in Africa
The ministry of Rene Padilla
Missions to the Cameroons
Christian higher education in China
Educational missions in Kenya
History of LaSalle Street Church of Chicago
Clothes worn by missionaries prior to 1900
The prayers of Donald McGavran
The Karen Bible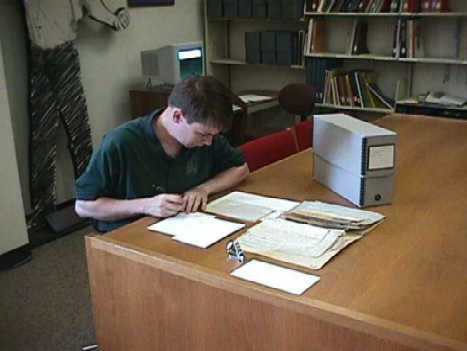 Recently Will Womack (pictured at left) came to the Archives to use the materials in the records of the Woman's Union Missionary Society - Collection 379. He was a PhD candidate in history at the School of Oriental and African Studies of London University in England. Womack wrote of his work, My project deals with the transformations which took place in Karen communities of 19th century Burma and the roles of Karen leaders, Burmese and colonial agents, and Christian and Buddhist missionaries in these transformations.... I came to the BGC archives to use the collection of the Women's Union Missionary Society (WUMS). One of the founders of this society, Ellen B. Mason, was an American Baptist missionary in Toungoo, Burma. In 1863, soon after WUMS was organized, Mrs. Mason became the center of a controversy involving her use of Karen and Burmese symbols in explaining the Bible, and also her outspoken advocacy of the role of women in missions. Womack was specifically looking for correspondence between Mason and the WUMS board, which he found in the WUMS records. The letters provide two key firsthand views on the controversy, as well as responses from the WUMS committee in America. While some of the views of Mrs. Mason and Miss Marston can be found in pamphlets which survived from that period, the views of WUMS members in America cannot.... The collection at BGC provides a unique and important set of viewpoints necessary for a complete understanding of the debate about Mrs. Mason which took place more than 130 years ago. It also helps to identify some of the issues which fostered debate within and between the foreign missions and sending churches in the 19th century.

*******

Among the other topics users worked on in the Billy Graham Center Archives between September and December 2001 were:

Christian higher education in China, 1850-1950
Post World War II Millennialism in the United States
Evangelical Revivals & Anti-communist Movements
The impact of Christian radio broadcasts in China
Moody Memorial Church (Chicago) outreach activities from 1900-1920
Life and ministry of evangelists Aimee Semple McPherson and Paul Rader
Life of missionary and scholar Donald McGavran
Counseling and follow-up work of the Navigators
Billy Sunday's campaign in Dixon, IL 1905
Ethel Water's rendition of "His Eye Is On The Sparrow"
Other News
Changes at the Archives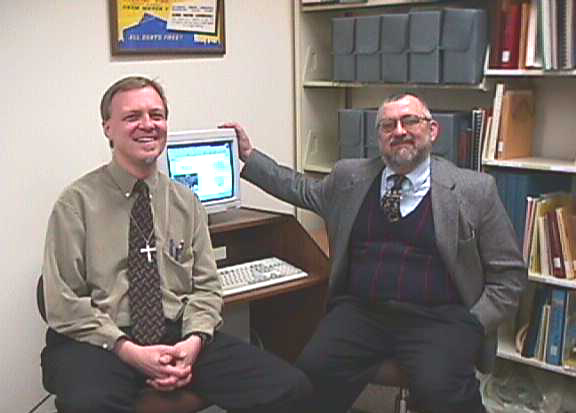 Robert Shuster, director of the Billy Graham Center Archives since its founding in 1975, has initiated a reconfiguration of the staff in which he will step aside from his administrative duties and Paul Ericksen will become the director of the department on June 1. Shuster will continue to serve as one of the staff archivists, while Ericksen, who came to the Archives in 1982 and has been associate director since 1988, will assume administrative duties for the department. (Ericksen and Shuster are at the left, in the Archives Reading Room)

In looking ahead, Ericksen said, "This shifting of responsibilities does not signal a change in the Archives' emphasis or priorities. The Archives' focus on collecting materials that tell the story of North American nondenominational Protestant evangelism and missions will continue uninterrupted. The staff will still open a steady stream of newly arranged and described collections for use by researchers. And we will maintain the commitment Bob embedded in the Archives program to serve our researchers and use emerging technological developments to preserve our collection and make it more accessible. Obviously, some things will change, especially as the Archives enters a new era as it anticipates the growing need to digitize more of its collection in order to keep it accessible." Shuster added, "We can only make this change because Paul is available, someone in whom Lon and I both have confidence and who we both admire. He is a person of Christian commitment, professional skill and with a vision of how the Archives is a resource for the Church and the community. I am looking forwarding to serving under his leadership as the Archives finds new way to preserve and serve."

A transition of this kind, often seen in academic departments where the chair position rotates, is less common in the archival and business world. But this, like many other Archives activities, is one more example of the Archives' sense of collaboration and innovation. Lon Allison, director of the Billy Graham Center, emphasized another side of the change: "I am delighted that Bob will continue to be a part of the Archives team and want to recognize and applaud his initiative as both innovative and a model of humble service."




Saving Missions History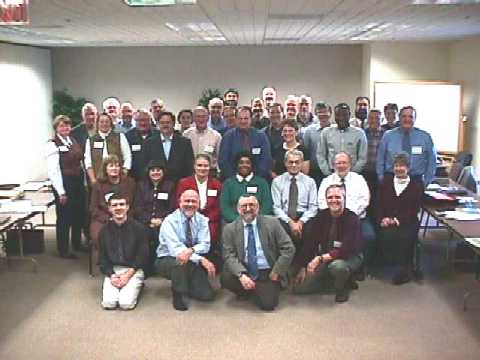 The Archives was host on November 1 to 3 to thirty-nine leaders of mission organizations, archivists, historians, and missiologists, pictured to the left. They came to talk about ways how to save and make available the records of American Protestant nondenominational missions. For more than a century independent mission agencies, such as China Inland Mission or Wycliffe Bible Translators, has provided a large part of the people and direction of the American missionary movement. Because, unlike the denominational missions, such as the Baptists, Presbyterians, Lutherans. etc., these mission agencies exist on their own, outside of any denominational structure, there is no outside organization to collect their historical documents and the missions themselves have in the past done little to collect them on their own. So these records that tell such an important part of the Christian history are easily lost. The purpose of the November consultation was to 1) help raise awareness among missions of the value of their archives to themselves, the church and the general community, 2) to encourage other Evangelical Protestant institutions, such as colleges, universities and Bible schools that train missionaries, to help in the task of preservation and 3) develop resources that would be of help to any mission interested in doing something with its archives.

The meeting was sparked by a moving keynote address by David Howard, which drew on his own extensive experience both as a missionary and leader of missions and as a writer of mission history. There were also presentations from historian Charles Weber and archivists Martha Smalley and Bob Shuster. Especially interesting was Bob Arnold's description of SIM International's archives, perhaps the finest example of an in-house mission archives.

The consultation divided into five groups that discussed different aspects of the problem. The results of the meeting, besides a greater awareness of and interest in mission archives, included:
The creation of a set of introductory guidelines for any mission interested in starting an archives (http://www2.wheaton.edu/bgc/archives/ema/guidelines02.htm)
The reports of the work groups (http://www2.wheaton.edu/bgc/archives/consult/workgro.htm), outlining problems and suggesting solutions
A web site (http://www2.wheaton.edu/bgc/archives/ema/first.htm) with resources for mission archives
A listserv for those interested in problems related to preserving nondenominational archives. Interested people can join the listserv by sending an e-mail (with no subject and no message text) to: archives-talk-subscribe@strategicnetwork.org
For information on all of these resources, visit the consultation's web site (click
)
---
Return to BGC Archives Home Page

Last Revised: 09/01/02
Last Revised: 1/5/05
Expiration: indefinite

© Wheaton College 2005