Billy Graham Center

---

Archives
Witness... newsletter, September 2000
Below, very slightly edited because of the different context, are the text and photographs from the most recent issue of Witness....





---



*****


Expanded Collection Rich in "Born Again" Tales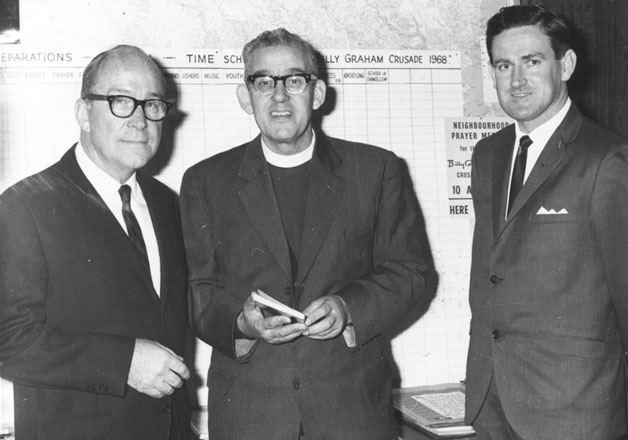 Robert Ferm (left) preparing for the 1968 Sydney Australia, crusade with Bishop A. J. Dain, Crusade Vice Chairman, and Fred Nile, Assistant Crusade Director


"I was raised in a Christian home but never had a happy religion for many years as I had never received the Lord as my personal Saviour.... [After marriage, the first church we visited] was so friendly & near our home that we stayed there for 20 years; in all that time I never grew in Christian faith but rather grew weaker; this church although it gave us many friends & lots of sociabilities was spiritually weak - unless you were saved when you came there you were so very apt to be lost; the minister was very modern & said he would not use such terms as "the blood of the Lamb" or "salvation," that to ordinary folks it would mean nothing; he would not preach of hell or being born again. For years I was not happy, altho I was healthy & popular; seems I had been looking at people instead of my Creator. I began studying the Bible and reading books, but just couldn't feel the good Lord could cover all my sins; I just kept feeling so unworthy but one night as I read The Secret of Happiness by Billy Graham I was for the first time happily borned again. About six months later I was a victim of cancer; that was nearly six years ago & I have had many complications, many xrays but you know I wouldn't give up my precious Lord for health and all the world's wealth; how good that I found Him before I was stricken with cancer." [Spelling and punctuation left as they were in original letter] This is one of thousands of personal statements of faith gathered by scholar and author Robert Ferm, part of sixteen boxes of documents that have been added to Ferm's collection (Collection 19) and which are now available to users.

Ferm was a minister and scholar who for more than three decades served as a research assistant and general troubleshooter for evangelist Billy Graham. He was a college professor and administrator when in the early 1950s he began to take leave of absences to work for the Billy Graham Evangelistic Association, eventually joining the BGEA full-time. He was involved at one time or another with almost every aspect of the Associa-tion's work - devel-oping evangelistic sermons, helping to start the BGEA's periodical Decision, serving as dean of the school that taught evangelism theology and methods to pastors, training counselors, and laying the ground work for large evangelistic meetings in various cities around the world. These aspects of his work are all well documented in his papers, from the letters he wrote home in 1954, describing the details of arranging the 1954 London crusade, to the comments and suggestions he made about the Association's policies in the 1980s. The files in Ferm's collection help tell the larger story, not only of the BGEA and evangelism but also of the growing influence of Protestant Evangelicals in post-World War II North America.

Ferm's particular interest was con-version - what did it mean to be "born again," to believe in the Lord Jesus Christ. Throughout his years with the BGEA he gathered, primarily through surveys and personal letters, the stories of people who had been converted through one of the Association's programs - meetings, television and radio shows, magazines, books, films. These testimonies, almost always in the testifier's own words, are a very valuable record of what people's faith meant to them and how they lived their faith in their lives.
Back to Table of Contents



*****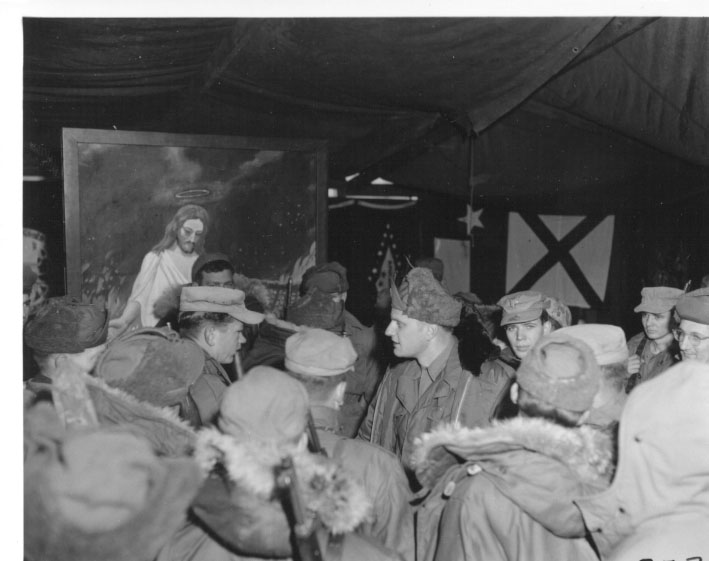 The photo mentioned in the article below. Billy Graham is in the center, facing left. Mr. Fletcher is the second from the right. with a M1 rifle on his shoulder.

Report from Two Users

Here are reports from two recent researchers. The first is from Asbjorn Gjengedal of Norway, the second from Ted Fletcher of South Carolina.

Gjengedal - "Abraham Vereide was the founder of the Breakfast Group movement, which is a Christian fellowship of leading people in different fields of society. Vereide was born in Norway in 1886 and emigrated to America in 1905, where he became a Methodist pastor. Because his life story is very interesting, I want to write a biography about him in Norwegian. I have also a personal interest in this project because he was the brother of my grandmother and I met him several times when I was a boy. I discovered that most written sources about him could be found in the Archives of Billy Graham Center. So I went there to study the documents. The staff were very helpful to lead me to the most relevant and interesting boxes about Vereide. They are mostly filled with personal letters from and to Abraham Vereide, starting in 1935 and going to his death in 1969. Almost all of them were personal and showed a deep love and concern in the relations between the writers. The picture of Ab-raham as a visionary leader and great personality became more and more clear. To him every man was valuable and he had a special gift to present Christ as Saviour and Lord to high and low in society. So he stayed a warm and bold witness to Christ all his life, as he had been from his childhood in a poor home in Norway."

Fletcher - "Thanks for your help when I visited the Archives on March 30. I was doing research for a book on the 20 year history of Pioneers, which is a mission agency focusing on planting churches in the vast unreached areas of the world which are most in need of the Gospel. Since I am the founder of Pioneers, the book will devote a couple of chapters to my conversion and experiences while serving with the First Marine Division in Korea in 1952-1953. Billy Graham visited Korea in December, 1952. On December 23, he spoke to about 750 Marines at Division Headquarters near the front lines. It was that day when I came to know the Lord Jesus Christ as my personal Savior. There were hundreds of pictures taken during that trip. However, only five or six were taken the day he spoke to the Marines. After examining those few pictures closely, to my great surprise I was in one of them! This picture will be used in the book." The photo mentioned is above. Billy Graham is in the center, facing left. Mr. Fletcher is the second from the right. with a M1 rifle on his shoulder.
Back to Table of Contents

*****



This issue of Witness will be the last one done in a paper format. Future issues will be in digital form and accessible through the Archives' web site. Current issues and old numbers (going back to 1996) can be found at this web address: http://www.wheaton. edu/bgc/archives/witness1.htm
Back to Table of Contents

*****



There are a few more documents on microfilm which are now available for interlibrary loan. They are described below. Anyone who wants to use these materials should place a loan request through their local public or university library. The regulations governing the Archives loans can be found at this address on the Web: http://www. wheaton.edu/bgc/archives/ill/intro.htm

Collection 81: Records of Africa Inland Mission. These materials were filmed through a gift from Carlton and Miriam Ericksen. Boxes 3 and 4 from the collection (on reels 5 through 8) have been added to those previously filmed. These boxes contain more of the minutes and papers of various committees and councils within the AIM, arranged alphabetically from the letter C to the letter I. The time period covered is 1916 to 1987.

Collection 172: Records of the Pan African Leadership Commission. This collection is filmed on three reels of microfilm and contains everything described in the guide except the photographs. The documents describe the efforts of many Protestant Evangelical leaders from all over the continent to plan this conference and discuss topics significant to African church leaders.

Collection 379: Records of the Women's Union Missionary Society. The microfilm of this collection , filmed in cooperation with the Yokohama Kyoritsu Gakuen of Japan, an educational institution started by WUMS, consists of the Society's annual reports from 1860 to 1958, as well as the Society's constitution and other legal papers.
Back to Table of Contents

*****


Elizabeth (Quakenbush) Stough grew up in the American Midwest and spent over thirty years (1940-1976) as a missionary in east central Africa, most of them with her husband Paul. Several hours of interviews with her about her life can be found in Collection 468. Here is an excerpt for the period around 1941 which describes her work in French Equatorial Africa, now the Central African Republic:

As I became fluent enough in the language to get out, I enjoyed village work very much. Actually I'd been there a very short time when Miss Weber wanted to go out on a trip through villages and we went by bicycle.... We packed up a box with food in it, a box of clothing, a box of bedding-- you know the essentials and set off on this trip which took I think 4 to 6 weeks perhaps. With the Africans carrying those loads on their heads....

We would go along, come to a village along the way, stop, and try to get people together as much as we could. She would talk with them and give them gospel message and then the carriers would come along and keep on going. When we got as far as she thought we should go on the road, we would pull into this village.... She would ask the chief for a place to sleep and sometimes they were more reluctant than others. We would decide where we would sleep and he would say to the people, man and wife perhaps that lived in that house, that might be one of the better ones in the village. He'd say "These white people are going to sleep in your house tonight." So they'd go in and carry out their things that were in the house which would be some clay pots, some mats-sleeping mats, and whatever they owned they'd bring it out. They'd go in with these brooms made out of twigs and out would come a great cloud of dust as they swept out the place and made it ready. And so eventually we could go in. The carriers had arrived with our food and camp cots and mosquitoes nets and blankets and things. We would move in and the little fellow that was going to do our cooking would get a fire started between three stones out front and clay pot or whatever and would cook our meal. Then Ms. Weber would ask the chief to call his people together so we could have a meeting in the evening and she would talk to them again....

We made a great circle. We went from Zemio up toward the east toward the Sudan to a place called Obo.... And we would spend several days up there and then we'd cut across toward the west, then northwest a bit, a long desolate area--very long. Not many villages, but enough to make it worthwhile. And we would head for Djema which was a station directly north of Zemio.... It was on that long trip between Obo and Djema where we stopped one night where the chief bickered with Ms. Weber to see how much wealth he could produce to buy me because he wanted me for one of his wives [laughs]. She had a time with him [laughs].... There's a place about half way between Djema and Obo where there are terrible flies.. I think she called them buffalo flies - large, that would bite you like mad. We would wrap up our legs with cloths, anything we had, and try to get something as much over your face as possible because riding along through that area on bicycles you could end up with a lot of these welts from the bites of these flies and they itched for days afterwards. It was a miserable trip through there. And there was another place on that rode that I especially remember. It had some big rocks that these people considered to be their gods. They would bring food and gifts for the gods, these rocks, which made a great impression on this brand new missionary. I was still very new at that time and all of these were new experiences to me. It was very rare to go on that trip from Obo up to Djema.
Back to Table of Contents

*****


The Archives website has become a vast document storehouse, with many hundreds of individual pages of guides, documents, exhibits, speeches, images, and more. In order to simplify the site's use for those who want to find examples of presenting the Gospel, we have added yet another page, called Evangelism Archives (http://www2.wheaton.edu/bgc/archives/docs/evanarc..html) Here can be found audio clips and video clips as well as printed, typed and handwritten examples of great evangelism. Some of these links are to items already on the site, others are brand new. Together they represent the reason for the Archives' existence - to preserve something of the variety in which Christians have witnessed to salvation in Jesus Christ. Among the most recent additions is an audio clip of Paul Rader giving a five minute sermonette called "The Stone Age."

Rader was one of the most active and innovative evangelists of his day, one of the very first to use radio. But this brief talk is only remaining recording of his voice that the staff know of. Now he speaks again, preaching the age-old message he knew so well over a media he could never have even imagined.
Back to Table of Contents

*****


The Footsteps of a Traveling Man

Left: Wright (seventh from left) attending a meeting of the Evan-gelical Fellowship of Japan meeting in Osaka in 1955


J. Elwin Wright was one of those people who is relatively little known but was widely influential. In the 1920s he began to make the organization he headed, the New England Fellowship, one in which conservative Protestants of many different traditions and denominations could gather for discussion, Bible study and fellowship. At the time, when theological walls stood high, the NEF was practically alone in the United States in providing this kind of common meeting ground. In the late 1930s and 1940s, Wright took the lead in holding conversations with Fundamentalist leaders all around the country on the benefits and means of cooperation. He was a major participant in the formation of the National Association of Evangelicals in 1942 and 1943 and was one of the NAE's early leaders. Shortly after World War II, he began to do the same work on an international scale, traveling tens of thousands of miles between 1945 and 1955 to over fifty countries to create the basis for unity and cooperation between Evangelical traditions in different countries. (He was also arranging for the delivery of NAE relief supplies to refugees.) Wright helped bring the World Evangelical Fellowship into being in 1951 and he was for many years its executive secretary.

The Archives has opened Collection 565, which consists of bits and pieces that document the work of this quiet man. There are the minutes of the First Fruit harvesters (which later became the NEF) that show the wide range of evangelistic programs that Wright began. There are scrapbooks that tell the story of the part in the early days of NAE, as well as his friendship with evangelist Charles Fuller. And finally there are many home movies and dozens of letters to his family that describe in humorous detail his trips to Evangelical fellowships in Europe, Asia and South America. These give a very human dimension to his story and a feel for the diversity of the churches around the world he was helping to bring together. As his personal motto, Wright took a phrase from St. Augustine - "In essentials, unity; in nonessentials, liberty; in all things, charity." Collection 565 illustrates how he put his beliefs into practice and laid the groundwork for the international cooperation among Evangelicals of today.
Back to Table of Contents
*****



Guides to all the collections mentioned in this newsletter can be found on the World Wide Web at the Archives' home page.

The address (or URL) for a list of collection guides in collection number order is: http://www2.wheaton.edu/bgc/archives/guides/g1.htm

The address for a list of collection guides in alphabetical order, according to the name of the creator of the documents, is: http://www2.wheaton.edu/bgc/archives/guides/g2.htm
Back to Table of Contents

*****


Witness...
Volume 9, Number 3 September, 2000

The Archives of the Billy Graham Center is a department of Wheaton College which collects and makes available documents on the part nondenominational Protestants have played in the spread of the Christian gospel.

Robert Shuster, Director
Paul A. Ericksen, Associate Director
Wayne D. Weber, Reference Archivist
Christian Sawyer, Archival Coordinator

To subscribe to the newsletter free, send your name and address to:
Archives of the Billy Graham Center
Wheaton College
Wheaton, IL 60187
or call (630) 752-5910
E-mail:
Home Page: http:/www2.wheaton.edu/bgc/archives/archhp1.html
Back to Table of Contents
---
Last Revised: 8/16/00
Expiration: indefinite


© Wheaton College 2005