Archival Midwifery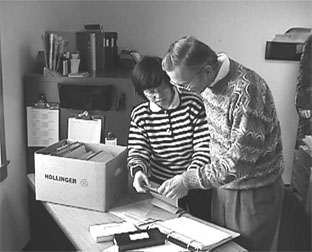 Wayne Weber of the Archives explaining to Irene the procedures for accessioning a new addition to the Archives.
The BGC Archives has been privileged in the first half of 1999 to assist in the birth of another archives half a world away. Since January Irene Wong, a librarian on the staff of Hong Kong Baptist University (HKBU), has been receiving training from our staff in the principles and practice of archivescraft.
In 1996 HKBU established the Archives on the History of Christianity in China to collect, "...materials relevant to the study of Christianity in China, regardless of denomination, or nationality. These may be concerning Chinese Christians, or missionaries, and will include biographies, letters, diaries, Church histories, in English or Chinese. Both primary and secondary source materials, centering on (but not exclusively) pre-1950 will be collected." No other archives in China was attempting this.
The next step was to develop a professional archival staff. After receiving funding from Henry Luce Foundation and the United Board for Christian Higher Education in Asia, HKBU selected Ms. Wong from the library staff to head the University's special collections and asked us to provide a five-month training practicum in archival fundamentals. Why come to Wheaton for that training? "Because we don't have proper training opportunities for archivists in Hong Kong," said Wong. "And because the Billy Graham Center Archives is an established religious archives with an interest in the documents of missions to China, it's a natural place to look for training to develop our archives."
Together with Ms. Shirley Leung, director of the HKBU library, we identified what elements would make up this training: arranging and describing materials, collection policy development, oral history, archival reference, outreach, disaster planning. Wong's training has also been beneficial to the Archives. Two collections have been updated and two others have been processed from scratch. However, Irene has not been cloistered at the Archives. She has given presentations to Wheaton College's library staff and a class in Chinese history, is taking a course in archives at Dominican University, visiting other archives to develop a broader picture of the implementation of archival principles, and has conducted oral history interviews to add to the HKBU archives.
Before coming, Wong's top priority was to learn how to process collections and appraise materials . "Over the past two years, we haven't had appraisal. We've taken whatever we were given. But appraisal is essential because it affects the quality of the collection. I don't want the archives to be a dumping ground." Wong added that she has also become aware of the importance of outreach. "Success of an archives depends on the quality of the collection AND the use of it. Even if we have a good collection, if nobody uses it, what's the use of collecting? But use also helps us strengthen the collection. If I can publicize the collection, it provides a way for us to get new materials and improve its quality."
When Irene returns to Hong Kong in June, she won't just be developing the archives and processing collections. She also hopes to help Hong Kong churches in developing their own archives. Already plans have been made to conduct a workshop on archives for church librarians and she has been asked to assist in the Hong Kong Methodist church.
As with a newborn child, there are many hopes surrounding this venture. According to BGC Archives director Robert Shuster, "we see this as a chance to be of service to Christ's church. We believe that the development of an archives in Hong Kong for the history of the church will be a continuing resource for the training, enlightenment, encouragement and warning of the Christian community of faith in China."
Back to Table of Contents


*****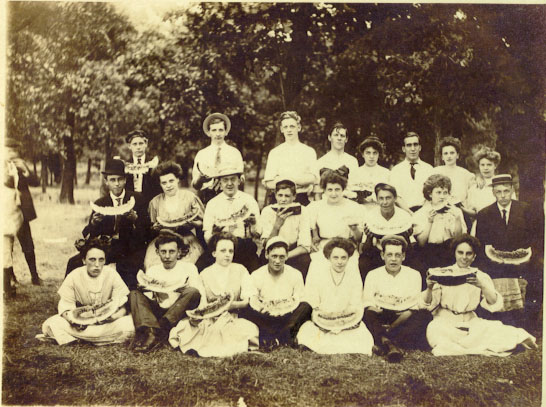 A scene from the 1908 Moody Church Sunday School picnic
In the last months of 1998 and at the beginning of 1999, Barbara L Dobschuetz, a graduate student from the University of Chicago, spent a great deal of time working with Collection 330, the records of Moody Church of Chicago. The church, an independent congregation, grew out of the Sunday school started by Dwight L. Moody in 1857 and for most of this century has been one of the leading churches in the fundamentalist/evangelical movement. Dobschuetz's dissertation is a social history analysis of the organization, membership, and influence of the Moody Church in its first sixty years. (It was formally organized in 1864.)
Here is a report from Ms. Dobschuetz on the types of questions she hopes to answer and the kinds of materials she has found: "The church started by D. L. Moody and others in 1864 has gotten rather a short shrift whenever researchers have looked at Moody himself, revivalism, and/or the rise of fundamentalism. Therefore, I thought it would be an important contribution to find out more of who the people were in the pews. I am also interested in who made up the local leadership of the church in light of the fact that Moody after 1873 did not live for any length of time in Chicago."
"Two important things that I have begun to look at are the extensive membership documents contained in the collection. A surprise find was a ledger that recorded members from the beginning in 1864 until 1887. This valuable source includes names, marital status, how they came into the church either by letter or profession of faith, and a follow-up set of remarks that told when the person was dismissed, dropped, died, or excommunicated. Other membership documents include alphabetical files that contain membership applications that offer a variety of details including address, ethnic and racial information (so far I have found a number of black members of the church before WWI), occupation and a variety of information about their faith, conversion etc. I am hoping this information will be able to tell us something about the race, class, gender, and ethnic dynamics of the church over its first sixty years."
"A second valuable source of information is the collection of church minutes that are a bit sporadic at first but later entries are quite full of details about issues of importance to the church. These minutes also give more insight into who was really doing the work of the church. Church discipline was taken very seriously by the church and is also reflected in great detail in the church minutes as well as the membership ledger."
"I have simultaneously been looking at the Moody correspondence at the Moody Bible Institute and have found Moody regularly corresponding with various individuals from the church. His correspondence files work nicely in tandem with the minutes giving one a sense of the complex relationship between the membership of the church and their famous absentee founder...."
"I anticipate only treating the first sixty years of the church's history because of the volume of material. Some of the questions I hope to address include the church's relationship to revivalism and emerging fundamentalism in the late nineteenth century and early twentieth century. This includes looking at its participation in Moody's Chicago revival in 1876 and the 1893 Colombian exhibition in Chicago. How did the church adjust to the death of Moody after 1899? Who were subsequent leaders and what direction did the church take after Moody's death? Another area that has never been treated is the role of women in the Moody Church. More than half of the membership was made up of women and assessing their involvement both as participants and leaders will be a real challenge. The collection only lists two or three folders on women. Locating women leaders seems obscured at first glance but I am sure as I get further into the material these individuals will become apparent. Moody Bible Institute has a small collection of information on Emma Dryer, one of the most notable women leaders in the early years of the church and the institute."