Billy Graham Center

---

Archives
The Coliseum Sermons From Billy Graham's 1958 Charlotte Evangelistic Meetings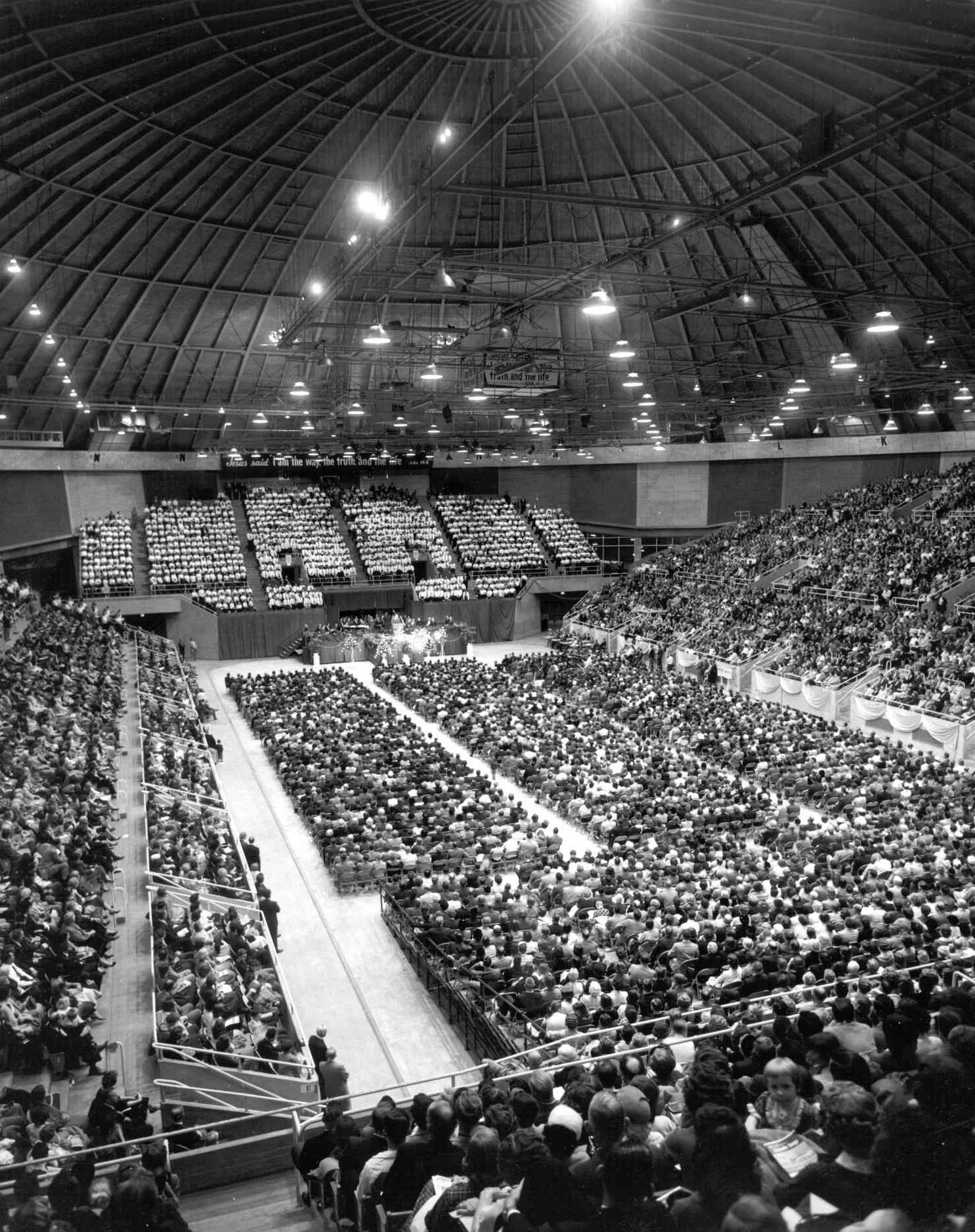 Crowd inside the Charlotte Coliseum during a crusade service

In 1958, Billy Graham led an evangelistic campaign in his home town of Charlotte, North Carolina that lasted from September 21 to October 25. The meetings, which were held at the joint invitation of most of the churches in the city and the surrounding area, were held in city's Coliseum, with overflow crowds watching the meetings on closed circuit television in the Ovens Auditorium next door. Total attendance for the five weeks was 423,387 people, of whom 17,653 came forward. (If the rallies at nearby Fort Bragg on October 13 and Fort Jackson on October 26 are included the totals become 490,387 and 19,560, respectively.)

This page includes links to all of of Rev. Graham's Coliseum sermons (and the sermon Rev. Grady Wilson preached on October 14 when he substituted for Graham) from that evangelistic crusade, as they were transcribed from the Charlotte Observer. Besides a digitization of the actual newspaper pages, there is also a transcript of each selected sermon. Often the newspaper includes introductory remarks about the crowd or the weather, etc. before going on to record the sermon. Many times these remarks have been left off of the sermon transcript on these web pages.


The transcription of the sermons on these pages was done by Nedine Kolmodin, without whom this web site would not have been possible.
* * * * * * *
About the 1958 Charlotte Crusade
Click
for photos from the Billy Graham Charlotte Crusade.

Click
to see a brochure describing the Billy Graham Charlotte Crusade.

Click
to see another brochure describing the Billy Graham Charlotte Crusade.

Click
to see the first page of the first issue of the Charlotte Crusade News, which was given to people at the Coliseum.

Click
to see the first page of the last issue of the Charlotte Crusade News.




* * * * * * *





Sermons from Charlotte
9/21 "Christ's Answer to the World."
9/22 "Fifth Amendment Christians."
9/23 "The Problems of Youth."
9/24 "America's Greatest Sin."
9/25 "The Moral Problem."
9/26 "No Other Gods Before Me."
9/27 "What's Wrong With The World?"
9/28 "Now is the Acceptable Time"
9/29 No meeting
9/30 "Problems of Young People"

10/1 "God's Forgetfulness"
10/2 "Rich Young Ruler"
10/3 "Conversion"
10/4 "The Narrow Gate"
10/5 "The Second Coming of Christ"
10/6 No meeting
10/7 "God's Delinquent"
10/8 "The Unpardonable Sin"
10/9 "Heart Disease"
10/10 "God's Escapism"
10/11 "The End of the World"
10/12 "The Home"
10/13 Rally held on the grounds of Ft. Bragg, North Carolina
10/14 "We Would See Jesus" (sermon by Rev. Grady Wilson)
10/15 "Heaven or Hell"
10/16 "Youth Aflame"
10/17 "Temptation"
10/18 "The World's Darkest Hour"
10/19 "The Great Judgement"
10/20 No meeting
10/21 "How To Live The Christian Life"
10/22 "Answered Prayer"
10/23 "How To Meet Temptation"
10/24 "The Church"
10/25 "Excuses"
10/26 Rally held on the grounds of Fort Jackson, South Carolina

---
Return to BGC Archives Home Page

Last Revised: 9/25/00
Expiration: indefinite

© Wheaton College 2005