Billy Graham Center

---

Archives
The materials on this page are intended solely for the edification of our viewers and cannot be copied or otherwise reused without permission.
Crusade In Wheaton!
September 27 - October 4, 1959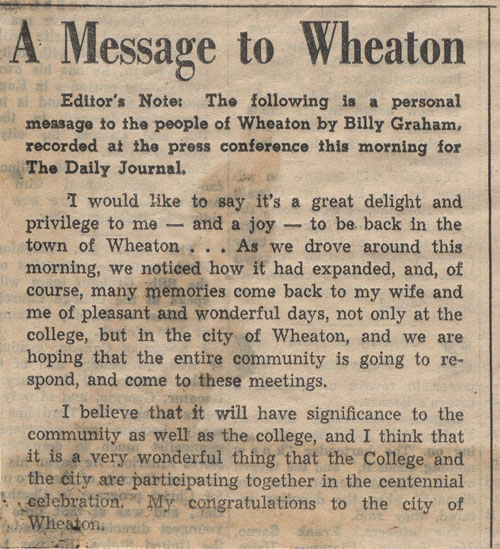 From the front page of the September 26, 1959 issue of The Daily Journal , the newspaper of the Wheaton community

In 1959, Billy Graham returned to Wheaton, Illinois, USA, where he had been a college student from the fall of 1940 to the spring of 1943 and where he met his wife, Ruth Bell. He came at the invitation of Wheaton College and the civic and spiritual leaders of the town to hold an evangelistic campaign like the ones he had held in much larger cities around the United States and the world. The original invitation had been to talk to the students during the school's annual Spiritual Emphasis Week. But at Graham's request, the planning was expanded to include a week long outreach that would involve the community as well. He also came to participate in the beginning of the celebration of the College's centennial. The college's new Centennial Gym was dedicated during the crusade. The services were held there were the first events in the new building. At the end of the meetings, the field where the outdoor meetings of the campaign had been held was renamed by the college trustees as Graham Field. (It is now the site of Fischer Dorm.)

Buses and cars brought people from all the surrounding suburbs from Elgin to Maywood, as well as Chicago. Hundreds of volunteer ushers, members and counselors from the local churches participated. At the end of the week a three day conference was held by the College for laymen on how to witness. Staff people of the BGEA leading some of the sessions and Graham speaking at the final banquet.

Rev. Allan Billman, pastor of the Gary Memorial Methodist Church in Wheaton, said, "Our church should never be the same again. We have been touched - from our official board to our children. I am counseling with 90 of our young people who made decisions for Christ." Rev. Evan Welsh, chaplain of the College, observed in an October 10th article in The Daily Journal that, "in his four years in his present post and for years as a youth, a student, and a local minister, 'he had never seen breaking down before God among the student body.'" He added, "The community and the campus worked together beautifully, It was inspired."
On this page are links to materials documenting the 1959 Wheaton Crusade - audio recordings of services, statistics, newspaper coverage, photographs, and other documents

Most of the materials on this page came from a scrapbook on the campaign put together by the Wheaton College public relations department and given to Billy Graham. The scrapbook is now in BGC Archives Collection 74. The source of other documents, where different, is noted.


Return to BGC Archives Home Page

Last Revised: May 1, 2012
Expiration: indefinite

© Wheaton College 2017