Billy Graham Center

---

Archives
The documents and images featured here are for the personal use of students, scholars and the public. Any commercial use or publication of them is strictly prohibited.
The Archives Bulletin Board
This service is intended for Wheaton College students, faculty and staff; people who live in convenient driving range to campus; or people who will be visiting Wheaton's campus. Every month, this Bulletin Board will highlight a new document or set of documents that are available in the Archives. Come on over and have a look!
To view items previously featured on the Bulletin Board, click
.


Now Showing - August 1999: Paul Rader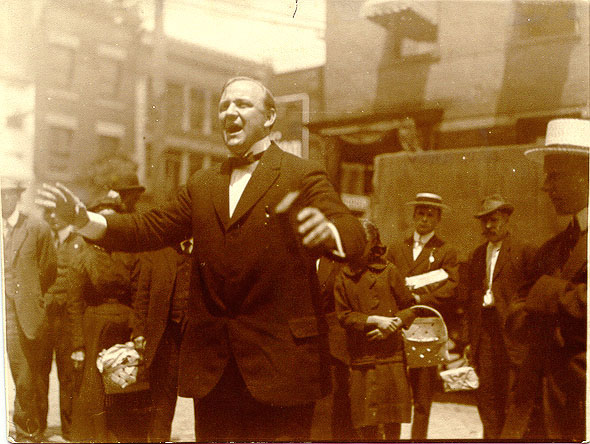 Rader preaching on a street corner in Chicago, ca. 1916.
One of the most dynamic American evangelists of this century and (one whose ministry is richly documented in the BGC Archives) was Daniel Paul Rader (1879-1938). Paul Rader (as he was known) was the son of a Methodist Episcopal minister. became pastor of the independent Moody Memorial Church of Chicago in 1915. At the same time, he served as vice-president of the Christian and Missionary Alliance until the death of the founder of the C&MA, A. B. Simpson. When Simpson died, Rader briefly became president. After leaving Moody Church in 1915, he held a series of evangelistic meetings in a temporary structure at the corner of Barry, Clark, and Halsted streets. . The meetings proved so popular that Rader decided to leave up the building, which became known as the Chicago Gospel Tabernacle (CGT). The building is still standing today. The Tabernacle became Rader's headquarters for the next twelve eventful years.
People came from all over the Chicago area to attend services at the Tabernacle and participate during the week in the many other activities there. Tabernacle evangelistic meetings were also held in other parts of the city. The CGT supported a number of missionaries and Rader held frequent conferences to raise support and recruit missionaries and other Christian workers. In 1926, he bought a summer campground and conference center, Lake Harbor--later renamed Maranatha. He also took many missionary tours and assisted in starting other tabernacles in Los Angeles, Minneapolis, Toronto, and Ashbury Park, New Jersey.
Rader himself became a pioneer in radio work beginning in 1922; in 1925 regular broadcasts began over WHT. There were also activity programs in youth work, literature, Bible studies and training of Christian workers. He also organized a food program for the needy called Paul Rader's Pantry.
He had a great deal of influence on Christian leaders of the next generation, such as Percy Crawford, Peter Deyneka, Merrill Dunlop, Howard Ferrin, Clarence Jones, Howard Jones, Lance Latham, and Oswald Smith.
Click to go to the guide to the collection of Paul Rader materials in the Archives (Collection 38)
August 1999: Paul Rader
---
Return to BGC Archives Home Page

---

Last Revised: 7/30/99
Expiration: indefinite

© Wheaton College 2005