Billy Graham Center

---

Archives
[from November, 1996]

Now Showing in the Archives Reading Room
This service is intended for Wheaton College students, faculty and staff; people who live in convenient driving range to campus; or people who will be visiting Wheaton's campus.
Every month, the Bulletin Board will announce a new document or set of documents that are available for immediate viewing in the Archives Reading on the 3rd floor of the Graham Center. Come on over and have a look!
This month (and until November 30) in the Reading Room: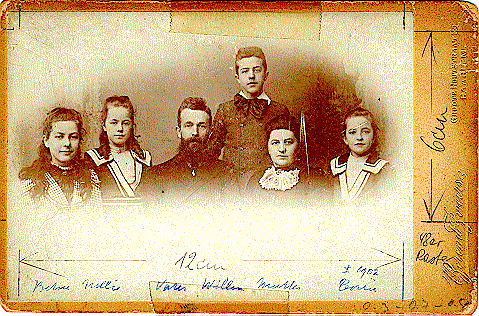 Corrie ten Boom - God's Humble Servant
Corrie Arnolda Johanna ten Boom (1892-1983) was born in the Amsterdam, the Netherlands just prior to the dawn of the twentieth century and died in Southern California on her ninety-first birthday. She worked as a watchmaker with her father, led Bible classes, organized and ran clubs for girls and boys, helped hide Jews fleeing Nazi persecution in her father's home, was imprisoned in Ravensbruck concentration camp in Germany, and after World War II became a world traveler, evangelists, and writer telling the story of her faith in Jesus in midst of trials. This month the Reading Room has Corrie's photo albums and photo file for patrons to view. The above photograph is of Corrie and her family taken in 1902, Corrie is on the extreme right. There is no charge to use the Reading Room and view these materials.
For more information on Corrie, you may read the guide to her material (Collection 78) on the Archival web site.
---
---
---
---
Last Revised: 6/29/00
Expiration: indefinite


© Wheaton College 2005