Billy Graham Center

---

Archives
The Archives Bulletin Board
Every month, this Bulletin Board will highlight a new document or set of documents that are available in the Archives. These are intended solely for the edification of our viewers and cannot be copied or otherwise reused without permission. Come on over and have a look!
To view items previously featured on the Bulletin Board, click
Now Showing
September 2017: Fifty Years Ago - The Memorial Service for Dr. V. Raymond Edman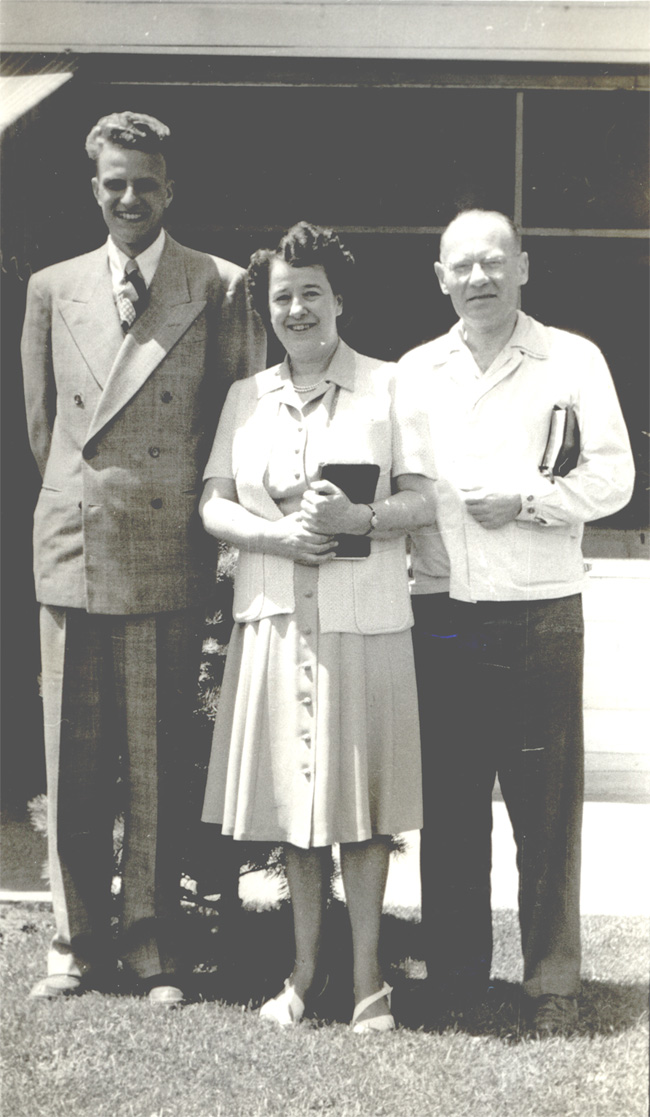 Billy Graham, Amy Lee Stockton and V. Raymond Edman at the Maranatha Bible Conference in Muskegon, Michigan. July 1947. Maranatha was a Christian camp ground in Michigan as which both Graham and Edman frequently spoke. Stockton was a Bible teacher on the staff there.
This month's Bulletin Board commemorates an event that took place fifty years ago this month.

V. Raymond Edman, president of Wheaton College, stepped out of his house one morning in the fall of 1940 and saw a student worker from the College's Buildings and Grounds department trimming the shrubbery. He went over and introduced himself and then met Billy Graham, a North Carolinian who had just started attending Wheaton and was working to help cover his expenses.

This began a friendship that endured. Edman was both a mentor and a friend to Graham and they stayed in touch after Graham's graduation in 1943. Edman served on the board of the Billy Graham Evangelistic Association, as Graham was to serve on the College's board. Graham returned to the College many times to speak at Edman's invitation, including in the fall of 1959 to lead the Wheaton evangelistic campaign.

He also returned on September 24, 1967 for Edman but not at his invitation. He came to preach Edman's funeral sermon.

Dr. Edman was speaking to the student body in the daily College chapel on September 22. His talk was called "In the Presence of the King." Shortly after the point in his story where he described meeting Emperor Haile Selassie of Ethiopia, he suffered a fatal heart attack on platform and was ushered into a higher presence. (Click Here to listen to a recording of that chapel service on the Wheaton College Special Collections' web site.)

Listed below is the program of the memorial service held in Edman Chapel two days later. The visitor may listen to individual segments or the entire program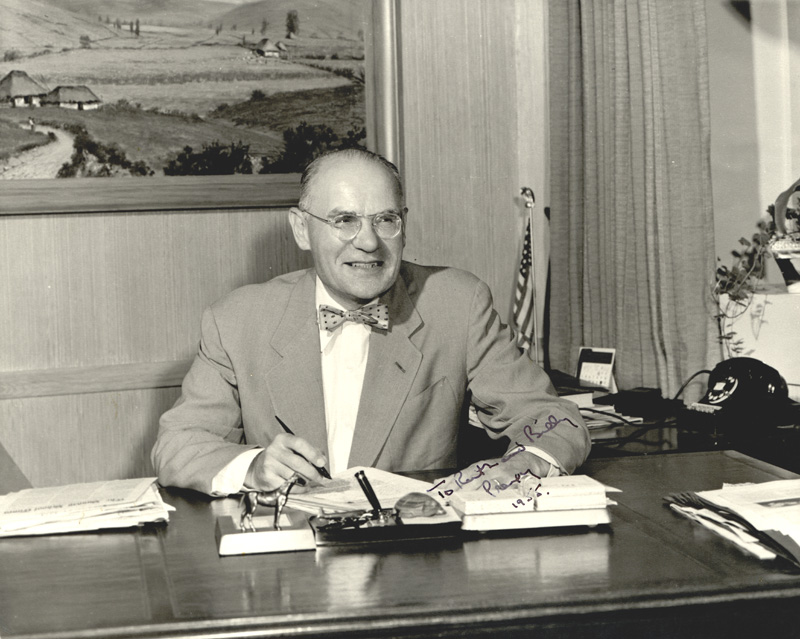 Autograph photo that Edman gave to Ruth and Billy Graham in 1955. It is signed "Prexy", his nickname, which was a variation on "President"
---

Invocation - Dr. Malcolm R. Cronk, Pastor, Wheaton Bible Church (1 minute)

Introduction by Dr. Hudson Taylor Armerding, President of Wheaton College (4 minutes)

Hymn - Beneath the Cross of Jesus (4 minutes)

Scripture: Psalm 34 - Dr. Merrill C. Tenney, Dean of the Graduate School (3 minutes

Prayer - Dr. E. Joseph Evans, Trustee of Wheaton College (6 minutes)

---
Tributes
Dr. Nathan Bailey, President of the Christian and Missionary Alliance (4 minutes)

James A. Fenton, Headmaster of Wheaton Academy (4 minutes)

Dr. Russell Mixter, Chairman of the Coordinating Advisory Council of the West Suburban Hospital (2 minutes)

Edward A. Coray, Executive Director of the Wheaton College Alumni Association (3 minutes)

Solo - Star of Hope, Raymond McAfee (4 minutes)

---
Tributes
Harvey C. Chrouser, Director of Physical Education for Honey Rock Camp (3 minutes)

Lt. Col. Byron D, Meadows, Professor of Military Science for the Reserve Officer Training Corp.
(3 minutes)
Daniel H. Reigle, President of the Student Council for the student body (2 minutes)

Dr. Paul M. Wright, Chairman of the Department of Chemistry for the faculty (8 minutes)

Hymn - For All the Saints, introduced by President Armerding (6 minutes)

---
Tribute

Dr. Hudson Taylor Armerding, for the College administration (8 minutes)



---
Sermon

Dr. Billy Graham, introduced by President Armerding (25 minutes)

Handel's Hallelujah, sung by the Concert Choir and Glee Clubs and directed by Rex D. Hicks, Assistant Professor of Choral Music (4 minutes)

Benediction - Dr. Evan D. Welsh, College Chaplain (24 seconds)

Organ Response - Christ, We Do All Adore Thee (2 minutes)
---
Send us a message
Return to BGC Archives Home Page
Last Revised: 9/01/17
Expiration: indefinite
© Wheaton College 2017