Billy Graham Center

---

Archives
The Archives Bulletin Board
Every month, this Bulletin Board will highlight a new document or set of documents that are available in the Archives. These are intended solely for the edification of our viewers and cannot be copied or otherwise reused without permission. Come on over and have a look!
To view items previously featured on the Bulletin Board, click
Archival Film Festival 2015
In 2015, the Archival Bulletin Board is turning onto a silver screen. Every month in 2015 we will be displaying a rare film from our vault, all featuring some aspect of the history of Christian evangelism.
Thanks to Bruce Knowlton of Wheaton College's Academic and Media Technology for his invaluable help in putting together this film festival.
Now Showing
July 2015: Billy Graham in Africa, 1960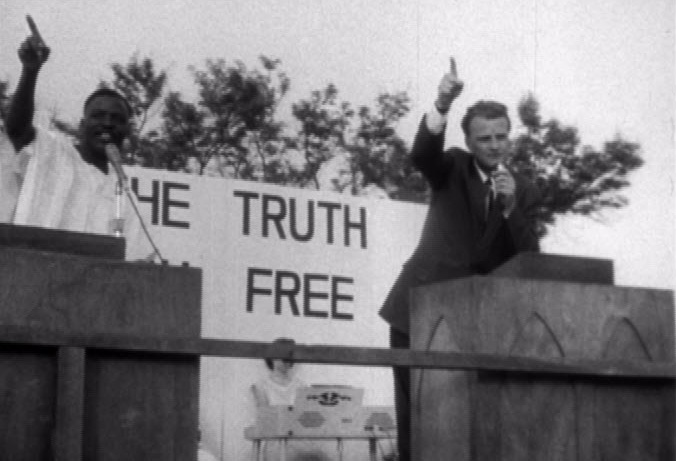 For the July Bulletin Board we are showing a series of very brief films meant to be broadcast on American television during evangelist Billy Graham's 1960 tour of eight African countries.

For the first quarter of 1960, Graham was traveling through Africa, visiting cities and villages, talking with people in different walks of life, conferring with national leaders, and, in conjunction with his associates in the Billy Graham Evangelistic Association, holding evangelistic campaigns in many places. From January 12 through March 13, he traveled through Liberia, Ghana, Nigeria, Rhodesia (current day Zimbabwe), Kenya, Ruanda-Urundi (current day Rwanda and Burundi), Ethiopia, and Egypt. This was followed by a brief tour of Israel and then Graham sailed back to the United States on March 29 on the ocean liner Queen Mary. Attendance at the meetings of Graham and his associate evangelists - Howard Jones, Leighton Ford, Grady Wilson, Joe Blinco, Larry Love, and Roy Gustafson - was estimated at more than 568,000.

The public relations firm Walter F. Bennett & Co. was handling publicity for the tour and prepared at least 10 brief films, none more than three and a half minutes long, describing highlights of the tour. These were sent to television stations throughout the United States for use on the evening news. The BGC Archives has eight of these films and there are links to them below. For seven of these films, we also have the suggested text that was sent along to be read when the film was broadcast and there are links to these also below. All of these films are from Collection 54 in the Archives, the Records of Walter F. Bennett & Co.
Click here to see all the films in the Film Festival thus far.
| | | | | | | |
| --- | --- | --- | --- | --- | --- | --- |
| Icon | Film # (all films are from Collection 54) | Release # | Date (all are 1960) | Length in minutes | Description | Link to text intended to accompany film |
| | F182 | 2 | ca. January 20 | 1:35 | News clip showing a brief scene of Liberian president William V. S. Tubman, then Graham preaching in Antoinette Tubman Stadium in Monrovia, Liberia. Includes brief audio excerpt from Graham's sermon. | yes |
| | | 3 | ca January 23 | 3:34 | News clip about Graham's trip to Ghana and his meeting with Kwame Nkrumah. Includes brief audio excerpt from Graham's sermon at the Sports Stadium in Accra | yes |
| | F184 | 4 | ca. January 31 | 3:29 | News clip of Graham on a balcony in Lagos, Nigeria, talking directly to the camera talking about the changes going on in Africa and the continent's need for Christianity | yes |
| | F185 | 7 | ca. February 13 | 2:27 | New clips with scenes of Graham visits a Nigerian village and preaching in Jos. No sound tract | yes |
| | F187B | | ca. February 16 | 3:12 | News clip of Graham standing in front of a statue of David Livingstone at Victoria Falls and describing his tour of Africa. Talks about West African culture and the difference between West and Central Africa. | no |
| | F186 | 8 | ca. February 28 | 3:21 | News clips with scenes of Graham visiting Salisbury, Rhodesia, seeing"locations" where blacks are separated from whites. and reaching in Moshi, Tanganyika. Includes brief audio excerpt of a portion of Graham's sermon | yes |
| | F187 | 9 | ca. March 6 | 3:27 | News clips of Graham meeting with witch doctors in Kisumu, Kenya, seeing demonstrations for independence in Ruanda-Urundi (current day Rwanda and Burrundi), and preaching in Nairobi, Kenya. Includes brief audio excerpt of an excerpt from his sermon. | yes |
| | F187A | 10 | ca. March 9 | 1:51 | News clips of Graham in Addis Ababa, Ethiopia meeting with the US ambassador Bliss, the Coptic Patriarch of Ethiopia, the Crown Prince Asfa Wassen and with the Emperor Haile Selassie, and scenes of Graham preaching to a crowd of 12,000. No soundtrack | yes |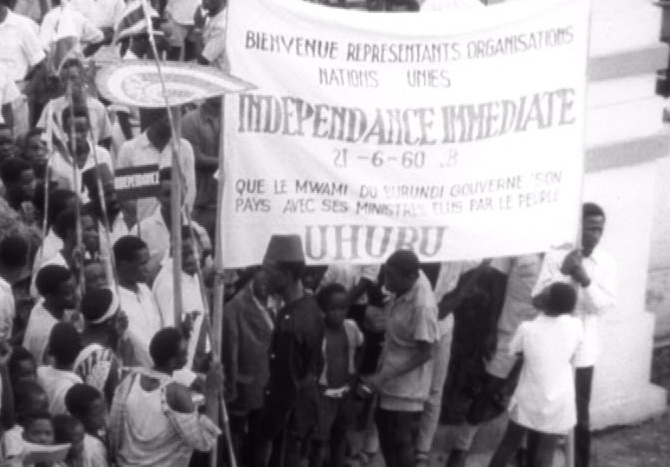 ---
Send us a message
Return to BGC Archives Home Page
Last Revised:07/01/15
Expiration: indefinite
© Wheaton College 2017