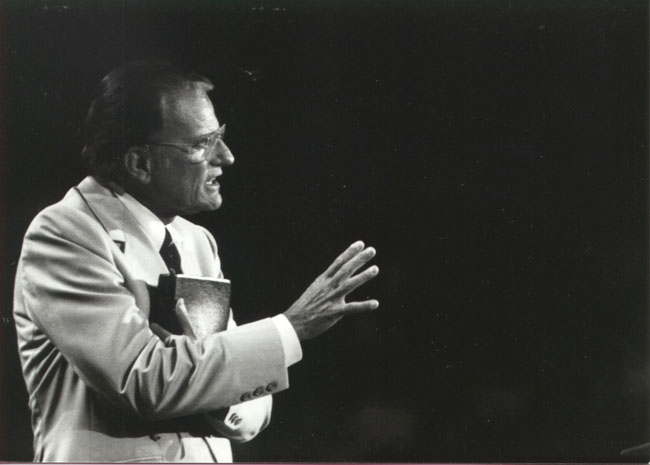 Graham preaching in 1980

A
small
town in
North Caro-
lina, Montreat,
has been the home
of Billy Graham since
the 1940s. His home church,
and that of his wife Ruth, was for
many years Christ Community Church,
once the Montreat Presbyterian Church.
Several times over the years, his pastor, Rev.
Calvin Thielman invited Reverend Graham to preach
a Christmas
sermon.

This December the Bulletin Board is featuring one of those sermons, entitled
"Merry Christmas," preached on December 21, 1980.

The text on the attached page is the actual text that Graham had in front of him as he preached. It includes the underlining for emphasis and other notes that he added in his handwriting. As the reader will see, the text is less than a full transcript of the sermon but much more than a mere outline. This sermon is one of thousands of his sermons, covering more than sixty years, that he has recently opened to the public in the Archives. For more information on the sermons collection,
go to the guide to Collection 265.


The staff of the BGC Archives - Paul, Marla, Katherine, Bob, Young Paul, and Tamara - wish all the visitors to this page a very happy holiday in this season when we celebrate the birth of the Savior of the World and the Child of Bethlehem,
Jesus Christ