This month, we welcome the arrival of Summer and all the excitement it brings. This is a time of hot weather and cold lemonade, bees buzzing in the day and lightning bugs twinkling at night, and, perhaps most importantly, summer vacation. To celebrate this season of voyages both around the country and abroad, the Archives is featuring Small Collection 96: Ephemera of the London Missionary Society Convention, 1850, on its Bulletin Board for June.
This collection features two journals by an unknown author detailing his trip abroad to attend the London Missionary Society Convention. His entries begin on April 6th, 1850, in New York and follow him throughout his journey to London, France, the Riviera, and Italy before ending on September 14th in New Haven. In addition to notes on the various Convention sessions, he describes the sights he sees and his impressions of them. Below are some excerpts of interest:
On traveling by boat:
"Thursday —Gale [continues/continuous] — tho' . sun heads out . occasionally — very high sea—went [onto/on the] poop deck to enjoy it — held on by the ropes—most beautiful magnificent, sublime — I can understand 'waves running mountain high' & O how beautiful their crests when breaking—worth taking a voyage to [see/sea]." –April 18 entry
"Sunday 28th Fourth Sunday on ship-board. I long to be on shore to enjoy the privileges of the sanctuary." –April 28 entry
On traveling by train:
"Monday—May 6th Rose about 7 — packed up my things, ate breakfast, paid my bill & rode to the Railway Station & was booked for London. [New paragraph] Train started at 9 ½ A.M. only 3 in an apartment—another gentleman & a lady — Fare to London 1 st Class £2.50. Next thru' several tunnels — one several miles long — cars lighted."—May 6 entry
On St. Paul's Cathedral:
"P. M. Attended the annual 'Festival of the Songs of the Clergy' — in St. Paul's Cathedral — great crowd — got a good seat — in the choir­ — East recess[?]— ceiling 90 ft. high — highly [unclear] — 3 windows opposite — adorned with [?] work and gilding — galleries elaborately carved — heads[?] of cherubs — & angels — looking down[….]" –May 15 entry
On Paris:
"Took dinner at [unclear]'s Palais Royal — walked down Boulevard — saw Ch. Madeleine — thru' Place de la Concorde — fountains in center[?] — various statues–Monument of Luxes[?] Thebes — Arc de Triomphe in distance–thru' Gardens of the Tuileries–" –May 21 entry
"Boulevards full all day — streams of people evidently in[?] pleasure — shops open — no Sabbath — Universal indifference to religion — wholly devoted to pleasure." –May 26 entry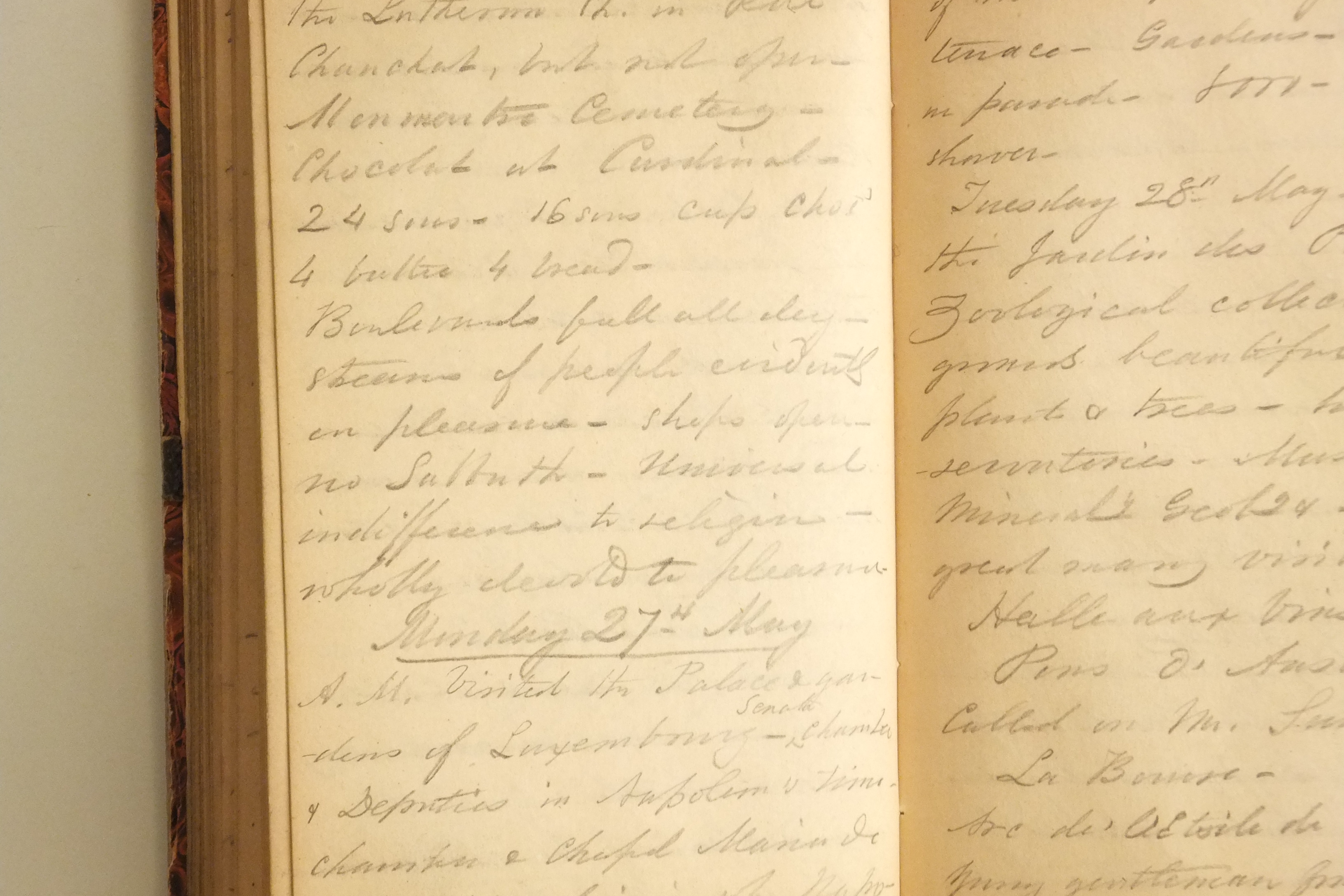 Other entries describe trips to the Tower of London, the Louvre, Versailles, the Champs Elysées, and his trips through the Mediterranean, Italy, and Scotland. For those unable to take such a journey themselves, consider a trip to the Archives and request Small Collection 96: Ephemera of the London Missionary Society Convention, 1850.