When Paul Rader organized the World Wide Christian Couriers in 1932, he envisioned a nationwide network of laypersons to stimulate grass roots evangelism. The Couriers were comprised of small clubs of men and women that met together to study instructional materials that trained them in Christian faith and evangelism. As illustrated by the Courier Class Manual (see sample pages below), these clubs had elements of a fraternal order and of Bible studies, with emphasis on going out and witnessing to their faith in Jesus Christ. To become a Courier, a participant had to go through (and be tested on) a series of lessons on Christian belief, along with the Courier Class Manual (featured in part here). Completing these requirements resulted in receiving a certificate of membership and "a Courier Coin or pocket-piece stamped with the registration number of the new Courier" (shown above - scroll over the image below to highlight the text in the manual referring to the coin).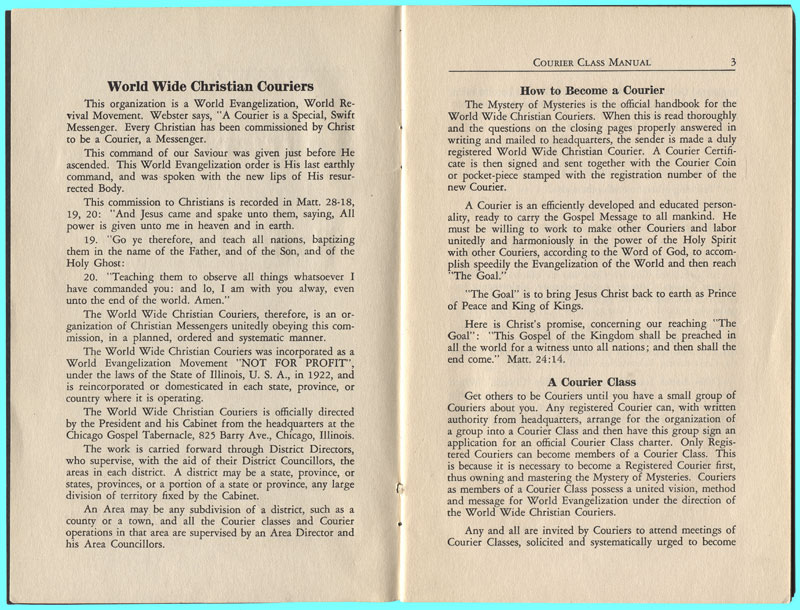 First two pages of the Courier Class Manual, ca. 1932 - scroll over image to see highlighted text. (Other selected pages from the manual are featured below.)
As the movement grew, clubs recruited members and groups were divided to formed new ones. Conferences were held at the Chicago Gospel Tabernacle where club members could tell about their experiences and encourage one another in their faith and evangelistic efforts. As the movement grew, tabernacles were started in other cities that would be the centers for clubs in those communities.
To learn more about Paul Rader, the Chicago Gospel Tabernacle or American evangelism in the 1920s and '30s, visit the Archives' 2005 online exhibit Jazz Age Evangelism: Paul Rader & the Chicago Gospel Tabernacle, 1922-1933. This extensive exploration describes the breadth and purpose of Rader's entrepreneurial efforts, especially to reach all age groups with the gospel, address the wide range of human needs, and train others to participate in spreading the gospel.
The items featured are part of the Archives' collection. The manual comes from the Ephemera of Daniel Paul Rader in Collection 38, box 1, folder 6. The coin is one of the Archives' most recent acquisitions (Accession 12-48), the last of 2012.