Billy Graham Center

---

Archives
The Archives Bulletin Board
Every month, this Bulletin Board will highlight a new document or set of documents that are available in the Archives. These are intended solely for the edification of our viewers and cannot be copied or otherwise reused without permission.
To view items previously featured on the Bulletin Board, click
Now Showing
October 2012: The Beginning of Billy Graham:
Grand Rapids as the Site for His First City-wide Campaign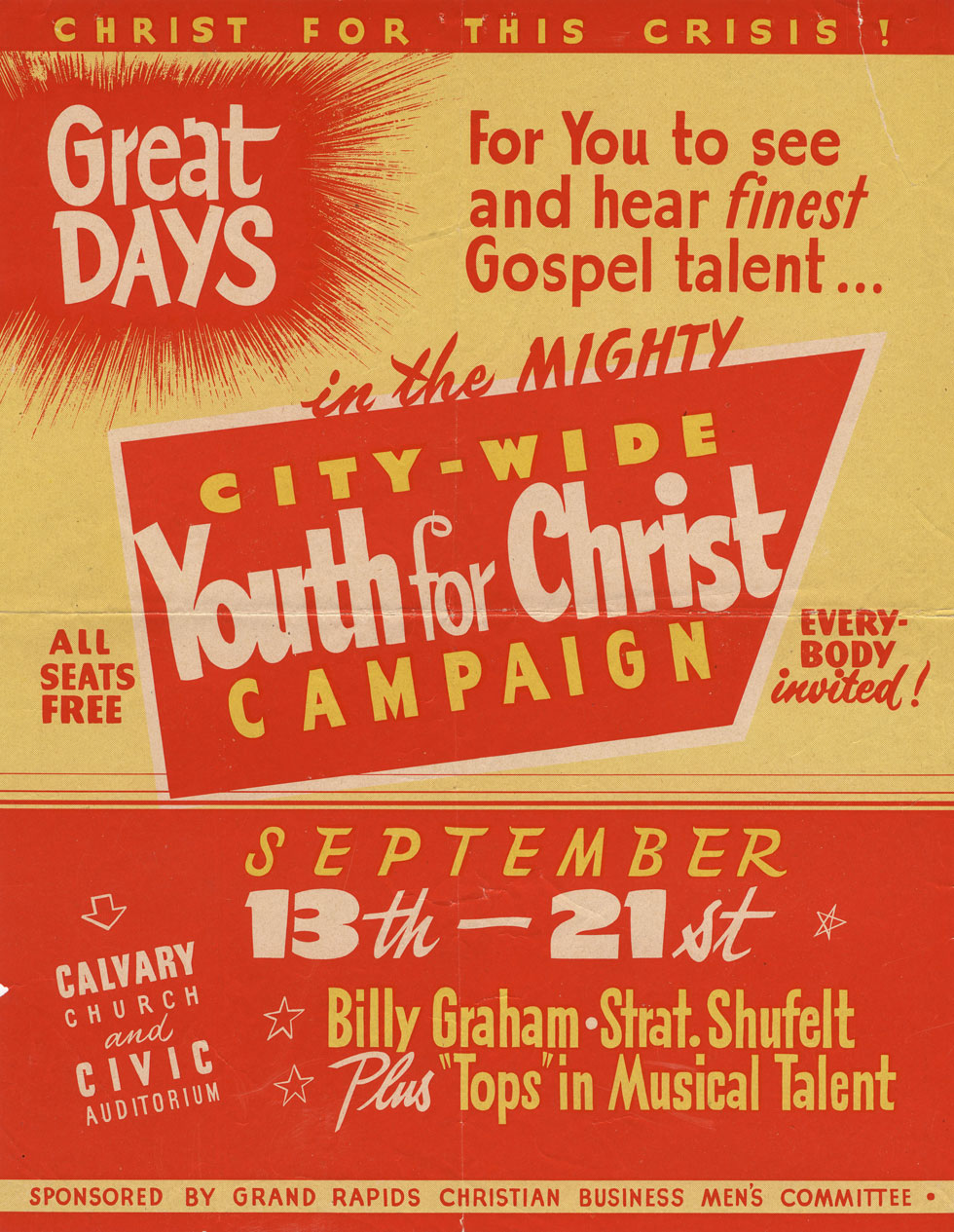 Poster advertising Billy Graham's 1947 Grand Rapids Crusade.
After Billy Graham and the Youth For Christ team returned from their 1945 and 1946 tours of Europe, Graham began holding his own campaigns while still under the banner of Youth For Christ. Grand Rapids was his first in mid-September 1947, three years before the founding of the Billy Graham Evangelistic Association in September 1950. The week-long campaign began in the nondenominational Calvary Church (founded by M.R. DeHann, seating about 1,500 people) and concluded at the larger Civic Auditorium (seating 5,500) for its final four days. Records show that 30,000 attended the meetings with 500 inquirers coming forward for counsel, prayer and to express their decision to choose and follow Jesus Christ.
Like Graham's other early campaigns, the Archives record of the Grand Rapids series of meetings has to be pieced together from a few fragments and the recollections of those who were involved. The poster above came from the Papers of J. Stratton Shufelt, who accompanied Graham to Europe on the YFC European tours and served as his vocalist and song leader during this time. The Archives collections also include the oral-history recollections in Collection 141 of four local participants in the campaign - George Benes (artist and illustrator who was involved in advertising for the campaign), George Brummels (businessman who had a key part in bringing Graham to the city), Henry Sonneveldt (businessman who was chair of the Grand Rapids Christian Business Men's Committee) and Pat Zondervan (publisher and leader in the Christian Business Men's Committee that brought Graham to Grand Rapids). A single photograph in Collection 74 of Billy Graham ephemera captures a moment when Graham, Jack Sonneveldt and Ted Engstrom were on the air in Grand Rapids' WOOD radio station to stimulate local interest in the meetings. (For other posters that add to the story of Billy Graham's long ministry, see the Archives online Evangelism Posters exhibit and especially those posters related to Graham and the BGEA .)

---
Send us a message
Return to BGC Archives Home Page
Last Revised: 10/01/12
Expiration: indefinite

© Wheaton College 2017